30 Best Father and Daughter Quotes For Father's Day
In Christian teachings, the bond between a father and his daughter holds a special place. The Bible emphasizes the importance of this relationship, emphasizing the role of fathers as protectors and leaders in their daughters' lives.
Many bible quotes speak of the unconditional love and guidance that fathers can provide to their daughters and how God loves every one of them unconditionally.
See also Heart-Touching Mother's Quotes
Father Daughter Christian Quotes
#1 " He who loves father or mother more than Me is not worthy of Me; and he who loves son or daughter more than Me is not worthy of Me. "

Matthew 10:37
#2 "And I will be a father to you, and you shall be sons and daughters to me, says the Lord Almighty."

2 Corinthians 6:18
#3 " Take wives and have sons and daughters; take wives for your sons, and give your daughters in marriage, that they may bear sons and daughters; multiply there, and do not decrease. "

Jeremiah 29:6
#4 " May our sons in their youth be like plants full grown, our daughters like corner pillars cut for the structure of a palace. "

Psalm 144:12
#5 " He had thirty sons, and thirty daughters he gave in marriage outside his clan, and thirty daughters he brought in from outside for his sons. And he judged Israel seven years. "

Judges 12:9
#6 " Fathers, do not provoke your children, lest they become discouraged."

Colossians 3:21
#7 " Listen to your father, who gave you life, and do not despise your mother when she is old."

Proverbs 23:22
#8 " Hear, O daughter, and consider, and incline your ear: forget your people and your father's house,"

Psalm 45:10
Father and Daughter Quotes and Sayings
#9 " It was my father who taught me to value myself. "

Dawn French
#10 " When I'm at my best, I am my father's daughter. "

Unknown
#11 " She did not stand alone, but what stood behind her, the most potent moral force in her life, was the love of her father."

Harper Lee
#12 " I have never been a material girl. My father always told me never to love something that can't love you back."

Imelda Marcos
#13 " Some superheroes don't wear capes. They are called Dad. "

Unknown
#14 " Fathering is not something perfect men do, but something that perfects the man. "

Frank Pittman
#15 " One of the greatest things about daughters is how they adored you when they were little; how they rushed into your arms with electric delight and demanded that you watch everything they do and listen to everything they say."

Michael Josephson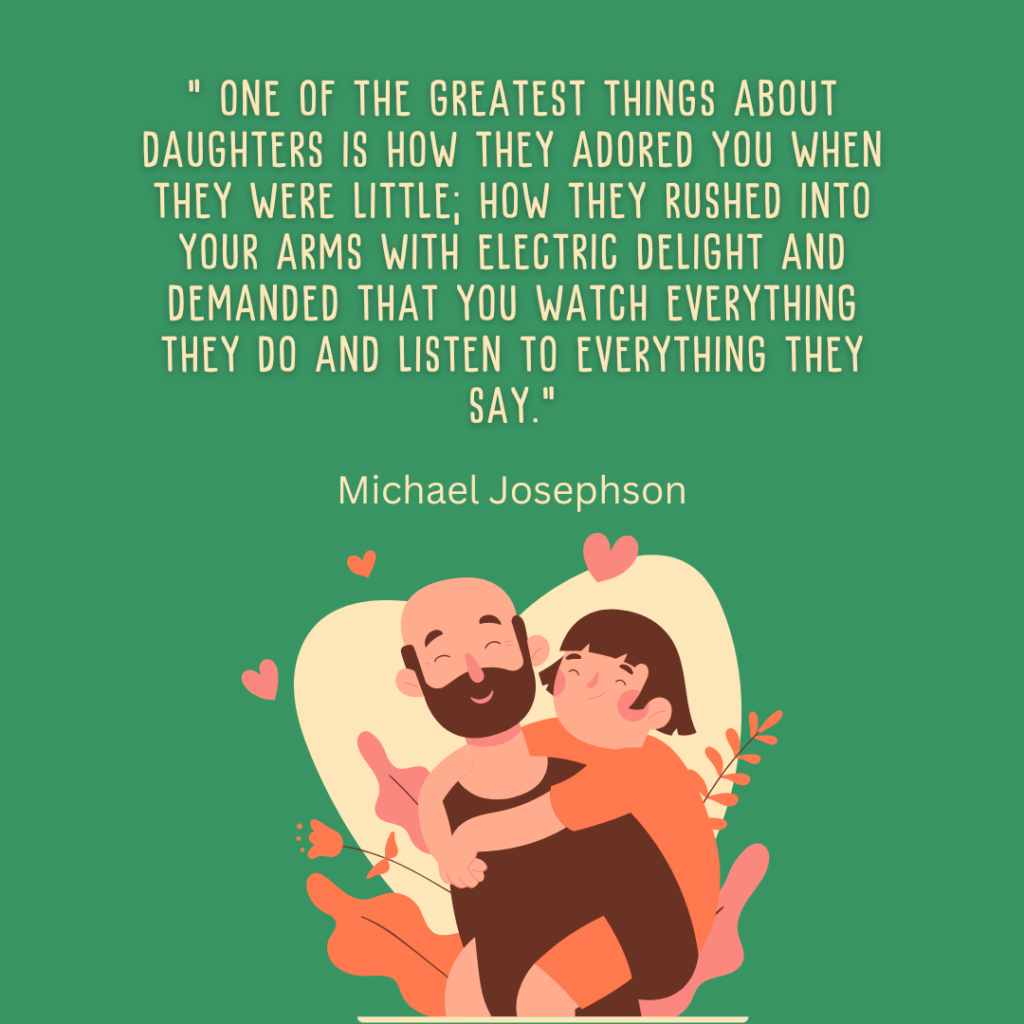 #16 " Many a man wishes he were strong enough to tear a telephone book in half―especially if he has a teenage daughter."

Guy Lombardo
#17 " The happiest moment of my life was probably when my daughter was born."

David Duchovny
#18 " He was a father. That's what a father does. Eases the burdens of those he loves. Saves the ones he loves from painful last images that might endure for a lifetime. "

George Saunders
#19 " I cannot think of any need in childhood as strong as the need for a father's protection. "

Sigmund Freud
#20 "A man's daughter is his heart. Just with feet, walking out in the world."

Mat Johnson
#21 " You've had me wrapped around your finger since the day you were born."

Tim McGraw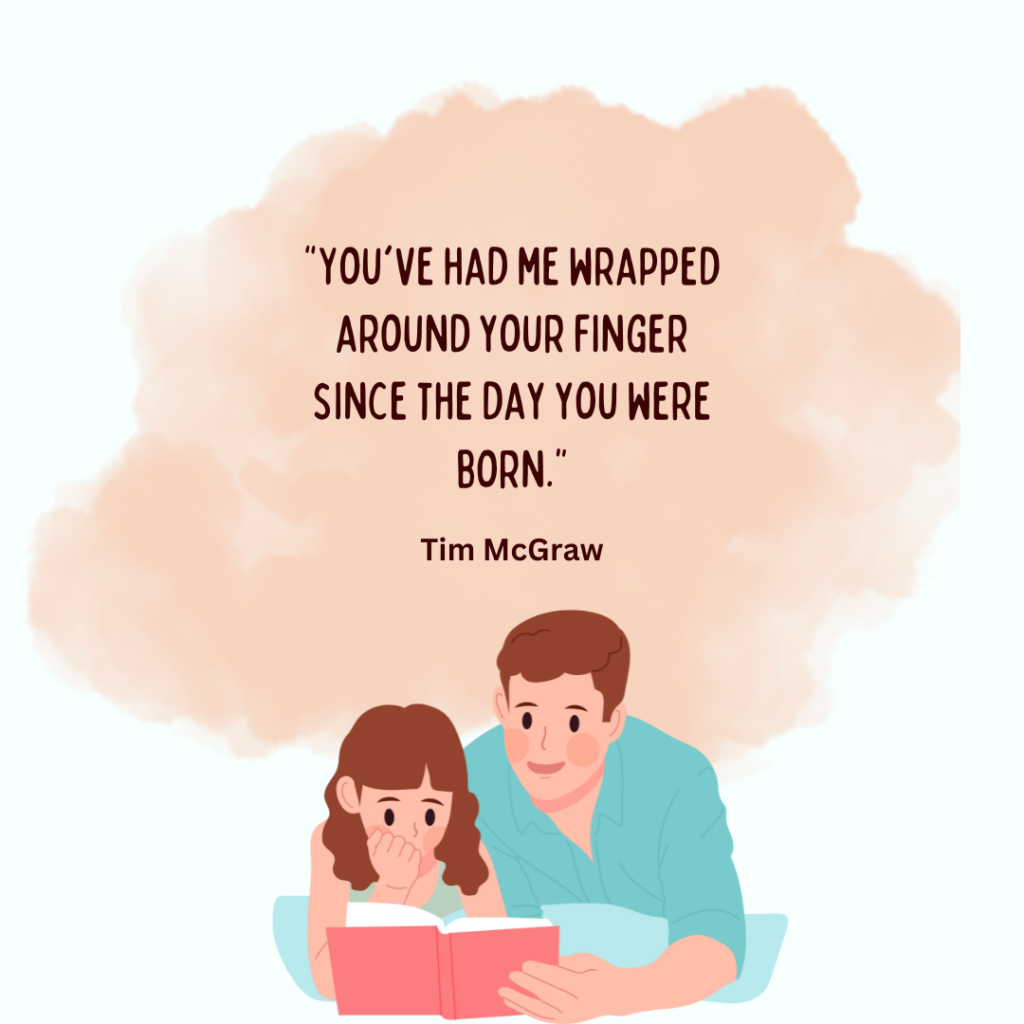 #22 " My father didn't tell me how to live. He lived, and let me watch him do it. "

Clarence Budington Kelland
#23 " I am not ashamed to say that no man I ever met was my father's equal, and I never loved any other man as much."

Hedy Lamar
#24 " The greatest thing a father can do for his daughter is to love her mother."

Elaine S. Dalton
#25 "When I come home, my daughter will run to the door and give me a big hug, and everything that's happened that day just melts away."

Hugh Jackman
#26 " There will always be a few people who have the courage to love what is untamed inside us. One of those men is my father. "

Alison Lohman
#27 " A daughter is a treasure and a cause of sleeplessness. "

Ben Sirach
#28 "Having a daughter makes you see things in a different way. This is my only girl. So I don't care what it takes to protect her. You can call it what you want to call it. As long as you treat her the same way I treat her, like my princess, I don't mind."

Tracy Morgan
#29 " There's two things I know for sure: She was sent here from heaven and she's daddy's little girl."

Bob Carlisle
#30 " A girl's first true love is her father. "

Marisol Santiago