30 Inspirational Father and Son Quotes to Share on Father's Day
Father's Day is a highly emotional holiday that triggers powerful emotions. It's an opportunity to express our gratitude and affection for the exceptional man who impacts our lives. In our lives, Dad is a pillar of strength and support.
He is not just a father but also a source of inspiration and eternal love. That little boy's relationship with his father will grow stronger and shift from father to buddy as he grows older.
Let's honor the amazing fathers who have tremendously inspired us on June 18, Father's Day. Their love, knowledge, and influence gave our lives meaning and helped us become who we are today.
Best Father and Daughter Quotes For Father's Day
Father and Son Quotes
On Father's Day, we get to honor their unwavering commitment, sacrifices, and unconditional love. These inspirational quotes illustrate how fathers and sons share an unbreakable bond.
"Listen, there is no way any true man is going to let children live around him in his home and not discipline and teach, fight, and mold them until they know all he knows. His goal is to make them better than he is. Being their friend is a distant second to this." ― ( Victor Devlin )
"My dad taught me everything I know. Unfortunately, he didn't teach me everything he knows." ( Al Unser )
"Anyone who tells you fatherhood is the greatest thing that can happen to you, they are understating it." ( Mike Myers )
"Not every father gets a chance to start his son off in his own footsteps." ( Alan Ladd )
"My father gave me the greatest gift anyone could give another person: He believed in me." ( Jim Valvano )
"Until you have a son of your own, you will never know what that means. You will never know the joy beyond joy, the love beyond feeling that resonates in the heart of a father as he looks upon his son." ( Kent Nerburn )
"If you want a son to grow up into a man you can be proud of, be a man he can be proud of." ( Unknown )
"The first step, my son, which one makes in the world, is the one on which depends the rest of our days." ( Voltaire )
"Boys are fun. They make you laugh. They are full of life and can share that energy with you. They also touch your heart; they are deeply feeling." ( Steve Biddulph )
"Boys do not ache for their father's masculinity. They ache for their fathers' hearts." ( T. Real )
"You're not just my son. You are my reason for living, the love of my life, and the king of my heart. I love you, my dearest son!" ( Unknown )
"My father taught me a good lesson: Don't get too low when things go wrong. And don't get too high when things are good." ( Robert Parish )
"Forget Batman: When I really thought about what I wanted to be when I grew up, I wanted to be my dad." ( Paul Asay )
"It's not flesh and blood but the heart that makes us father and son." ( Johann Schiller )
"It's the most profound gift and the most daunting challenge." ( Matt Bomer )
"I am a family man, and my most important role is a father to my son." ( Ed Skrein )
"The father who does not teach his sons his duties is equally guilty with the son who neglects them." ( Confucius )
"My son's the most precious thing to me; he's changed me from being selfish to selfless." ( Ricardo Antonio Chavira )
"But now, being a parent, I go home and see my son and I forget about any mistake I ever made or the reason I'm upset. I get home and my son is smiling or he comes running to me."( LeBron James )
"It's a father's duty to give his sons a fine chance." ( George Eliot )
"You don't raise heroes, you raise sons. And if you treat them like sons, they'll turn out to be heroes, even if it's just in our own eyes." ( Walter M. Schirra, Sr )
"Every father should remember one day his son will follow his example, not his advice." ( Charles Kettering )
"My dad's definition of success is when you look at your son and daughter and realize they turned out better than you." ( Joe Biden )
"One of the greatest gifts you can give your teenage boy is the gift of letting him know you get it. You've been there." ( Sebastian R. Jones )
"One of the greatest lessons I learned from my dad was to make sure your children know that you love them." ( Al Roker )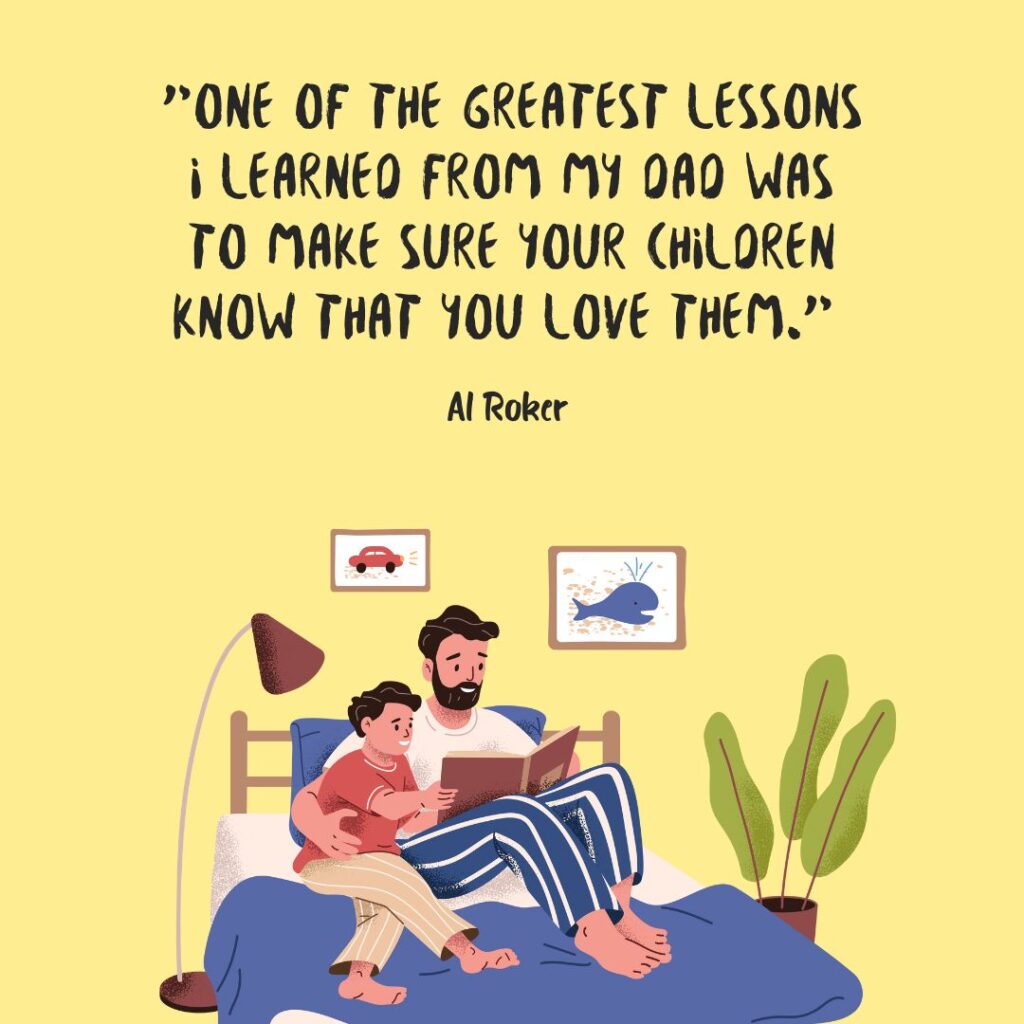 "One of the greatest titles in the world is parent, and one of the biggest blessings in the world is to be one." ( Jim DeMint )
"Each parent talks about the waking up during the night and the feeding during the night, but for me, that was the most special time. It doesn't matter what time of the night it is or how tired you are, they make you smile, they make you happy." ( David Beckham )
"My father used to play with my brother and me in the yard. Mother would come out and say, 'You're tearing up the grass.' 'We're not raising grass,' Dad would reply. 'We're raising boys." ( Harmon Killebrew )
"Being a great father is like shaving. No matter how good you shaved today, you have to do it again tomorrow." ( Reed Markham )
"My little boy yesterday, my friend today, my son forever." ( Unknown )
You May Also Like
June 16, 2023
June 12, 2023
June 15, 2023