60 Heartfelt Mother-Daughter Quotes For Mother's Day
It's natural to feel a range of emotions as Mother's Day approaches. Our mothers are the anchors of our lives for many of us. Their unconditional love and support have been there for us through every win and heartbreak.
Our mothers often inspire us with their incredible strength, courage, and grace as daughters.
One of the best ways to express our appreciation for our mothers is through words. From heartfelt reflections on motherhood's joys and challenges to uplifting messages of gratitude and love, these quotes remind us of the power of the mother-daughter relationship.
Touching Message For Mothers Day From Daughter
Let's take a moment to reflect on how our mothers have shaped our lives and the lasting impact they continue to have on us this Mother's Day.
Here are some beautiful and heartfelt mother-daughter quotes that capture the essence of mother–daughter relationships.
Check out these Mother's Day gift ideas to surprise your Mom
Daughter Quotes
#1 " The older I get, the more I see the power of that young woman, my mother." ( Sharon Olds )
#2 " I love my mother as the trees love water and sunshine. She helps me prosper and reach great heights." ( Terri Guillemets )
#3 " Having a little girl has been like following an old treasure map with the important paths torn away." ( Heather Gudenkauf )
#4 " Words are not enough to express the unconditional love that exists between a mother and a daughter." ( Caitlin Houston )
#5 " My mom is literally a part of me. You can't say that about many people except relatives, and organ donors." ( Bethany Hamilton )
#6 " I am a princess not because I have a prince, but because my mother is a queen." ( Unknown )
#7 "A mother's love is like an everlasting bed of roses, that continues to blossom. A mother's love bears strength, comfort, healing, and warmth." ( Ellen J. Barrier )
#8 " Sometimes the smallest things take up the most room in your heart." ( Winnie the Pooh )
#9 " The natural state of motherhood is unselfishness." ( Jessica Lange )
#10 " I like it when my mother smiles. And I especially like it when I make her smile."
"A mother's and daughter's love is never separated." ( Adriana Trigiani )
#11 " When your mother asks, 'Do you want a piece of advice?' It is a mere formality. It doesn't matter if you answer yes or no. You're going to get it anyway." ( Erma Bombeck )
#12 " My mother was my role model before I even knew what that word was." ( Lisa Leslie )
#13 " The biggest adjustment is I just didn't know there was that much room in a house for that much joy." ( Hoda Kotb )
#14 " No one worries about you like your mother, and when she is gone, the world seems unsafe, things that happen unwieldy. You cannot turn to her anymore, and it changes your life forever." ( Adriana Trigiani )
#15 " A mother is not a person to lean on but a person to make leaning unnecessary. ( Dorothy C. Fisher )
#16 " We mothers are learning to mark our mothering success by our daughters' lengthening flight." ( Letty Cottin Pogrebin )
#17 " My mother, she is beautiful, softened at the edges and tempered with a spine of steel. I want to grow old and be like her." ( Jodi Picoult )
#18 " As they get older, our daughters become more and more like us too." ( Amy Newmark )
#19 " Once you're a mom, you're always a mom. It's like riding a bike, you never forget."( Taraji P. Henson)
#20 " Mother is the heartbeat in the home; and without her, there seems to be no heart throb." ( Leroy Brownlow )
#21 " I tell my daughter every morning, 'Now, what are the two most important parts of you?' And she says, 'My head and my heart." ( Viola Davis )
#22 " Mother and daughter got on very well indeed, with a deep affection founded on an almost complete misunderstanding." ( Mary Stewart )
#23 " A loving and careful mother both recognizes and even protects her daughter's autonomy and also helps her dance out confidently on to a wider stage." ( Rachel Billington )
#24 " Even as a small child, I understood that women had secrets and that some of these were only to be told to daughters. In this way, we were bound together for eternity." ( Alice Hoffman )
#25 " As for my girls, I'll raise them to think they breathe fire." ( Jessica Kirkland )
#26 " My mother wanted me to be her wings, to fly as she never quite had the courage to do. I love her for that. I love the fact that she wanted to give birth to her own wings." ( Erica Jong )
#27 " A mother who radiates self-love and acceptance actually vaccinates her daughter against low self-esteem." ( Naomi Wolf )
#28 " When you are a mother, you are never really alone in your thoughts. A mother always has to think twice, once for herself and once for her child." ( Sophia Loren )
#29 " Of all the haunting moments of motherhood, few rank with hearing your own words come out of your daughter's mouth." ( Victoria Secunda )
#30 " When someone asks you where you came from, the answer is your mother. It's so much more than love. Even when there's no love, it's so much more than anything else in your life." ( Anna Quindlen )
#31 " Mother and daughter never truly part, maybe in distance but never in heart." ( Unknown )
#32 " It is not the job of the child to protect her mother. It is the mother's job to protect the child. By allowing your mother to protect you, you gave her a gift." ( Kristin Cashore )
#33 " My mom is a never-ending song in my heart of comfort, happiness, and being. I may sometimes forget the words, but I always remember the tune." ( Graycie Harmon )
#34 " My mom taught me a woman's mind should be the most beautiful part of her." ( Sonya Teclai )
#35 " My mom is a strong-willed lady. She taught me to believe in myself no matter what anybody else said." ( Tracey Edmonds )
#36 " My daughter is not the child that I expected. She is so much more." ( Brenda Kosciuk )
#37 " It is so nice to come home and have solitude with me and my daughter." ( Mindy Kaling )
#38 " Mother was comfort. Mother was home." ( Ruta Sepetys )
#39 " A mother-daughter bond is the perfect blessing, so that makes me one blessed mom because I have you." ( Stephanie Lahart )
#40 " Motherhood is the greatest thing and the hardest thing." ( Ricki Lake )
#41 " Mother is a verb. It's something you do. Not just who you are." ( Cheryl Lacey Donovan )
#42 " The love between a mother and a daughter is forever." ( Patricia Wayant )
#43 " By the time you realize your mother was right, you have a daughter who thinks that you're wrong." ( Sada Malhotra )
#44 " I think the hardest thing for a mother is to make it possible for a child to be independent and at the same time let the child know how much you love her, how much you want to take care of her, and yet how truly essential it is for her to fly on her own." ( Madeleine Albright )
#45 " Maybe motherhood means honoring one's mother." ( Sheila Heti )
#46 " My daughter introduced me to myself…the connection I had with her when I was giving birth was something that I've never felt before." ( Beyoncé )
#47 " Mothers and daughters together are a powerful force to be reckoned with." ( Melia Keeton-Digby )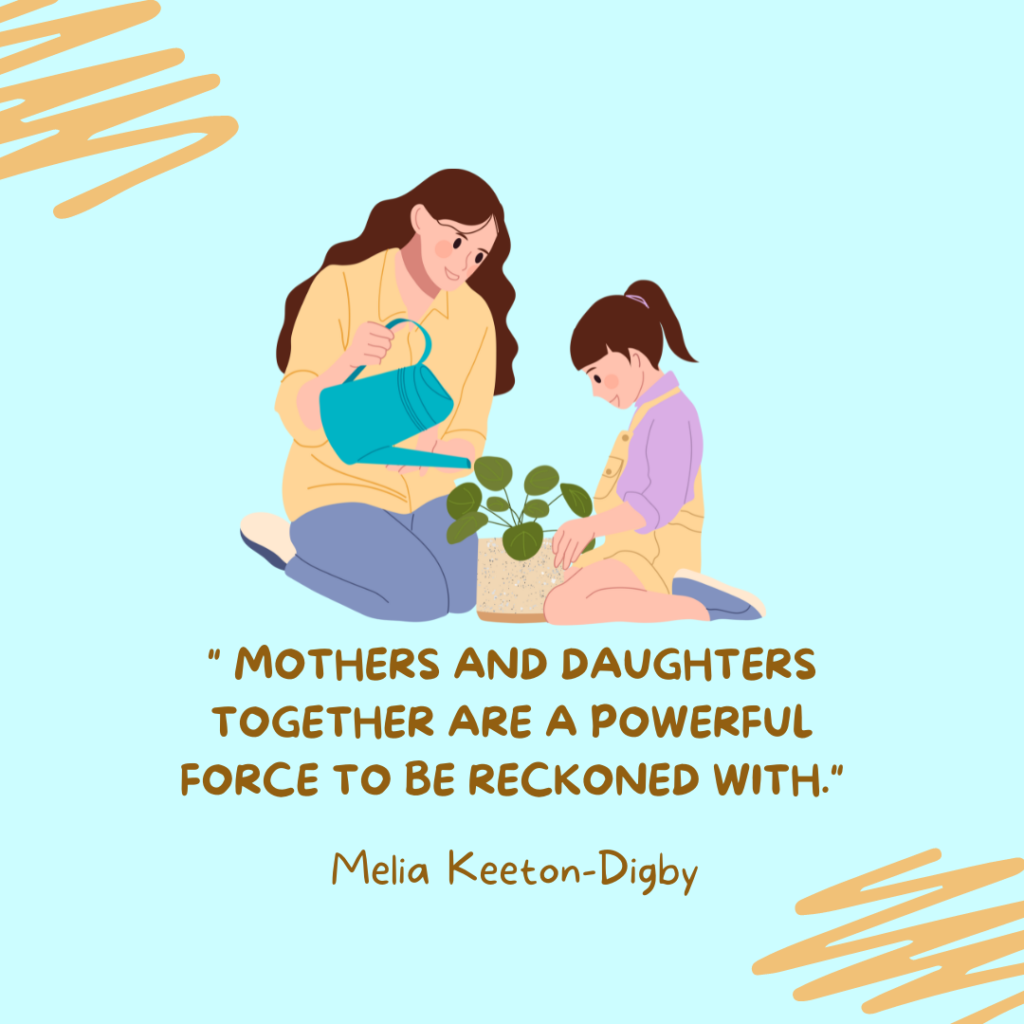 #48 " One of the most important relationships we'll have is the relationship with our mothers." ( Iyanla Vanzant )
#49 " The relationship between parents and children, but especially between mothers and daughters, is tremendously powerful, scarcely to be comprehended in any rational way." ( Joyce Carol Oates )
#50 "A daughter is a miracle that never ceases to be miraculous…full of beauty and forever beautiful…loving and caring and truly amazing." ( Deanna Beisser )
#51 " Her mother would tell her she was beautiful and that everything was all right." ( Sarah Addison Allen )
#52 " The living mother-daughter relationship, you learn over and over again, is a constant choice between adaptation and acceptance." ( Kelly Corrigan )
#53 " Sometimes the strength of motherhood is greater than natural laws." ( Barbara Kingsolver )
#54 " My mother told me two things constantly. One was to be a lady, and the other was to be independent." ( Ruth Bader Ginsburg )
#55 " Mothers of daughters are daughters of mothers and have remained so, in circles joined to circles since time began." ( Signe Hammer )
#56 " I will use this sharp pain to penetrate my daughter's tough skin and cut her tiger spirit loose. She will fight me because this is the nature of two tigers. But I will win and give her my spirit because this is a way a mother loves her daughter." ( Amy Tan )
#57 " Her judgmental younger self has no idea that she will have a daughter too one day, and that the thought of her little girl ever leaving home will make her feel like weeping." ( Eve Chase )
#58 " Of course mothers and daughters with strong personalities might see the world from very different points of view." ( Katherine Howe )
#59 " Happiness is mother and daughter time " ( Unknown )
#60 " Mother-daughter disagreements were, in hindsight, basically mother stating the truth and daughter taking her own sweet time coming around." ( Barbara Delinsky )