30 Powerful Juneteenth Quotes To Celebrate Struggle and Freedom
The day of Juneteenth honors African Americans and Black people in America by honoring their rights to justice and freedom. People come together to honor and remember those who fought for freedom.
Juneteenth is a time of joy and reflection, filled with vibrant parades, music, dancing, and delicious food. It is a day to celebrate achievements and fight for justice and equality for all. Juneteenth is a celebration of resilience, unity, and hope for a better future.
10 Best Powerful Opal Lee "The Grandmother Of Juneteenth" Quotes
What is Juneteenth celebrated for?
A General from the Union Army announced their liberation in Galveston, Texas, on June 19, 1865. We remember the sacrifices and heroism of those who were once slaves on Juneteenth, as well as the progress we have made toward equality.
Powerful Juneteenth Quotes
Take a moment this Juneteenth to read some of these inspiring quotes while you celebrate the day. These quotes and sayings from Black leaders and figures discuss the significance of Juneteenth as well as how far America has gone and how far we still have to go in the ongoing struggle for equality.
#1 " There are two ways of exerting one's strength: one is pushing down, the other is pulling up. " ( Booker T. Washington )
#2 " Even though the story has never been tidy, and Black folks have had to march and fight for every inch of our freedom, our story is nonetheless one of progress." ( Michelle Obama )
#3 " What historical narrative are we willing to weave in order to remind people not only that we were here enduring the trials but that we stared the fang toothed wolves of injustice in the face and said 'no more." ( Travon Free )
#4 " Throughout history, Juneteenth has been known by many names: Jubilee Day, Freedom Day, Liberation Day, Emancipation Day, and, today, a national holiday. " ( Kamala Harris )
#5 " You must never, ever give out. We must keep the faith because we are one people. We are brothers and sisters. We all live in the same house: The American house." ( John Lewis )
#6 " Emancipation wasn't a gift bestowed on the slaves; it was something they took for themselves, the culmination of their long struggle for freedom, which began as soon as chattel slavery was established in the 17th century, and gained even greater steam with the Revolution and the birth of a country committed, at least rhetorically, to freedom and equality. In fighting that struggle, black Americans would open up new vistas of democratic possibility for the entire country." ( Jamelle Bouie )
#7 " Freedom is not something that one people can bestow on another as a gift. They claim it as their own and none can keep it from them." ( Kwame Nkruma )
#8 " Despite the fact that America has not always been there for us, we've always been there for America. We have fought in America's wars. We have suffered discrimination, we have suffered isolation, and undermining, but we stand up for America. Oftentimes, when others who think they are more patriotic, who say they are more patriotic, do not." ( Maxine Waters )
#9 " This moment also serves as a time for reflection and appreciation, and an opportunity for many people to trace their family's lineage. African Americans helped to build our nation brick by brick and have contributed to her growth in every way, even when rights and liberties were denied to them." ( Barack Obama )
#10 " Where you see wrong or inequality or injustice, speak out because this is your country. This is your democracy. Make it. Protect it. Pass it on." ( Thurgood Marshall )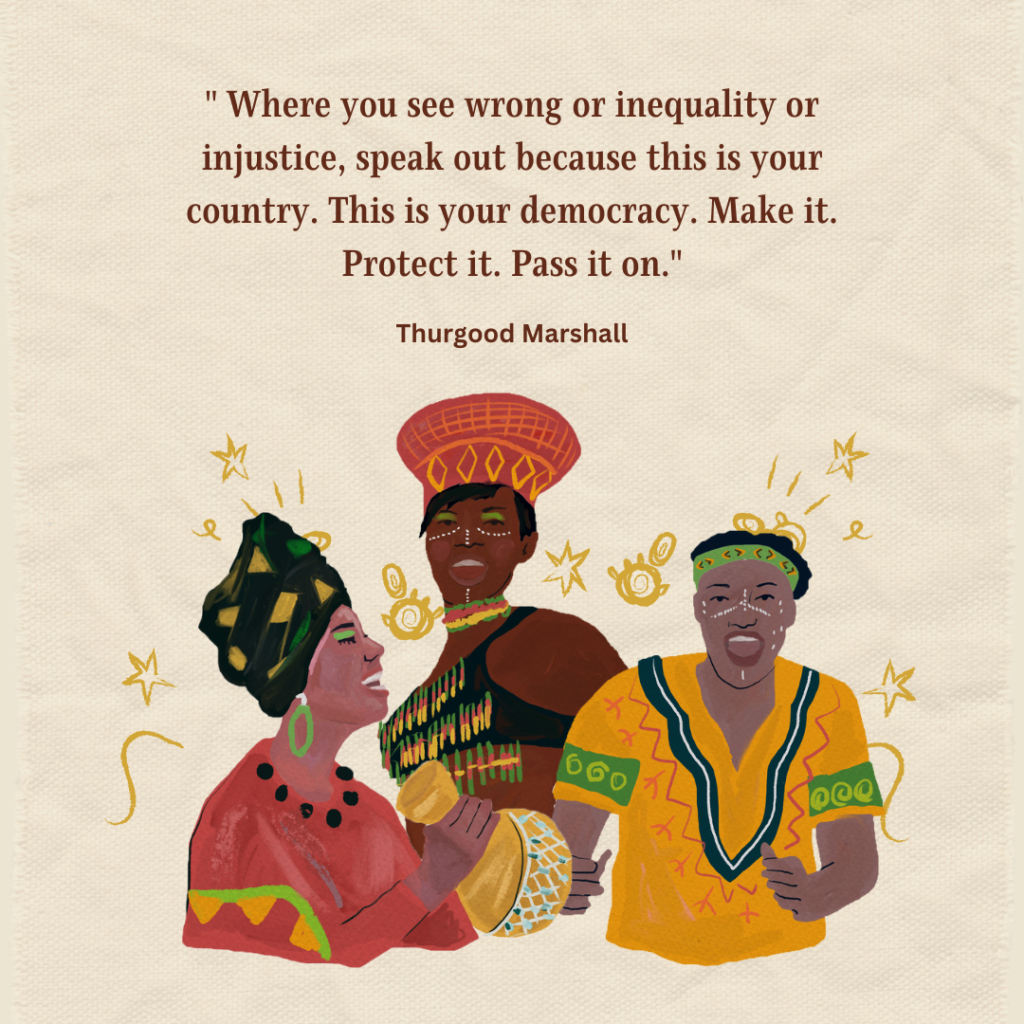 #11 " "Let us rejoice in celebrating Juneteenth by ensuring that all Americans have a seat at the table. Let's remember the joyful significance of Juneteenth and why we need to celebrate this historic day, now more than ever." ( Anthony Daniels )
#12 " I love Juneteenth, and I believe our country ought to celebrate it. But all of us, and especially our leaders, must remember there is more work to do." ( Kamau Louis )
#13 " Without community, there is no liberation…but community must not mean a shedding of our differences, nor the pathetic pretense that these differences do not exist." ( Audre Lorde )
#14 " The 4th of July was never about Black people. Juneteenth is just for us. As Black people, we are told we don't deserve our own holidays rooted in our own history. Everything is whitewashed. Juneteenth is for us…Juneteenth symbolizes the hope that my children and grandchildren will be free. It's Black Joy and Black tenacity to survive." ( Tanesha Grant )
#15 " Nobody's free until everybody's free." ( Fannie Lou Hamer )
#16 " The persistence of violent white nationalism – these things have deep ugly roots, inextricably tied to slavery and its aftermath. We will be better off unearthing it and airing it out if we really want repair. " ( Joy Reid )
#17 " We are going to get out here, I am going to get out here and get something done. We have to wake up America. We have to make America uncomfortable like we've been uncomfortable for 400 years." ( Gwen Carr )
#18 " We black folk, our history, and our present being are a mirror of all the manifold experiences of America. What we want, what we represent, what we endure is what America is. If we black folk perish, America will perish." ( Richard Wright )
#19 " I would like to be remembered as a person who wanted to be free… so other people would be also free." ( Rosa Parks )
#20 " Struggle is a never ending process. Freedom is never really won, you earn it and win it in every generation." ( Coretta Scott King )
#21 " No one is born hating another person because of the color of his skin, or his background, or his religion. People must learn to hate, and if they can learn to hate, they can be taught to love, for love comes more naturally to the human heart than its opposite. " ( Nelson Mandela )
#22 " There's no other race, to me, that has such a tough history for hundreds and hundreds of years, and only the strong survive, so we were the strongest and the most mentally tough, and I'm really proud to wear this color every single day of my life. " ( Serena Williams )
#23 " Today on Juneteenth, the day we celebrate the end of slavery, the day we memorialize those who offered us hope for the future, and the day when we renew our commitment to the struggle for freedom " ( Angela Davis )
#24 " I am not going to stand up to show pride in a flag for a country that oppresses Black people and people of color. " ( Colin Kaepernick )
#25 " Say it loud. I'm black and I'm proud! " ( James Brown )
#26 " We all require and want respect, man or woman, Black or white. It's our basic human right." ( Aretha Franklin )
#27 " You can't separate peace from freedom, because no one can be at peace unless he has his freedom. " ( Malcolm X )
#28 " Won't it be wonderful when Black history and Native American history and Jewish history and all of U.S. history is taught from one book. Just U.S. history." ( Maya Angelou )
#29 " The proclamation notes that freedom shall not be repressed. This is what I believe to be the primary significance of Juneteenth." ( Theodorea Regina Berry )
#30 " Understanding history is one of many ways to break the cycle. Lift up/amplify Black voices. Support Black owned businesses. Reach back. Mentor. " ( Chadwick Boseman )
Useful Links