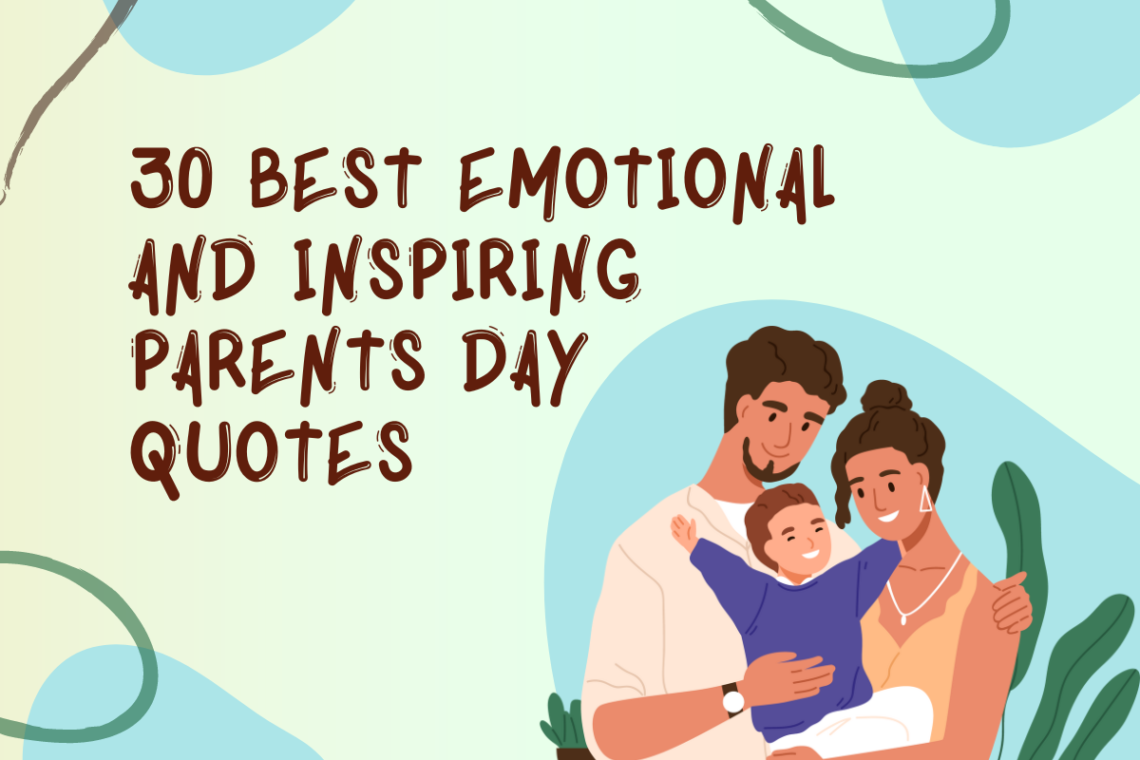 30 Best Emotional and Inspiring Parents Day Quotes
Parents Day allows us to express gratitude for the countless sacrifices they have made and the endless love they have shown. Let's make this day unforgettable by sharing quality time, heartfelt conversations, and creating lasting bonds. Make your parents feel valued and cherished, for their unconditional love deserves to be celebrated. Happy Parents' Day!
Our parents are our first teachers, cheerleaders, and friends who are always there for us through thick and thin. They have always stood by us and been our supporters in every circumstance. Their love for us is incredibly brave and strong.
To make sure we are taken care of and given the best possibilities in life, they have made sacrifices and set aside their own goals. They have stayed up with us when we were sick and comforted us during tough times.
National Parents' Day is July 23, celebrated on the fourth Sunday in July. So, whether we share these quotes face-to-face, write them in a heartfelt card, or post them on social media, let's take the time to celebrate our parents and honor their extraordinary role in our lives this Parents' Day.
Parents Day Quotes
" Parents are the ultimate role models for children. Every word, every movement, and action affects. No other person or outside force has a greater influence on a child than a parent. " ( Bob Keeshan )
" Every parent is different and so is every child, so you can read all the books and scribble down all the advice you want, but you're not going to know what to do until you've got that baby in your arms. And even then you still might not know — and that's totally OK!" ( Kelly Rowland )
" Heal before becoming a parent so your children won't have to heal from having you as a parent." ( Unknown )
" We never know the love of a parent till we become parents ourselves. " ( Henry Ward Beecher )
" Your children are not your children, they come through you, but they are life itself, wanting to express itself. " ( Wayne Dyer )
" Parents aren't the people you come from. They're the people you want to be when you grow up." ( Jodie Picoult )
" Behind every young child who believes in himself is a parent who believed first. " ( Matthew Jacobson )
" The depth of the love of parents for their children cannot be measured. It is like no other relationship. It exceeds concern for life itself. The love of a parent for a child is continuous and transcends heartbreak and disappointment." ( James E. Faust )
" They're your parents. They're meant to love you because. Never in spite. " ( Patrick Ness )
" A parent's love is whole no matter how many times divided. " ( Robert Brault )
" The Golden Rule of Parenting is do unto your children as you wish your parents had done unto you! " ( Louise Hart )
" Love is the chain whereby to bind a child to its parents. " ( Abraham Lincoln )
" My parents…were people running from the past, who didn't look back at much if they could help it, and whose whole life always lay somewhere in the offing." ( Richard Ford )
" We may not be able to prepare the future for our children, but we can at least prepare our children for the future." ( Franklin D. Roosevelt )
" Parenting is not for everybody. It changes your life. Especially when they're little. " ( Tori Amos )
" My parents have lived longer than most and have expected very little. We have been blessed in too many ways to count. " ( Ralph Webster )
" Parents must get across the idea that I love you always, but sometimes I do not love your behavior." ( Amy Vanderbilt )
" Good parents hardly parent. They let their kids learn, fail, and grow without interference. " ( Trevor Carss )
" Parenthood…It's about guiding the next generation and forgiving the last. " ( Peter Krause )
" You, the parent, are your child's first teacher and his best teacher. It's an awesome responsibility, but one that brings immeasurable rewards. " ( Jacquie McTaggart )
" Parents are not perfect, nor are they saints. Dads and moms make mistakes all the time. How you handle these situations will be an important life lesson for your children. " ( Bethany Bridges )
" Parents are the most precious gift given by God. We should take care of it. " ( Ciril Cyriac )
" Parents are without a doubt, one of the most, if not the most influential role models that their kids will probably have under normal circumstances. " ( Joseph R. Parker )
" The joys of parents are secret, and so are their grieves and fears: they cannot utter the one, nor will they utter the other. " ( Francis Bacon )
" There is no friendship, no love, like that of the parent for the child. " ( Henry Ward Beecher )
" The world talks to the mind. Parents speak more intimately — they talk to the heart. " ( Hain Ginott )
" Parents who are afraid to put their foot down usually have children who step on their toes. " ( Chinese Proverb )
" My parents taught me about the importance of qualities like kindness, respect, and honesty, and I realize how central values like these have been to me throughout my life. " ( Kate Middleton )
" Whatever the parents are doing, the kids will follow suit. " ( Bob Harper )
" As your kids grow they may forget what you said, but won't forget how you made them feel. " ( Kevin Heath )