50 Thanksgiving Quotes to Share the Spirit Of Thankfulness & Gratitude
Thanksgiving means making new memories with family and friends, which is the highlight of this holiday season. It reminds us to show gratitude, respect those important to us, and find comfort in love and friendship.
There is nothing more heartwarming than the fact that we have a full table of food and generous hearts on Thanksgiving. The atmosphere is filled with love, togetherness, and appreciation, as families and friends create lasting memories while sharing a scrumptious feast. It's a beautiful occasion that stirs deep emotions, reminding us of gratitude and the bonds we cherish.
We enjoy time with our loved ones while giving God praise for the harvest and all that we have. Turkey, stuffing, mashed potatoes, cranberry sauce, and pumpkin pie are typically served during Thanksgiving feasts.
Thanksgiving Day 2023 Quotes For Family &Friends
There is nothing better than family, friends, and food on Thanksgiving. We should be thankful for all the positive things in our lives this time of year. It's also time for some inspiring Thanksgiving quotes! The following are some of our favorites.
#1 " Thanksgiving just gets me all warm and tingly and all kinds of wonderful inside." ( Willard Scott )
#2 " If you think about a Thanksgiving dinner, it's really like making a large chicken." ( Ina Garten )
#3 " Gratitude makes sense of our past, brings peace for today, and creates a vision for tomorrow." ( Melody Beattie )
#4 " Thank you for being a part of my life. I am grateful for your love, your support, and your friendship. Happy Thanksgiving! " ( Unknown )
#5 " The thankful heart will find, in every hour, some heavenly blessings." ( Henry Ward Beecher )
#6 " I awoke this with devout thanksgiving for my friends, the old and the new " ( Ralph Waldo Emerson )
#7 " Thanksgiving is an emotional holiday. People travel thousands of miles to be with people they only see once a year. And then discover once a year is way too often." ( Johnny Carson )
#8 " Give thanks for a little and you will find a lot." ( Hausa Proverb )
#9 " Let us remember that, as much has been given us, much will be expected from us, and that true homage comes from the heart as well as from the lips and shows itself in deeds." ( Theodore Roosevelt )
#10 " Lets gratitude be the pillow upon which you kneel to say your nightly prayer. And let faith be the bridge you build to overcome evil and welcome good. " ( Maya Angelou )
#11 " Thanksgiving, after all, is a word of action." ( W.J. Cameron )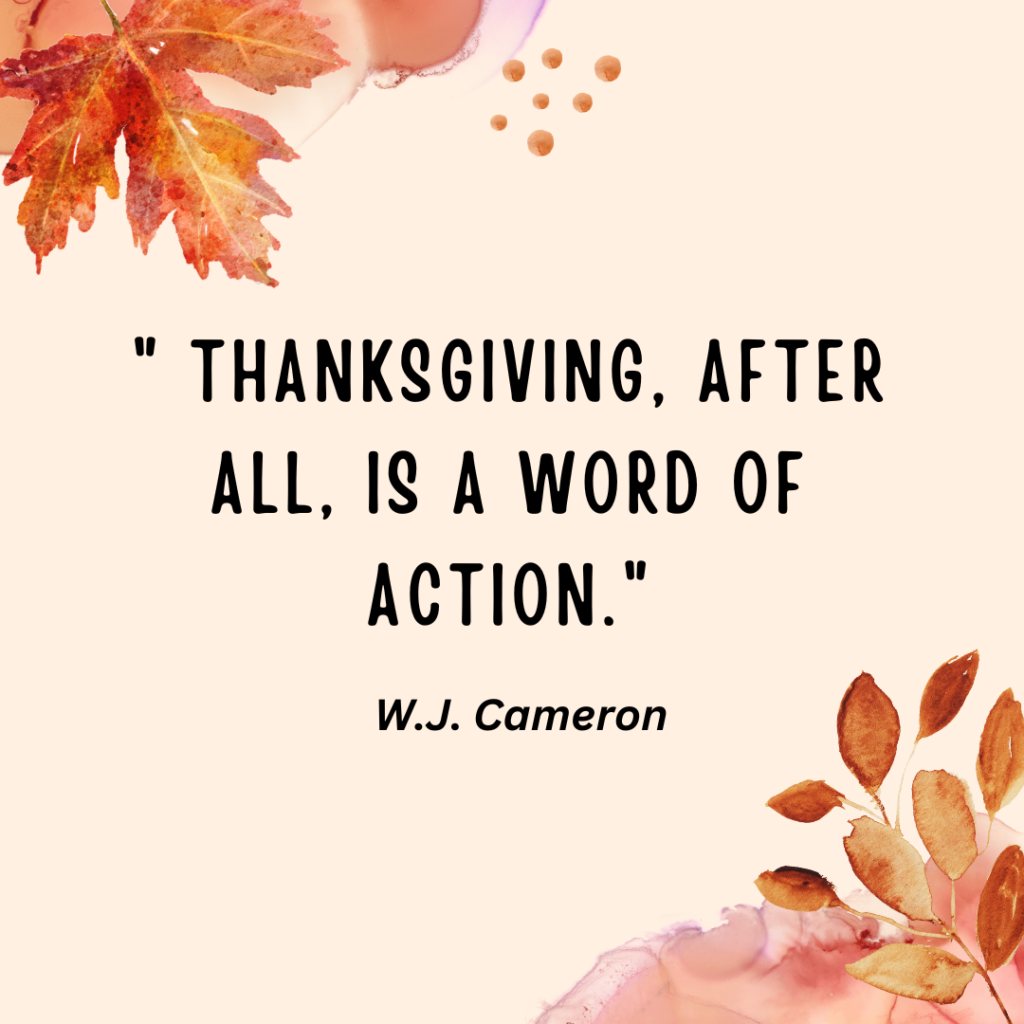 #12 " As we express our gratitude, we must never forget that the highest appreciation is not to utter words, but to live by them " ( John Fitzgerald Kennedy )
#13 " The thankful receiver bears a plentiful harvest." ( William Blake )
#14 " I 'm thankful for every moment " ( Al Green )
#15 " Family gathers to share good noise and good food. Gratitude abounds." ( Richelle E. Goodrich )
#16 " Suddenly, so many things become so little when we realize how blessed and lucky we are. " ( Joyce Giraud )
#17 " Thanksgiving is a time of togetherness and gratitude." ( Nigel Hamilton )
#18 " And though I ebb in worth, I'll flow in thanks." ( John Taylor )
#19 " Thanksgiving is the holiday of peace, the celebration of work and the simple life… a true folk- festival that speaks the poetry of the turn of the seasons, the beauty of seedtime and harvest, the ripe product of the year — and the deep, deep connection of all these things with God." ( Ray Stannard Baker )
#20 " Gratitude can transform common days into thanksgivings, turn routine jobs into joy, and change ordinary opportunities into blessings. " ( William Arthur Ward )
#21 " Once you start practicing being grateful and thankful for things, people, and events, you may notice that you start to attract more positive things, people, and events in your life " ( Stephanie Conkle )
#22 " Be present in all things, and thankful for all things. " ( Maya Angelou )
#23 " What if, today we were grateful for everything? " ( Charlie Brown )
#24 " Small cheer and great welcome make a merry feast. " ( William Shakespeare )
#25 " Thanksgiving is the holiday that encompasses all others. All of them, from Martin Luther King Day to Arbor Day to Christmas to Valentine's Day, are in one way or another about being thankful." ( Jonathan Safran Foer )
#26 " Thanksgiving- when the people who are the most thankful are the ones who didn't have to cook." ( Melanie White )
#27 " Be thankful for what you have; you'll end up having more. If you concentrate on what you don't have, you will never, ever have enough." ( Oprah Winfrey )
#28 "We should certainly count our blessings, but we should also make our blessings count. " ( Neal A. Maxwell )
#29 " The thankful heart opens our eyes to a multitude of blessings that continually surround us. " ( James E. Faust )
#30 " The thankful receiver bears a plentiful harvest. " ( William Blake )
#31 " If you are really thankful, what do you do? You share. " ( W. Clement Stone )
#32 " Even in the trials of life, if we have eyes to see them, we can find good things everywhere we look." ( Joanna Gaines )
#33 " Let us be grateful to the people who make us happy. They are charming gardeners who make our souls blossom. " ( Marcel Proust )
#34 " At some point in life the world's beauty becomes enough. You don't need to photograph, paint, or even remember it. It is enough." ( Toni Morrison )
#35 " Wear gratitude like a cloak, and it will feed every corner of your life. " ( Rumi )
#36 " Thank you is the best prayer that anyone could say. ( Alice Walker )
#37 " Appreciation is a wonderful thing. It makes what is excellent in others belong to us as well. " ( Voltaire )
#38 " Yesterday's the past, tomorrow's the future, but today is a gift. That's why it's called the present. " ( Bil Keane )
#39 " I started out giving thanks for small things, And the more thankful I became, the more my bounty increased." ( Oprah Winfrey )
#40 " Gratitude is a quality similar to electricity: It must be produced and discharged and used up in order to exist at all. " ( William Faulkner )
Thanksgiving Quotes To God
#41 "Now therefore, our God we thank you and praise your glorious name." ( 1 Chronicles 29:13 )
#42 " Therefore, since we are receiving a kingdom that cannot be shaken, let us be thankful, and so worship God acceptably with reverence and awe, for our "God is a consuming fire. ( Hebrews 12:28 )
#43 " I thank you, Lord, with all my heart; I sing praise to you before the gods. I face your holy Temple, bow down, and praise your name because of your constant love and faithfulness because you have shown that your name and your commands are supreme. " ( Psalm 138: 1-2 )
#44 " We give thanks to you, o God, we give thanks, for your name is near, we recount your wondrous deeds. " Psalm 75: 1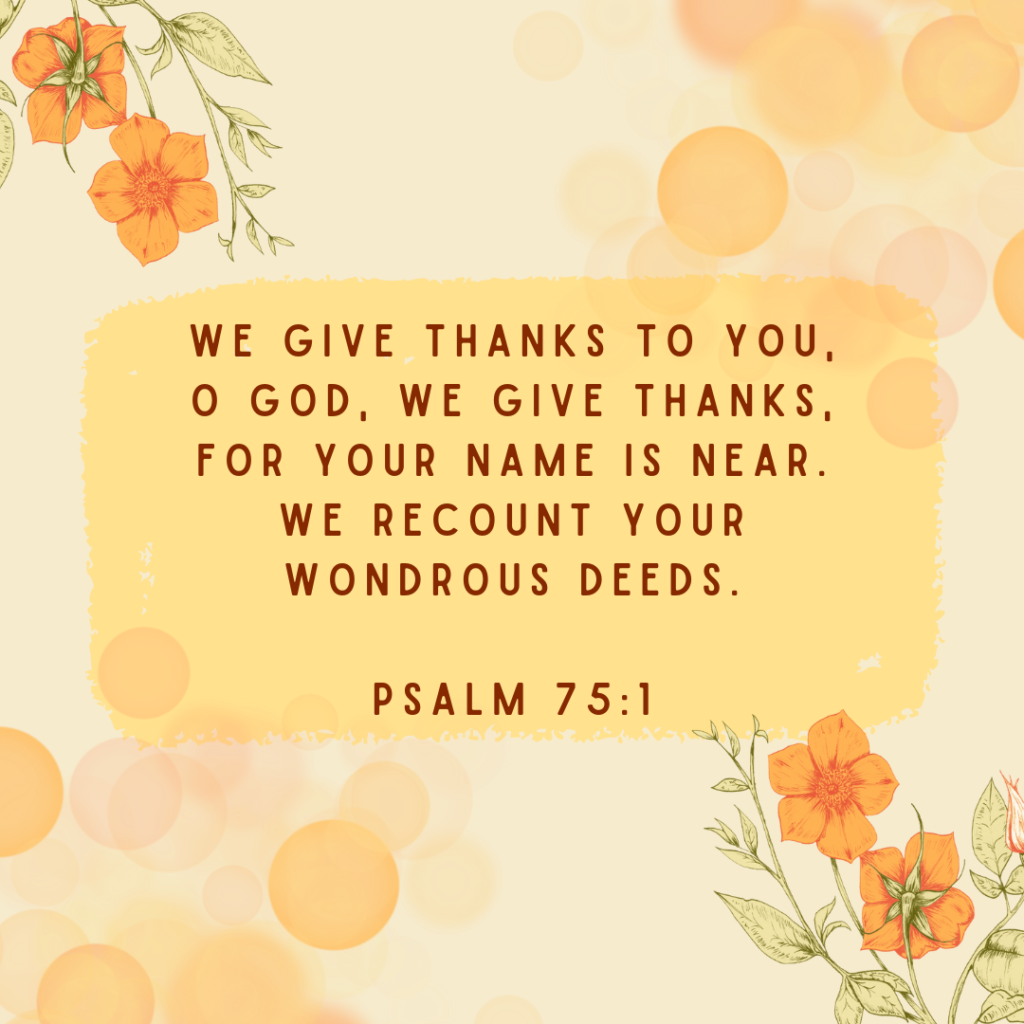 #45 " I will sacrifice a thank offering to you and call on the name of the Lord. " ( Psalm 116:17 )
#46 " I will give thanks to the Lord because of his righteousness; I will sing the name of the Lord Most High. " ( Psalm 7:17 )
#47 " Praise the Lord. Give thanks to the Lord, for he is good; his love endures forever. ( Psalm 106:1 )
#48 " Sacrifice thank offerings to God, fulfill your vows to the Most High. " ( Psalm 50:14 )
#49 " I will give thanks to you, Lord, with all my heart; I will tell of all your wonderful deeds. " ( Psalm 9:1 )
#50 " Enter his gates with thanksgiving and his courts with praise; give thanks to him and praise his name. For the Lord is good and his love endures forever; his faithfulness continues through all generations. ( Psalm 100:4-5 )