30 Palm Sunday Scriptures To Mark The Beginning of Holy Week
Easter is one of the most inspiring Christian holidays of the year. After we remember Lent and give thanks for Jesus' suffering, Easter Sunday is just around the corner. You will be busy with Easter preparations like crafts and planning For the Easter Brunch Menu.
But it's also necessary to take some time to reflect on why Lent is so important to us. Spend time together reading Palm Sunday scripture and celebrating His Good News.
On Palm Sunday, we recall Jesus' triumphant entrance into Jerusalem, where he was welcomed by heartfelt tributes and the waving of palm branches. This occasion marked the start of Jesus' journey toward his supreme sacrifice on the crucifixion and was a fulfillment of prophecy.
When Palm Sunday
Beginning with Palm Sunday, Holy Week is a period of remembering and reflecting on Jesus Christ's sacrifice for us on the crucifixion. This year Palm Sunday will be held on March 24, 2024, the fourth Sunday in Lent.
Let's reflect on the scriptures and open our hearts to God's message for us in this season of renewal and hope.
Scriptures For Palm Sunday
#1 " More than that, we rejoice in our sufferings, knowing that suffering produces endurance, and endurance produces character, and character produces hope." ( Romans 5:3-4 )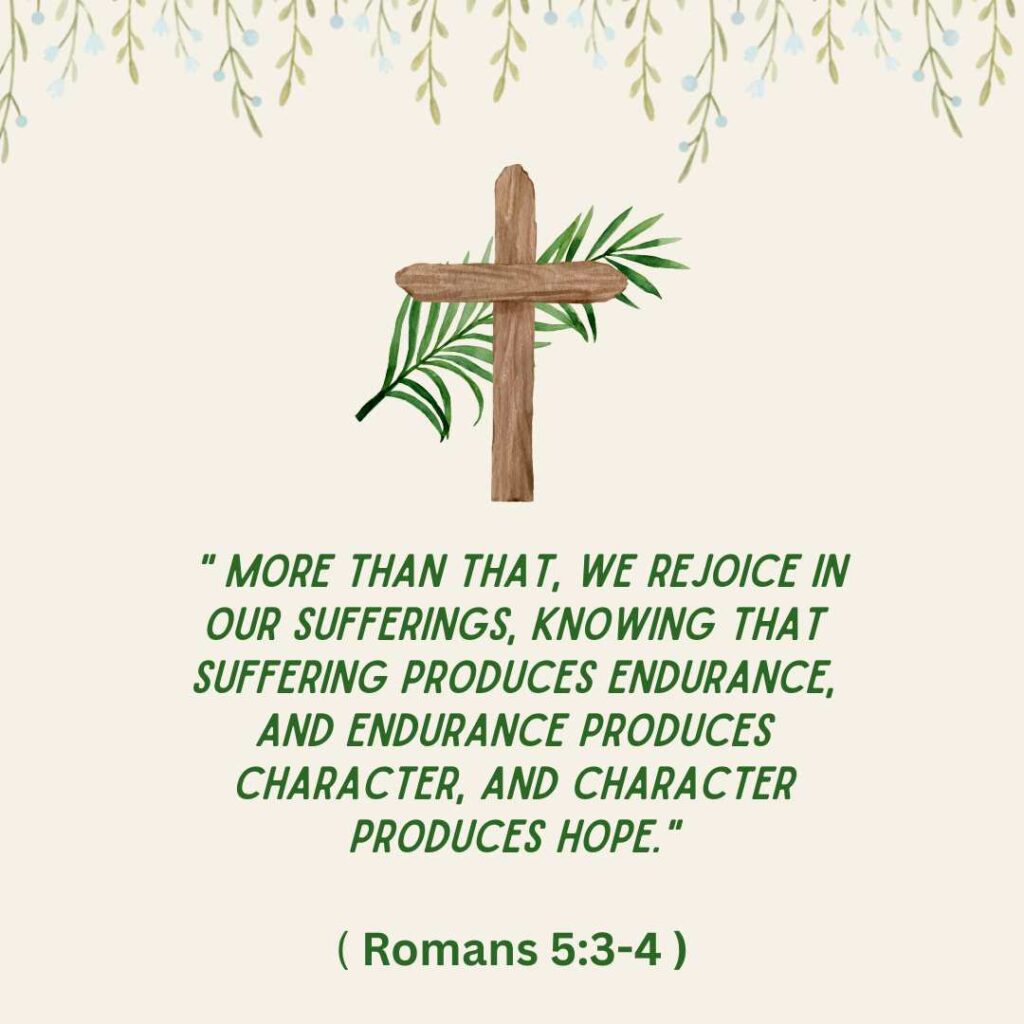 #2 " Jesus said to him, 'I am the way, the truth, and the life. No one comes to the Father except through Me." ( John 14:6 )
#3 " They took palm branches and went out to meet him. They shouted, 'Hosanna! Blessings on the one who comes in the name of the Lord! Blessings on the king of Israel." ( John 12:13 )
#4 " This is love for God: to obey his commands. And his commands are not burdensome," ( 1 John 5:3 )
#5 " He exerted when he raised Christ from the dead and seated him at his right hand in the heavenly realms " ( Ephesians 1:20 )
#6 " And my soul shall be joyful in the Lord: it shall rejoice in his salvation. " ( Psalm 35:9 )
#7 " Whoever believes and is baptized will be saved, but whoever does not believe will be condemned." (Mark 16:16 )
#8 " And being found in appearance as a man, he humbled himself by becoming obedient to death— even death on a cross! " ( Philippians 2:8 )
#9 " You who are faithful to the Lord, sing praises to him; give thanks to his holy name! His anger lasts for only a second, but his favor lasts a lifetime. Weeping may stay all night, but by morning, joy! " ( Psalm 30:4-5 )
#10 "Bear with each other and forgive one another if any of you has a grievance against someone. Forgive as the Lord forgave you." ( Colossians 3:13 )
#11 " We love because he first loved us." ( 1 John 4:19 )
#12 " Be strong, and let your heart take courage, all you who wait for the Lord! " ( Psalm 31:24 )
#13 " Blessed is the man who walks not in the counsel of the wicked, nor stands in the way of sinners, nor sits in the seat of scoffers, but his delight is in the law of the Lord, and on his law, he meditates day and night." ( Psalm 1:1-2 )
#14 " And the crowds that went before him and that followed him were shouting, 'Hosanna to the Song of David! Blessed is he who comes in the name of the Lord! Hosanna in the highest! " ( Mathew 21:9 )
#15 " Rejoice in the Lord always; again I will say, rejoice." ( Philippians 4:4 )
#16 " That I may know him and the power of his resurrection, and may share his sufferings, becoming like him in his death, that by any means possible I may attain the resurrection from the dead." ( Philippians 3:9-11 )
#17 " Great is the Lord, and greatly to be praised, and his greatness is unsearchable." ( Psalm 145:3 )
#18 " It is a trustworthy statement, deserving full acceptance, that Christ Jesus came into the world to save sinners, among whom I am foremost of all." ( 1 Timothy 1:15 )
#19 "If you declare with your mouth, 'Jesus is Lord,' and believe in your heart that God raised him from the dead, you will be saved." ( Romans 10:9 )
#20 "Because he poured out his soul to death and was numbered with the transgressors; yet he bore the sin of many, and makes intercession for the transgressors." ( Isaiah 53:12 )
#21 " And Peter said to them, 'Repent and be baptized every one of you in the name of Jesus Christ for the forgiveness of your sins, and you will receive the gift of the Holy Spirit." ( Acts 2:38 )
#22 " This is the day the Lord has made; let us rejoice and be glad in it." ( Psalm 118:24 )
#23 " Finally, be strong in the Lord and in the strength of his might." ( Ephesians 6:10 )
#24 " They took branches of palm trees and went forth to meet him, and cried Hosanna! Blessed is he who comes in the name of the Lord! " ( John 12:13 )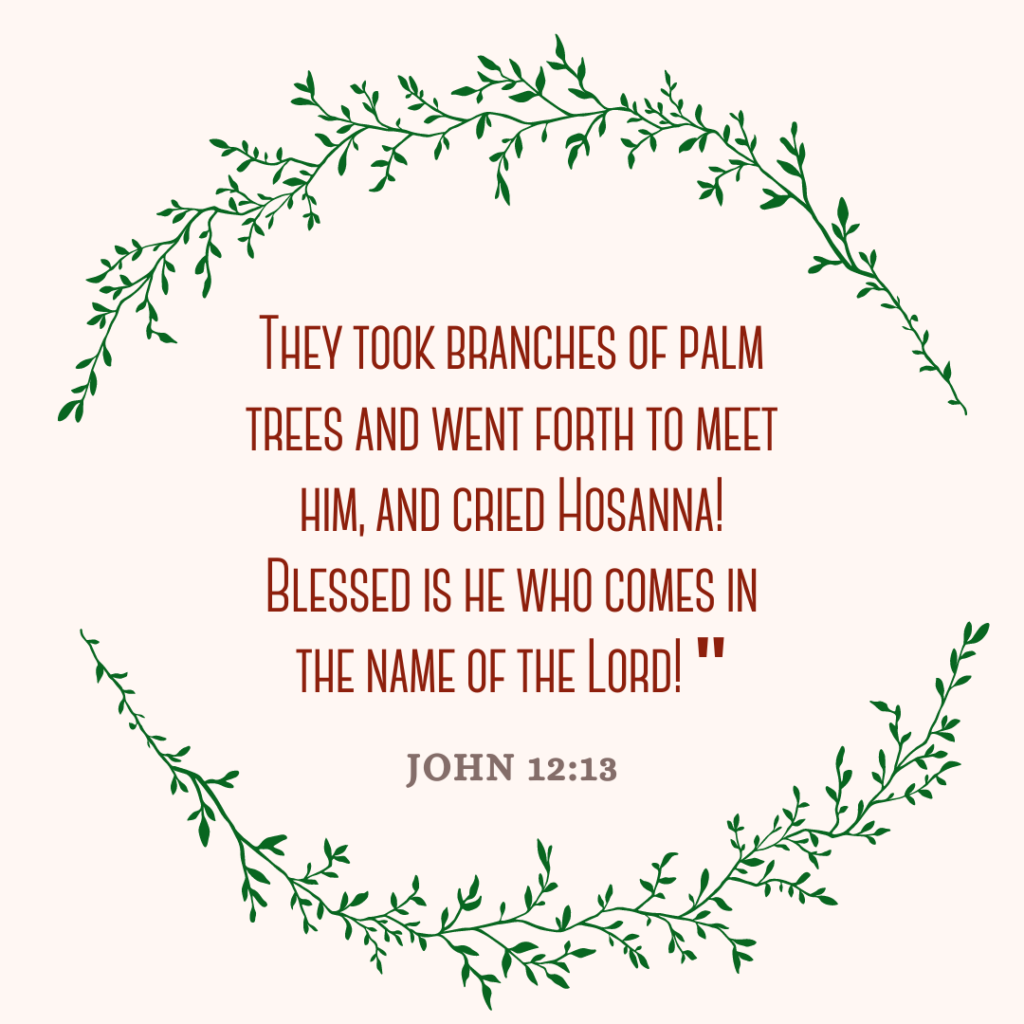 #25 " Therefore what God has joined together, let no one separate." ( Mark 10:9 )
#26 " Therefore, if anyone is in Christ, the new creation has come: The old has gone, the new is here!" ( 2 Corinthians 5:17 )
#27 " Jesus said to her, 'I am the resurrection and the life. Whoever believes in me, though he die, yet shall he live. " ( John 11:25 )
#28 "And with great power, the apostles were giving their testimony to the resurrection of the Lord Jesus, and great grace was upon them all." ( 1 Acts 4:33 )
#29 " As he was drawing near already on the way down the Mount of Olives the whole multitude of his disciples began to rejoice and praise God with a loud voice for all the mighty works that they had seen." ( Luke 19:37 )
#30 " Blessed is the king who comes in the name of the Lord! Peace in heaven and glory in the highest! "
( Luke 19:38 )