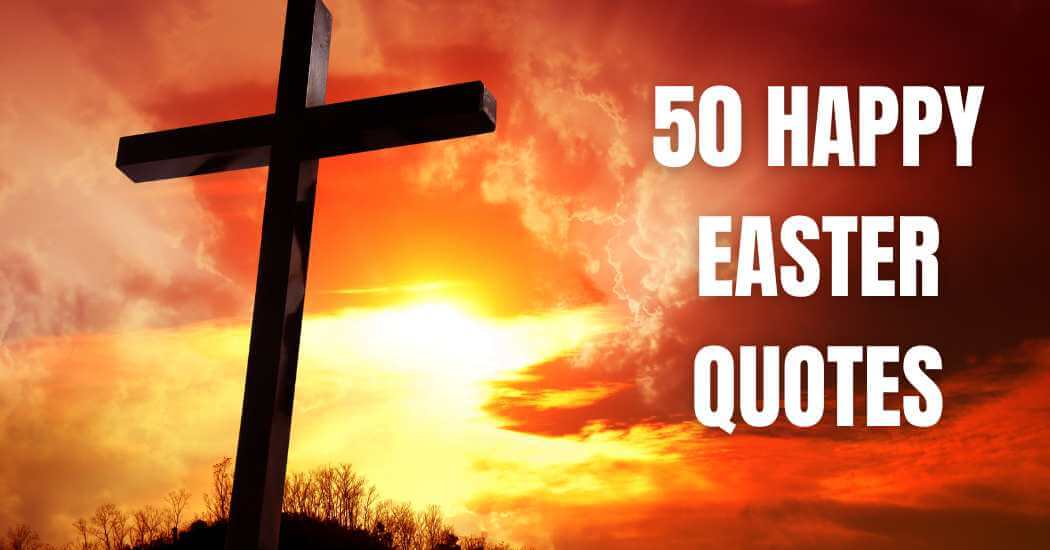 50 Happy Easter Quotes To Celebrate Easter Season With Joy
Easter is a time of hope, renewal, and joy. It's a time to celebrate the resurrection of Jesus Christ, and it's also a time to come together with loved ones and celebrate the arrival of spring.
Regardless of our religious beliefs, the Easter holiday allows us to reflect on how blessed we are. Good Friday, Holy Saturday, and Passover will all take place in the weeks leading up to and following Easter 2023.
For Christians, it begins with 40 days of fasting and prayer. Easter is a season of reflection, inspiration, and meaning. The Easter holiday is a great time to spend time with family.
People celebrate their happiness and joy with their loved ones during this time. Sending Easter sayings and quotes to your loved ones is the best way of expressing your feelings, care, emotions, and much more.
We have compiled 50 of the best Happy Easter quotes that are perfect for celebrating the Easter season in 2023.
Happy Easter Quotes & Sayings
#1 "The resurrection gives my life meaning and direction and the opportunity to start over no matter what my circumstances."( Robert Flatt )
#2 "Easter is the demonstration of God that life is essentially spiritual and timeless."( Charles M. Crowe )
#3 "Easter is not just about God's forgiveness, it's also about His power. It's about the power of God to give life, to bring hope, to create new beginnings."( Unknown )
#4 "Easter is a time when God turned the inevitability of death into the invincibility of life."( Craig D. Lounsbrough )
#5 "God had brought me to my knees and made me acknowledge my own nothingness, and out of that knowledge I had been reborn. I was no longer the centre of my life and therefore I could see God in everything."( Bede Griffiths )
#6 "Easter is meant to be a symbol of hope, renewal, and new life."( Janine di Giovanni )
#7 "The resurrection gives us hope and fills our hearts with joy. Let us be thankful for this gift of new life."( Unknown )
#8 "Faith in the Lord Jesus Christ is the foundation upon which sincere and meaningful repentance must be built. If we truly seek to put away sin, we must first look to Him who is the Author of our salvation."( Ezra Taft Benson )
#9 "A rule I have had for years is: to treat the Lord Jesus Christ as a personal friend. His is not a creed, a mere doctrine, but it is He Himself we have."( Dwight L. Moody )
#10 "Easter spells out beauty, the rare beauty of new life."( S.D. Gordon )
#11 "Easter combines the best of the present with the traditions of the past – like Cadbury cream eggs with hunting and gathering."( Melanie White )
#12 "Easter is a time to rejoice, be thankful, be assured that all is forgiven so life extends beyond the soil of the earth "( Byron Pulsifer )
#13 "To a Christian, Easter Sunday means everything, when we celebrate the resurrection of Jesus Christ." ( Bernhard Langer )
#14 "I really do believe that God is love, one of deep affection and grace and forgiveness and inspiration."( William P. Young )
#15 "The resurrection of Jesus changes the face of death for all His people. Death is no longer a prison, but a passage into God's presence. Easter says you can put truth in a grave, but it won't stay there."( Clarence W. Hall )
#16 "My mom used to say that Greek Easter was later because then you get stuff cheaper."( Amy Sedaris )
#17 "Let every man and woman count himself immortal. Let him catch the revelation of Jesus in his resurrection. Let him say not merely, 'Christ is risen,' but 'I shall rise."( Phillips Brooks )
#18 "Here is the amazing thing about Easter; the Resurrection Sunday for Christians is this, that Christ in the dying moments on the cross gives us the greatest illustration of forgiveness possible."( T. D. Jakes )
#19 "God proved His love on the Cross. When Christ hung, and bled, and died, it was God saying to the world, 'I love you."( Billy Graham )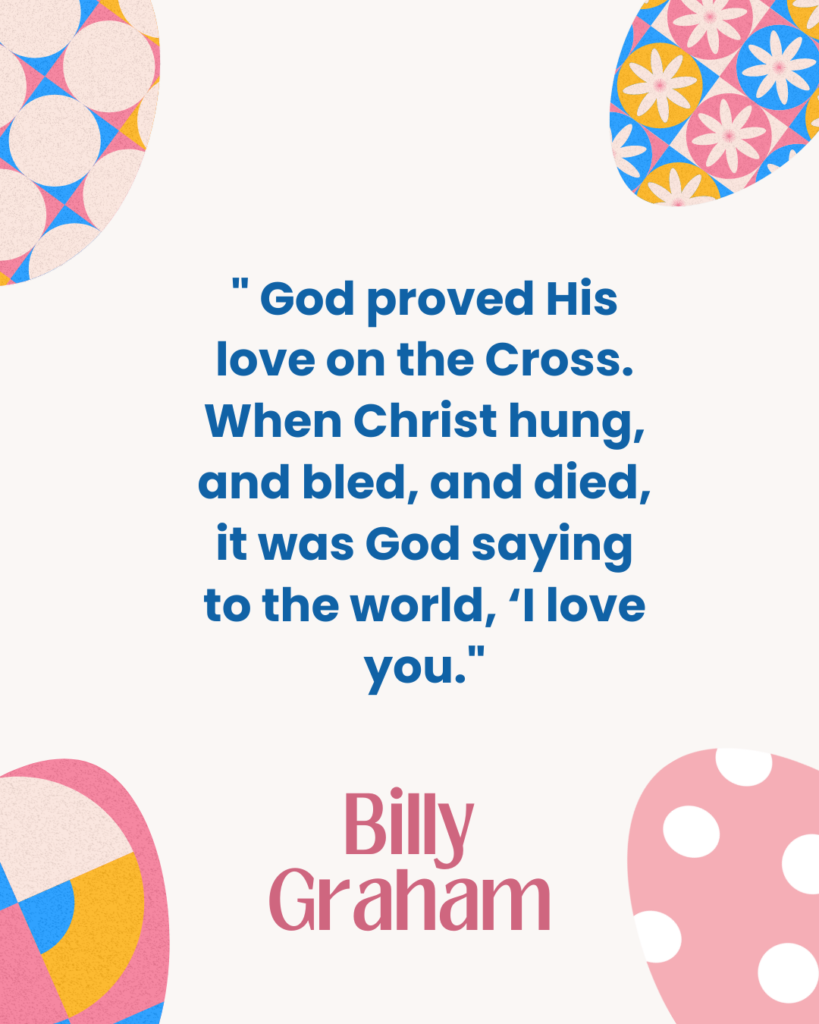 #20 "Our Lord has written the promise of resurrection, not in books alone but in every leaf of springtime "( Martin Luther )
#21 "We proclaim the resurrection of Christ when his light illuminates the dark moments of our existence."( Pope Francis )
#22 "For many this Easter day symbolizes rebirth. Is it only one day a year, though? I don't think so. Each day we can choose in what we will place our faith."( Charles F. Glassman )
#23 "People come together with their families to celebrate Easter. What better way to celebrate than to spend a few hours going on the journey of Christ's life."( Roma Downey )
#24 "If Easter says anything to us today, it says this: You can put truth in a grave but it won't stay there."( Clarence W. Hall )
#25 "The Easter eggs symbolizes our ability to break out of the hardened, protective shell we've surrounded ourselves with that limits our thoughts and beliefs. As we break open our hearts and minds we discover a transformation to new, life-enhancing thoughts and beliefs."( Siobhan Shaw )
#26 "Christ has not only spoken to us by his life but has also spoken for us by his death."( Søren Kierkegaard )
#27 "The great gift of Easter is hope."( Basil C. Hume )
#28 "The day the Lord created hope was probably the same day he created spring."( Bernard Williams )
#29 "Hope is being able to see that there is light despite all the darkness."( Desmond Tutu )
#30 "But from this earth, this grave, this dust, my God shall raise me up, I trust."( Walter Raleigh )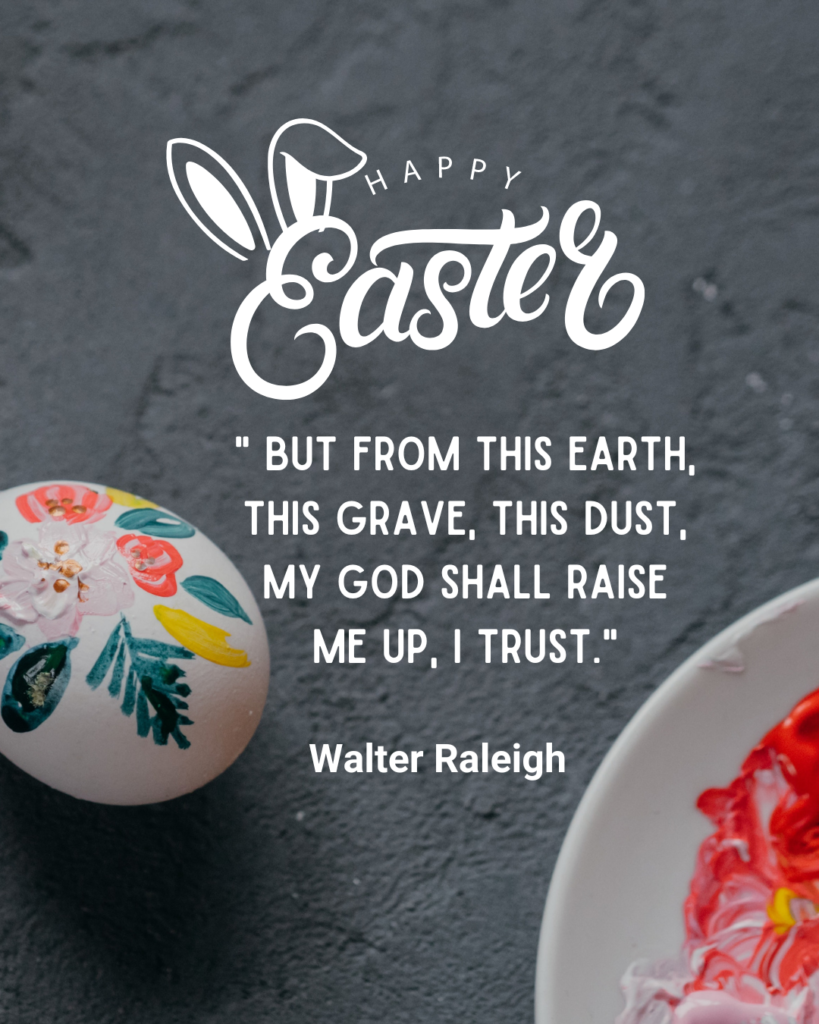 #31 "Death is the justification of all the ways of the Christian, the last end of all his sacrifices, the touch of the Great Master which completes the picture."( Sophie Swetchine )
#32 "I believe in Christ like I believe in the sun—not because I can see it, but by it, I can see everything else."( C.S. Lewis )
#33 "On Easter Day the veil between time and eternity thins to gossamer. "( Douglas Horton )
#34 "Our old history begins and ends with the cross. Our new history begins with our resurrection."( Watchman Nee )
#35 "Earth's saddest day and gladdest day were just three days apart!"( Susan Coolidge )
#36 "How can we joyfully anticipate Easter Sunday's power without mournfully remembering our weakness?"( Christopher Greer )
#37 "Easter tells us of something children can't understand because it addresses things they don't yet have to know: the weariness of life, the pain, the profound loneliness and hovering fear of meaninglessness." ( Frederica Mathewes-Green )
#38 "Easter is one of my favorite holidays with the kids. They get to run loose, and we always have our family and loved ones all around us!"( Camila Alves )
#39 "So shall we join the disciples of our Lord, keeping faith in Him in spite of the crucifixion, and making ready, by our loyalty to Him in the days of His darkness, for the time when we shall enter into His triumph in the days of His light."( Philip Ledyard Cuyler )
#40 "Easter can be the highlight of the year. Better than Christmas. Bigger than a birthday. And about so much more than just chocolate."( Ed Drew )
#41 "The resurrection gives my life meaning and direction and the opportunity to start over no matter what my circumstances."( Robert Flatt )
#42 "We were old sinners—but when we came to Christ we are not sinners anymore."( Joel Osteen )
#43 "Life is wasted if we do not grasp the glory of the cross, cherish it for the treasure that it is, and cleave to it as the highest price of every pleasure and the deepest comfort in every pain."( John Piper )
#44 "Easter is an answer. It is such a dramatic, earthshaking answer that for nearly twenty centuries, artists of every kind and quality have been trying to portray its significance."( J. Ellsworth Kalas )
#45 "The cross of Christ is the sweetest burden that I ever bore; it is such a burden as wings are to a bird, or sails to a ship, to carry me forward to my harbor."( Samuel Rutherford )
#46 "Let the resurrection joy lift us from loneliness and weakness and despair to strength and beauty and happiness."( Floyd W. Tomkins )
#47 "Spring shows what God can do with a drab and dirty world."( Victor Kraft )
#48 "Easter is very important to me. It's a second chance."( Reba McEntire )
#49 "The world is waking up after a long winter. Easter is a time to celebrate life!"( Trudi Strain Trueit )
#50 "Easter is the only time when it's perfectly safe to put all of your eggs in one basket."( Evan Esar)