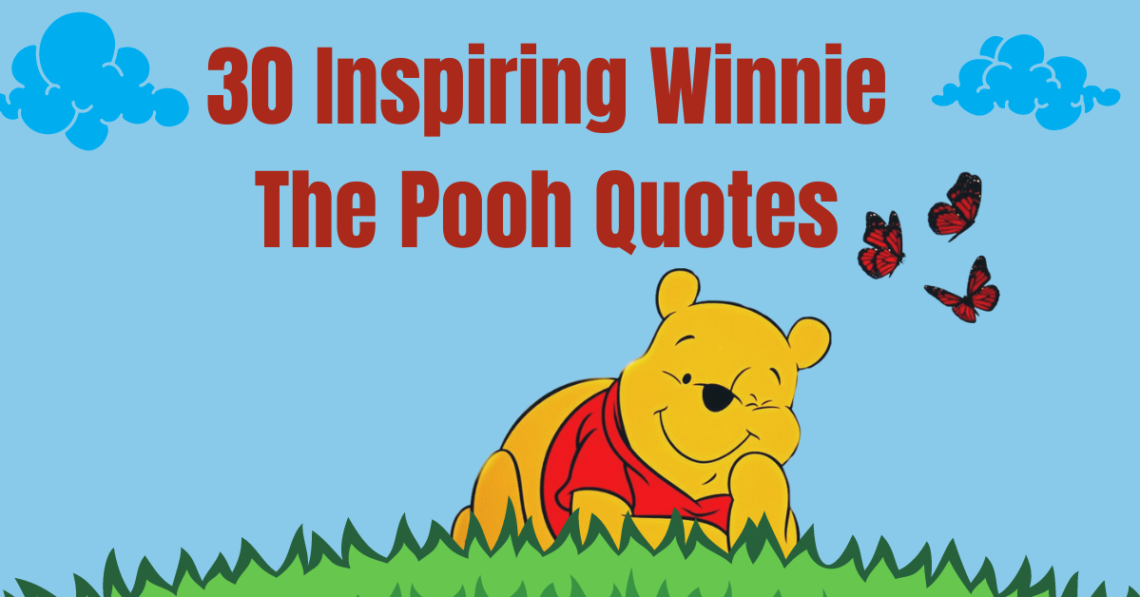 30 Best Inspiring Winnie The Pooh Quotes
This post may contain affiliate links. This means we may earn a small commission if you purchase using a link we share.
There may not be a more extraordinary bear with an understanding of the world than Winnie-the-Pooh. Known for his unusual adventures and carefree attitude, Winnie-the-Pooh holds a special place in the hearts of children and adults.
Despite the fact that Winnie-the-Pooh has been around for a long time, his words remain relevant and meaningful. We are forever enchanted by the honey-obsessed bear and his magical friends from our childhood.
We've gathered some of our favorite Winnie the Pooh quotes for today's post so you can learn some life lessons.
Winnie The Pooh Day
One of the cutest holidays around is Winnie The Pooh Day, which is observed on the birthday of author A A Milne. On 18 January, teddy bear picnics with honey are among the events marking the occasion.
Winnie The Pooh quotes
#1 "As soon as I saw you, I knew an adventure was going to happen."
#2 "Always watch where you are going. Otherwise, you may step on a piece of the Forest that was left out by mistake."
#3 " Don't underestimate the value of Doing Nothing, of just going along, listening to all the things you can't hear, and not bothering."
#4 " When you see someone putting on his Big Boots, you can be pretty sure that an Adventure is going to happen."
#5 " Nobody can be uncheered with a balloon."
#6 " Sometimes the smallest things take up the most room in your heart."
#7 " If possible, try to find a way to come downstairs that doesn't involve going bump, bump, bump, on the back of your head."
#8 " I'm never afraid with you."
#9 " I always get to where I'm going by walking away from where I have been."
#10 " If it's not Here, that means it's out there."
#11 "If you live to be a hundred, I hope I live to be a hundred minus one day, so that I never have to live a day without you."
#12 "The most important thing is, even when we're apart … I'll always be with you …"
#13 "The only reason for being a bee is to make honey. And the only reason for making honey is so I can eat it."
#14 "People say that nothing is impossible, but I do nothing every day."
#15 " When you go after honey with a balloon, the great thing is to not let the bees know you're coming."
#16 "When life throws you a rainy day, play in the puddles."
#17 "A friend is one of the best things you can have and one of the best things you can be."
#18 "A day without a friend is like a pot without a single drop of honey left inside."
#19 "A day without laughter is a day wasted."
#20 "We didn't realize we were making memories, we just knew we were having fun."
#21 "The things that make me different are the things that make me."
#22 "You can't stay in your corner of the Forest waiting for others to come to you. You have to go to them sometimes."
#23 "Before beginning a Hunt, it is wise to ask someone what you are looking for before you begin looking for it."
#24 "Those who are clever, who have a Brain, never understand anything."
#25 When you are a Bear of Very Little Brain, and you Think of Things, you find sometimes that a Thing which seemed very Thingish inside you is quite different when it gets out into the open and has other people looking at it."
#26 "I think we dream so we don't have to be apart for so long. If we're in each other's dreams, we can be together all the time."
#27 "It is more fun to talk with someone who doesn't use long, difficult words but rather short, easy words like, 'What about lunch? "
#28 "Yesterday, when it was tomorrow, it was too exciting a day for me."
#29 "A hug is always the right size."
#30 "When all else fails, take a nap."
Useful Links
80 Meaningful Friendship Quotes to Share With Your Best Friend