35 Positive Happy Labor Day Quotes To Honor Hardwork
Labor Day celebrates summer's end. Before the start of the school year, families and friends gather together for outdoor activities like picnics and barbecues to enjoy the long weekend. On this holiday we pause for a moment to step back from our regular routines this year. We recognize the value labor adds to our lives and reflect on its importance.
It's a time for gratitude and celebration as we appreciate the efforts of people in various jobs who make our communities and the nation stronger. So, after enjoying summer warmth and fun, we come together to show our respect and thanks to the workforce on Labor Day.
Labor Day reminds us of labor's essential role as the foundation of our society. Every employee, from the competent tradesperson to the devoted healthcare professional, contributes differently to the world we live in. A high level of praise should be given to their unwavering commitment and dedication.
When Is Labor Day 2023?
Labor Day in 2023 will be September 4! Although the holiday falls on Monday, you typically celebrate it throughout the weekend beginning the previous Saturday.
Happy Labor Day Quotes
" The highest compliment that you can pay me is to say that I work hard every day, that I never dog it. " ( Wayne Gretzky )
" I learned the value of hard work by working hard. " ( Margaret Mead )
" Amateurs sit and wait for inspiration. The rest of us just get up and go to work. " ( Stephen King )
" If they don't give you a seat at the table, bring a folding chair. " ( Shirley Chisholm )
" No human masterpiece has been created without great labor " ( Andre Gide )
" Whatever you want to do, if you want to be great at it, you have to love it and be able to make sacrifices for it." ( Maya Angelou )
" To find joy in work is to find the fountain of youth. " ( Pearl S. Buck )
" Nothing ever comes to one that is worth having except as a result of hard work." ( Booker T. Washington )
" There is no substitute for hard work." ( Thomas A. Edison )
" Pleasure in the job puts perfection in the work. " ( Aristotle )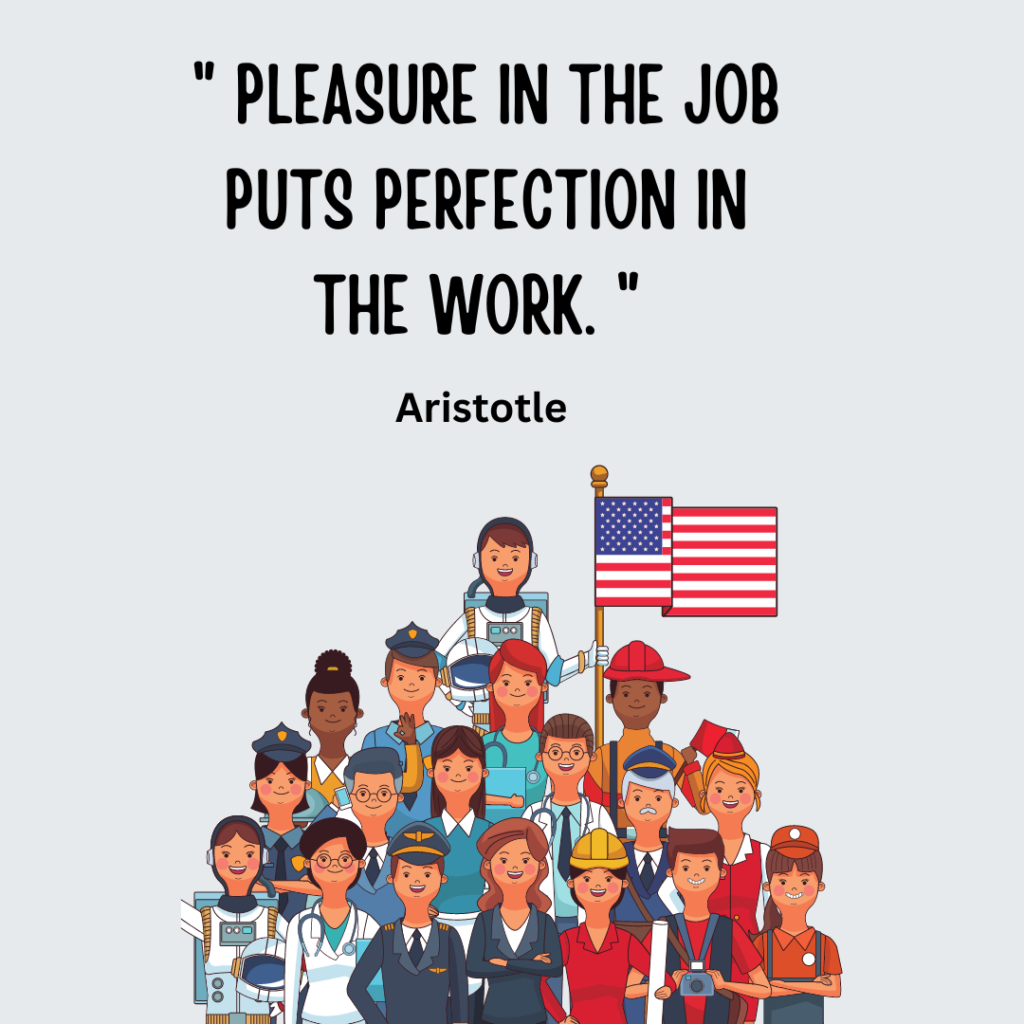 Positive Labor Day Quotes
" It is only through labor and painful effort, by grim energy and resolute courage, that we move on to better things." ( Theodore Roosevelt )
" Before the reward, there must be labor. You plant before you harvest. You sow in tears before you reap joy." ( Ralph Ransom )
" A man is not paid for having a head and hands, but for using them." ( Elbert Hubbard )
" It's hard to beat a person who never gives up. " ( Babe Ruth )
" Take rest. A field that has rested gives a bountiful crop. " ( Ovid )
" The big secret in life is that there is no big secret. Whatever your goal, you can get there if you're willing to work." ( Oprah Winfrey )
" Follow your passion, be prepared to work hard and sacrifice, and, above all, don't let anyone limit your dreams." ( Donovan Bailey )
" I didn't get there by wishing for it or hoping for it, but by working for it." ( Estée Lauder )
" The best way to find yourself is to lose yourself in the service of others. " ( Mahatma Gandhi )
" Just try new things. Don't be afraid. Step out of your comfort zones and soar, all right? " ( Michelle Obama )
Labor Day Quotes Inspirational
" Without labor, nothing prospers. " ( Sophocles )
" Without ambition one starts nothing. Without work one finishes nothing. The prize will not be sent to you. You have to win it. " ( Ralph Waldo Emerson )
" Though you can love what you do not master, you cannot master what you do not love." ( Mokokoma Mokhonoana )
" All labor that uplifts humanity has dignity." ( Martin Luther King, Jr.)
" Genius begins great works. Labor alone finishes them. " ( Joseph Joubert )
" One must work and dare if one really wants to live. " ( Vincent Van Gogh )
" Dreams don't work unless you do. " ( John C. Maxwell )
" It is labor indeed that puts the difference on everything." ( John Locke )
" The artist is nothing without the gift, but the gift is nothing without work. " ( Émile Zola )
" Nothing will work unless you do." ( Maya Angelou )
" The individual who says it is not possible should move out of the way of those doing it. " ( Tricia Cunningham )
" You have to fight to reach your dream. You have to sacrifice and work hard for it." ( Lionel Messi )
" I think that my biggest attribute to any success that I have had is hard work. There really is no substitute for working hard. " ( Maria Bartiromo )
" Find something you love to do, and you'll never have to work a day in your life." ( Harvey Mackay )
" The fruit derived from labor is the sweetest of pleasures. " ( Luc de Clapiers )