4 Key Ingredients To Look For Perfect Eye cream
Are you looking for the perfect eye cream? Whether you want to treat dark circles or fine lines around your eyes, Several options are available on the market.
Eye creams can provide different benefits, such as reducing puffiness, improving skin tone, and even helping prevent wrinkles. If you're interested in using an eye cream, consider the following three Ingredients before purchasing.
Perfect eye cream should contain a few key ingredients. First, it should have a high concentration of active ingredients like retinol or vitamin C.
Second, it should be thick and creamy, nourishing and hydrating the delicate skin around the eyes.
Third, it should have a light, refreshing scent that will wake you up and make you feel refreshed after a long night's sleep.
Check These Four Ingredients For The Perfect Eye Cream
First, choose a formula that contains at least two types of vitamins, such as vitamins C and E. These vitamins can help reduce signs of aging and improve the appearance of your skin.
Second, look for a moisturizer with hyaluronic acid, which helps retain moisture. Third, look for a product that contains retinol, which stimulates collagen production.
1- Vitamin C
Vitamin C is a powerful antioxidant that helps protect skin cells from damage caused by free radicals. Free radicals are unstable molecules that cause damage to DNA and other cellular components. Antioxidants help neutralize these free radicals before they can do any harm.
Vitamin C eye cream improves the appearance of dark circles, fine lines, and wrinkles around the eyes. Antioxidants and nutrients in this cream help to brighten and firm the skin.
For the most effective results, look for a formula that contains at least 10% vitamin C.
Massage the cream into clean, dry skin around the eyes until it is fully absorbed. For maximum results, use morning and night.
2-Retinol
Glow Recipe Avacado Melt Retinol
The Inkey List Retinol Eye Cream
Retinol is a derivative of vitamin A. It is a fat-soluble vitamin penetrating deep into the skin's layers to provide anti-aging benefits. It promotes collagen production and reduces fine lines and wrinkles.
A retinol eye cream is a good option if you are concerned about wrinkles and dark circles around your eyes. Vitamin A derivative retinol is commonly used in anti-aging products.
Increasing collagen production can help reduce wrinkles by stimulating collagen production. Retinol can also help to thicken the skin under the eyes, which can help reduce the appearance of dark circles.
In order to avoid irritation, it is essential to start with a lower concentration of retinol and work up to a higher concentration if necessary.
3-Caffeine
The Ordinary ECGC Caffeine Solution
Caffeine is often used as an ingredient in eyes cream because it can help to reduce puffiness and dark circles around the eyes. Essentially, it constricts the blood vessels and reduces the amount of fluid in the tissues.
Caffeine can also help to stimulate blood circulation and increase cell turnover, which can brighten the appearance of the skin.
Dark circles and puffiness can be reduced with caffeine. Inky List caffeine eye cream is perfect for those mornings when you need a boost. To brighten and energize your eyes, this light, refreshing formula is packed with antioxidants and caffeine.
4-Hyaluronic acid
Hydrating Eye Cream With Hyaluronic Acid
Neutrogena Hydro Boost Eye cream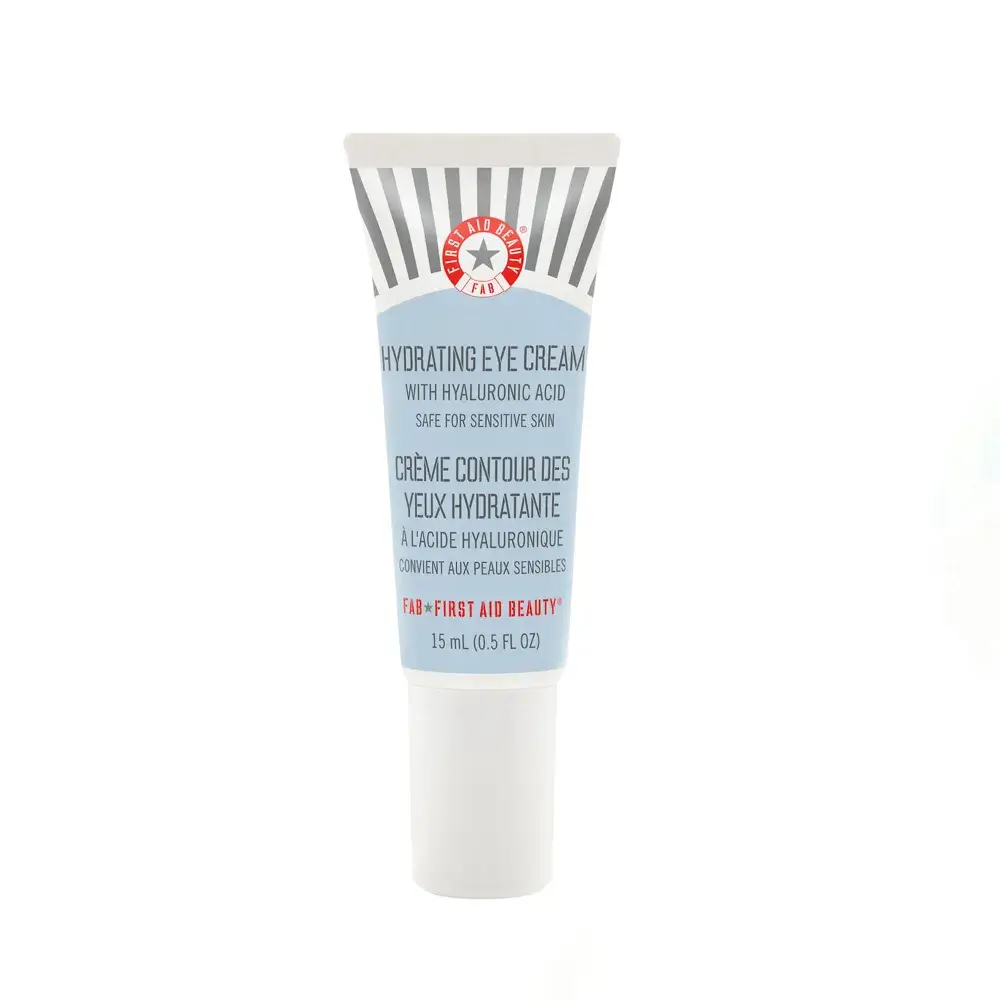 Hyaluronic acid is a substance that occurs naturally in the body, and it's known for its ability to hold onto water.
The properties of hyaluronic acid make it ideal for use in skincare products, as it acts as a "moisture magnet." When applied topically, hyaluronic acid can help skin look and feel more hydrated.
Hyaluronic acid eye cream is a type of eye cream that helps to hydrate the delicate skin area around the eyes. Fine lines and wrinkles are often reduced, as well as dryness and flakiness. Hyaluronic acid eye cream will help plump up and hydrate your skin.
Sunken Eyes Cream
There are many reasons why people may have sunken eyes, including genetics, dehydration, and fatigue. Sunken eyes can make a person look older and tired and can be a source of insecurity.
There are a few things to look for when choosing a natural sunken eyes cream, such as one that contains hyaluronic acid. This ingredient helps to plump the skin and reduce the appearance of fine lines and wrinkles.
Another good choice is an eye cream that contains caffeine, which can help to reduce puffiness. Hyaluronic acid retains skin moisture and is commonly present in these creams for sunken eyes treatment.
These creams may also contain caffeine, which helps reduce puffiness, and vitamin C, which brightens the skin.
Blog Conclusion
As you age, your skin becomes less elastic and loses its natural moisturizing capability. Skin also becomes thinner and loses fat, which leads to wrinkles and dark circles.
It's important to use an eye cream that contains ingredients that will help firm, hydrate, and brighten your eye area. We all have different skin types, so what works for one person may not work in the same way for another.
When you buy eye cream next time, look for these key ingredients when choosing an eye cream.
Useful Links