16 Simple 4th of July Crafts to Get Everyone in the Patriotic Spirit
These heartfelt, easy crafts will help you get into the festive mood for Independence Day. These 4th of July crafts will help you bring emotion, joy, and solidarity to your celebrations.
Making 4th of July crafts is one of our favorite activities to celebrate the holiday. You can decorate your house with stars and stripes using these simple Fourth of July projects.
We have activities planned for youngsters. You'll want to try these crafts yourself, so have your hot glue gun and craft scissors ready. Every art, from wreaths adorned with stars and stripes to fireworks and paintings, exemplifies our love for our country.
These crafts are more than just decorations; they represent the feelings to connect with the essence of what makes our nation great. So gather your loved ones and let these crafts ignite a flame of patriotism in your hearts. This will remind us all of our values and freedoms.
4th of July Crafts
1-Star-Spangled Banner Wreath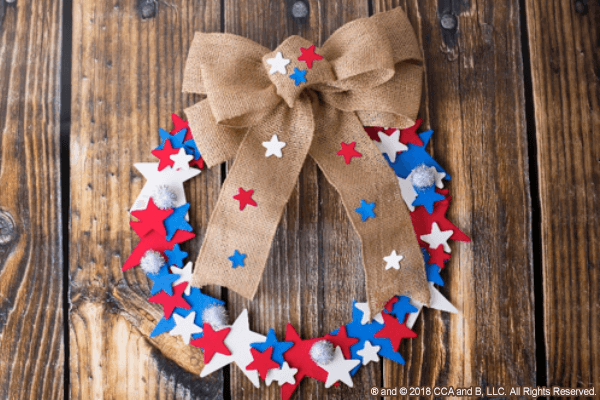 This summer, get creative with the perfect DIY 4th of July wreaths for your front entrance. Make a colorful wreath by combining red, white, and blue ribbons with small American flags. Hang it proudly on your front door to instantly instill the spirit of independence in your home.
Get Tutorial at Elf on the shelf
2-Chalkboard Star
Creating crafts with chalkboards is always a fun experience. Wrap this star-shaped board in patterned washi or duct tape to make it extra patriotic.
Get a tutorial at Little red window
3-Flower Pot with a Patriotic Theme
Making a patriotic flower pot is a great way to add national pride to your surroundings. This simple stars-and-stripes flower planter will look stunning on your patio all summer.
Get a tutorial at Lolly Jane
4-Mason Jars with Stars & Stripes
In preparation for the Fourth of July, you can decorate Mason jars with stars and stripes. These would make an excellent centerpiece with flowers. In addition, use this pint-sized set to store utensils.
Get a tutorial at Mason Jar Crafts Love
5-Popsicle Stick Uncle Sam Craft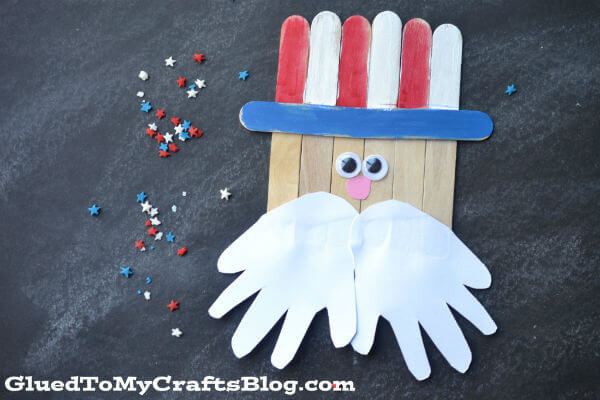 Create a lovely popsicle stick face, then add Uncle Sam's signature white beard with some minor hand cuts. Make this simple popsicle stick Uncle Sam's craft with some craft sticks, googly eyes, glue, and paint.
Get a tutorial at Glued to my crafts
6-Slime with stars
With the help of some liquid starch and glue, you and your children can create your own red, white, and blue sparkly slime.
Get a tutorial at Crafts by Amanda
7-4th of July Rockets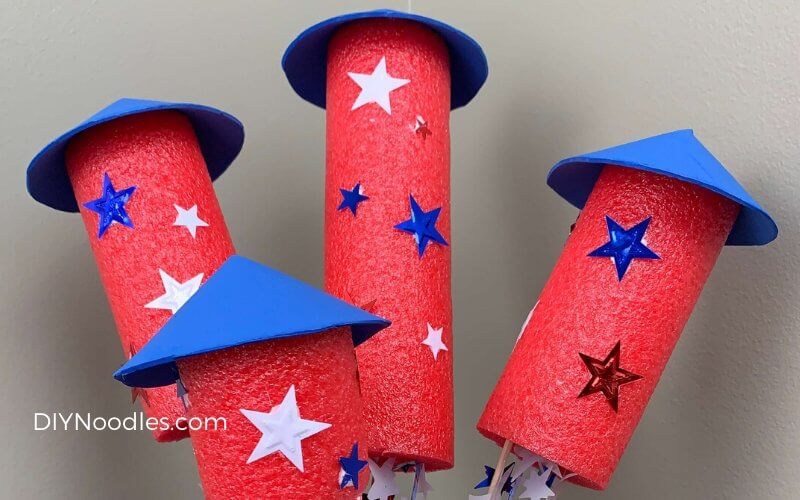 It will be fun for children to build their cardboard rockets, and parents will be relieved to discover they are very safe.
Get a tutorial at DIY Noodles
8-Patriotic Windsocks
Craft windsocks using paper cups and patriotic-themed streamers. Hang them outside your windows and watch as they dance joyfully with the breeze, spreading patriotic cheer.
Get a tutorial at ehow.com
9-American flag craft with paper plates
Get a tutorial at American Flag craft
Create some beautiful flag plates with this American flag paper craft idea from Simply Today Life. Besides being ideal for Fourth of July celebrations, it also makes wonderful patriotic decorations.
10-Stars and Stripes Plaque
Create a piece of art out of a piece of wood that is eight square inches that you may hang up every Fourth of July for years to come.
Get a tutorial at lollyjane.com
11-Paper Butterflies
Kids will love making these American-inspired versions of butterflies because summer is the time for chasing butterflies.
Get a Tutorial at averageinspired.com
12-Popsicle Stick Button Flag
For Easy craft ideas, you can use the leftover popsicle sticks from all those ice cream truck purchases to make this cute button flag craft.
Get a Tutorial at Make and Takes.
13-Sun Catchers for the Fourth of July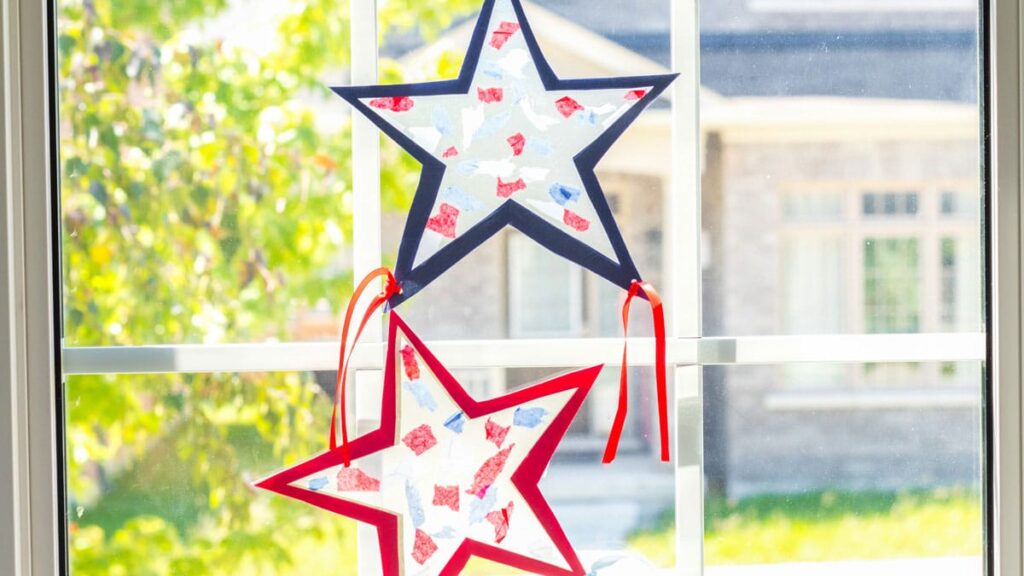 Get a Tutorial at Crafts By Amanda.
It's summertime, and these patriotic-themed suncatchers are a festive way to decorate for July 4.
14-Fireworks Painting
Kids may make a quick and simple craft for the Fourth of July by painting fireworks. Little ones may easily do this easy fireworks painting craft because it only requires a few supplies and little guidance from adults.
Get a Tutorial at Happiness is homemade
15-4th of July Piñata
Make these tiny piñatas by assembling essential items like paper cups and tissue paper. Put treats inside them for your Fourth of July celebration.
Get a Tutorial at A Kailo Chic Life
16-Patriotic Burlap Banner
A Patriotic banner is a must-have for the party decor. All you need to do to create colorful stars and stripes that you can string up wherever you choose is paint some burlap and enlist your hot glue gun.
Get a Tutorial at Kara Creates
17-Patriotic Cake Toppers
If you often serve the cake at 4th of July gatherings, dress up the dessert this year with festive cake toppers.
Get a Tutorial at The Kingston home
18-Magazine Mosaic Flag
Do you have any old magazines lying around? Get some scissors and make an eye-catching mosaic of flags.
Get a Tutorial on Crafting a Fun Life
19-Popsicle Stick American Flags
For this patriotic craft, save your summer popsicle sticks. To complete the red, white, and blue look, you'll also need Mod Podge, paint, and wooden stars.
Get a Tutorial on Glued To My Crafts Blog
20-4th of July Sparklers
Despite the fact that real sparklers are always a blast, they're not exactly the best choice for the littlest members of your family. These tinsel sparklers are a great way to let them have some fun too.
Get a Tutorial on Mom Tastic