50 Best Inspirational 4th Of July Quotes to Celebrate Freedom and Unity
A number of memorable traditions surround July 4th. Every year, we celebrate the Fourth of July with picnics, concerts, fireworks displays, and parades. It's important to listen to what the day is about.
The 4th of July commemorates the thirteen colonies' independence declaration in 1776. This historic event resulted in the formation of the First Nation, founded on liberty, democracy, and equality.
Many people celebrate this patriotic occasion by gathering with friends and family, attending parades, and watching fireworks displays. It's also a moment to reflect on America's values and find inspiration in popular leaders' comments.
Inspirational 4th Of July Quotes
Take a look at these inspiring Fourth of July quotes to celebrate the holiday's true meaning. Let this selection of motivational 4th of July quotes strike an emotional chord with you. It will inspire you to work toward improving America for future generations.
" A patriot must always be ready to defend his country against his government." ( Edward Abbey )
" Observe good faith and justice toward all nations. Cultivate peace and harmony with all." ( George Washington )
" America means opportunity, freedom, power." ( Ralph Waldo Emerson )
" Better to die fighting for freedom then be a prisoner all the days of your life. " ( Bob Marley )
" Europe was created by history. America was created by philosophy. " ( Margaret Thatcher )
" The Fourth of July should be celebrated with big hearts. " ( Camila Alves )
" What was important wasn't the fireworks, it was that we were together this evening, together in this place, looking up into the sky at the same time. " ( Banana Yoshimoto )
" The life of the nation is secure only while the nation is honest, truthful, and virtuous. " ( Frederick Douglass )
" Freedom is the open window through which pours the sunlight of the human spirit and human dignity." ( Herbert Hoover )
" We must be free not because we claim freedom, but because we practice it. " ( William Faulkner )
" Intellectually I know that America is no better than any other country; emotionally I know she is better than every other country." ( Sinclair Lewis )
" I am an American, free born and free bred, where I acknowledge no man as my superior, except for his own worth, or as my inferior, except for his own demerit. " ( Theodore Roosevelt )
" I think of a hero as someone who understands the degree of responsibility that comes with his freedom. " ( Bob Dylan )
" In the unlikely story that is America, there has never been anything false about hope. " ( Barack Obama )
" Freedom is one of the deepest and noblest aspirations of the human spirit. " ( Ronald Reagan )
"A love for tradition has never weakened a nation, indeed, it has strengthened nations in their hour of peril." ( Winston Churchill )
" Only in America can someone start with nothing and achieve the American Dream. That's the greatness of this country." ( Rafael Cruz )
" The American flag represents all of us and all the values we hold sacred. " ( Adrian Cronauer )
" We're blessed with the opportunity to stand for something—for liberty and freedom and fairness. And these are things worth fighting for, worth devoting our lives to. " ( Ronald Reagan )
" Freedom is the atmosphere in which humanity thrives. Breathe it in. " ( Richelle E. Goodrich )
" Freedom is never granted. It is earned by each generation. " ( Hillary Clinton )
" Those who won our independence believed liberty to be the secret of happiness and courage to be the secret of liberty." ( Louis D. Brandeis )
" It's not enough to have freedom, one must know how to practice that freedom." ( Abhijit Naskar )
" The United States is the only country with a known birthday." ( James G. Blaine )
" How important is it to recognize and celebrate our heroes and she-roes! " ( Maya Angelou )
" For to be free is not merely to cast off one's chains, but to live in a way that respects and enhances the freedom of others. " ( Nelson Mandela )
" Patriotism is easy to understand in America. It means looking out for yourself by looking out for your country." ( Calvin Coolidge )
" People in power are trying to convince us that the villain in our American story is each other. But that is not our story. That is not who we are. That's not our America. Our United States of America is not about us versus them. It's about We the people!" ( Kamala Harris )
" I love my freedom. I love my America. " ( Jessi Lane Adams )
" America is known as a country that welcomes people to its shores. All kinds of people. " ( Ruth Bader Ginsburg )
" Where you see wrong or inequality or injustice, speak out, because this is your country. This is your democracy. Make it. Protect it. Pass it on." ( Thurgood Marshall )
" Patriotism consists not in waving the flag, but in striving that our country shall be righteous as well as strong." ( James Bryce )
" For change often seems impossible until it is inevitable. Just as we must own our lives, we must own our country. For, we, the people, are ultimately in control of the America's story. " ( Valerie Jarrett )
" No other date on the calendar more potently symbolizes all that our nation stands for than the Fourth of July. " ( Mac Thornberry )
Ask not what your country can do for you, ask what you can do for your country. ( John F. Kennedy )
" Those who won our independence believed liberty to be the secret of happiness. " ( Louis D. Brandeis )
" That is the truly beautiful and encouraging aspect of freedom; no one struggles for it just for himself." ( Fanny Lewald )
" America is hope. It is compassion. It is excellence. It is valor." ( Paul Tsongas )
" America was built on courage, on imagination and an unbeatable determination." ( Harry S. Truman )
" This nation will remain the land of the free only so long as it is the home of the brave. " ( Elmer Davis )
" I'd like to be remembered as a person who wanted to be free and wanted other people to be also free." ( Rosa Parks )
" Only in America can someone start with nothing and achieve the American Dream. That's the greatness of this country." ( Rafael Cruz )
" We hold our heads high, despite the price we have paid, because freedom is priceless. " ( Lech Walesa )
" We are called the nation of inventors. And we are. We could still claim that title and wear its loftiest honors if we had stopped with the first thing we ever invested, which was human liberty." ( Mark Twain )
" May we think of freedom not as the right to do as we please, but the opportunity to do what is right." ( Peter Marshall )
" The fact is: It's true what they say about the United States. It is a land of opportunity. It is too various to get bored with it." ( Christopher Hitchens )
" One flag, one land, one heart, one hand, one nation forevermore! " ( Oliver Wendell Holmes )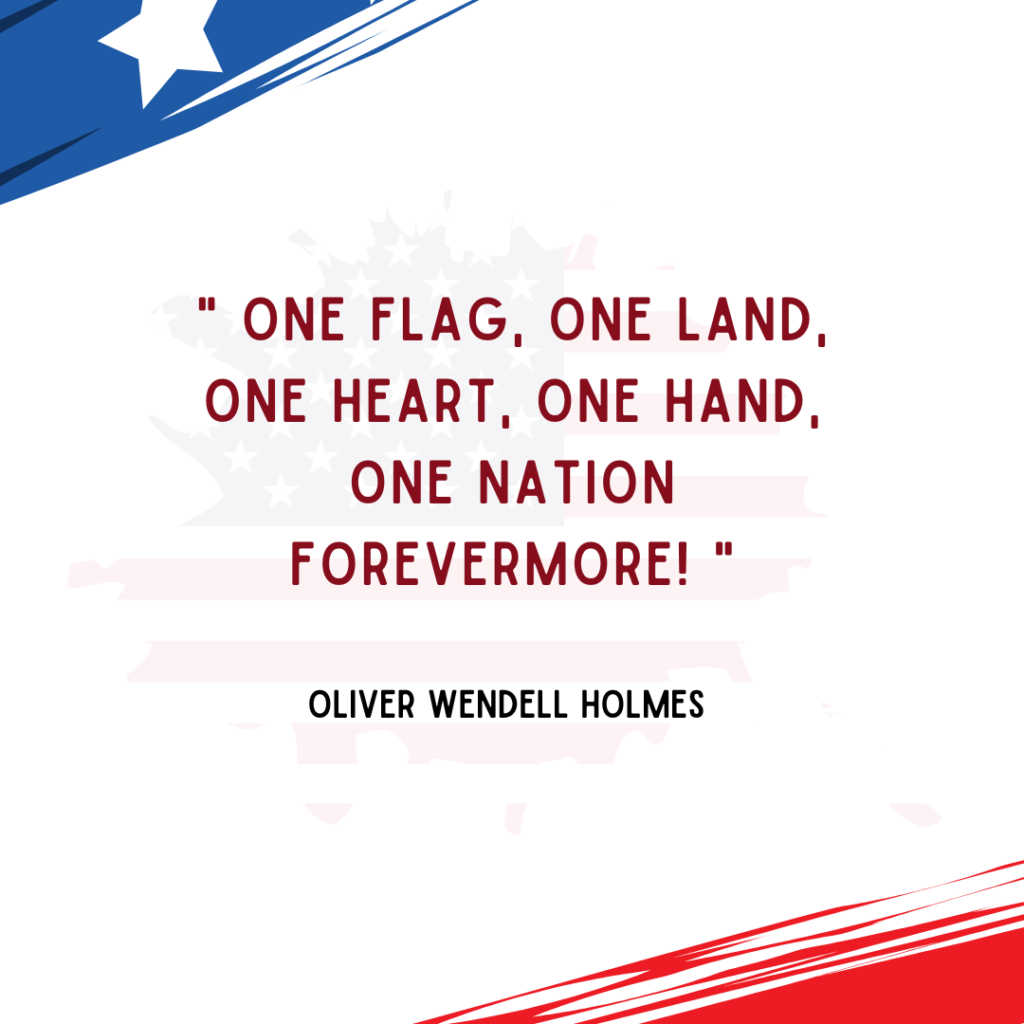 " Freedom is fragile and must be protected. To sacrifice it, even as a temporary measure, is to betray it." ( Germaine Greer )
" Who ever walked behind anyone to freedom? If we can't go hand in hand, I don't want to go." ( Hazel Scott )
" I believe in America because we have great dreams, and because we have the opportunity to make those dreams come true." ( Wendell Willkie )