20 Best Outdoor Fall Decorations Ideas 2023
This post may contain affiliate links. This means we may earn a small commission if you purchase using a link we share.
When long summer days end and leaves' color starts to change it means Fall has arrived when the leaves begin to change color and a cool breeze starts to blow. During the fall, nature creates a beautiful landscape with warm colors and crisp air. It encourages us to appreciate the beauty of the seasons and incorporate it into our outdoor spaces.
Now is the perfect time to deck out your front porch, garden, and yard with lovely fall decorations that perfectly capture this enchanted season as the days become shorter and the evenings grow cooler.
Best Outdoor Fall Decorations Ideas
With these outdoor fall decorations ideas, decorate your outdoor spaces while embracing autumn. These ideas, which range from pumpkin patches to quaint lounging areas, can help you create a warm and magical ambiance that honors the beauty of October. Prepare to decorate your outdoor spaces and enjoy this festive season.
Fall Outdoor Decorations Ideas
1-Bushel Baskets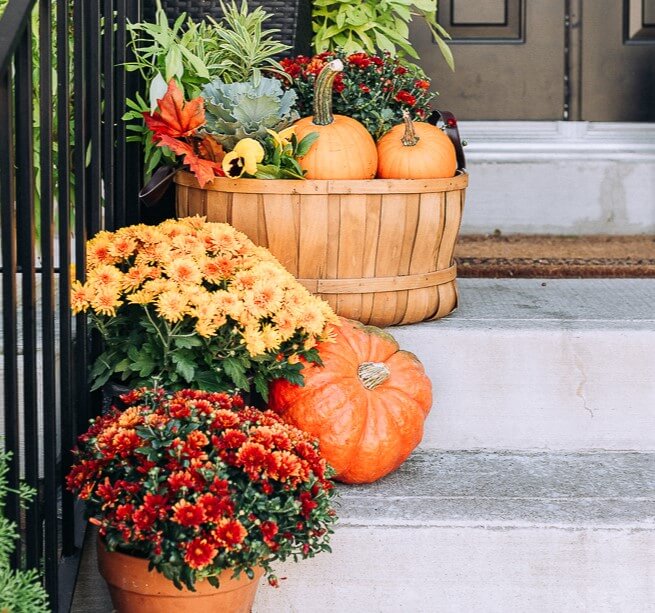 Adding bushel baskets to your fall decor this fall season is a delightful way to infuse rustic charm and their earthy and warm colors complement the rich hues of the season fill them with colorful pumpkins, gourds, and leaves to create a captivating centerpiece for your home or outdoor garden.
Embrace the nostalgia and tradition they bring, as they transport you to crisp autumn days filled with harvest joy.
2-Wooden Frame Chalkboard
Chalkboard decorations for fall are a fun and handy addition to your holiday decor. These chalkboards offer the ideal surface for artistic expression while also bringing autumn into your house. You can add endearing notes, and fall quotes, or make gorgeous fall-themed graphics with only a few easy words and drawings.
3-Floral Pumpkins
A creative and fun way to add a special touch to your outdoor fall decorations is to paint a blooming pumpkin. Place a few free-hand-painted blooms next to your outside flowers.
4-Plants in Rustic Pots
This fall, give your front porch a rustic look. Fill these pots and showcase them at your front door after sprucing them up with seasonal plants like mums, blooming kale, and pansies. This autumn container garden stands out for a variety of hues and plants.
5-Baby's Breath Wreath Fall Decor 2023
With some baby breath and this fun DIY project, transform it into something fall! You'll also need a foam wreath and spray paint in seasonal colors to put it all together.
6-Welcome Sign on Front Door
With this welcoming sign for your front door, In this year for outdoor fall decorations embrace the autumnal warmth and cozy spirit. Additionally, you may use this to adorn your front door, living room, and home.
7-Frame the Door With Leaves
This maple leaf garland is ideal for Thanksgiving decorations and outdoor and fall décor. Purchase this leaf garland, then hang it over your front door. This maple garland can be used again.
8-Wooden Lanterns
Old-fashioned candle lanterns give porches a cozy autumn feel. The ideal accent to your fall outdoor decor is wooden lanterns! With the help of these lovely lanterns, designed to brighten and enhance your outdoor surroundings, you can enjoy those chilly fall evenings.
9-Bring in Brassicas for Fall Planter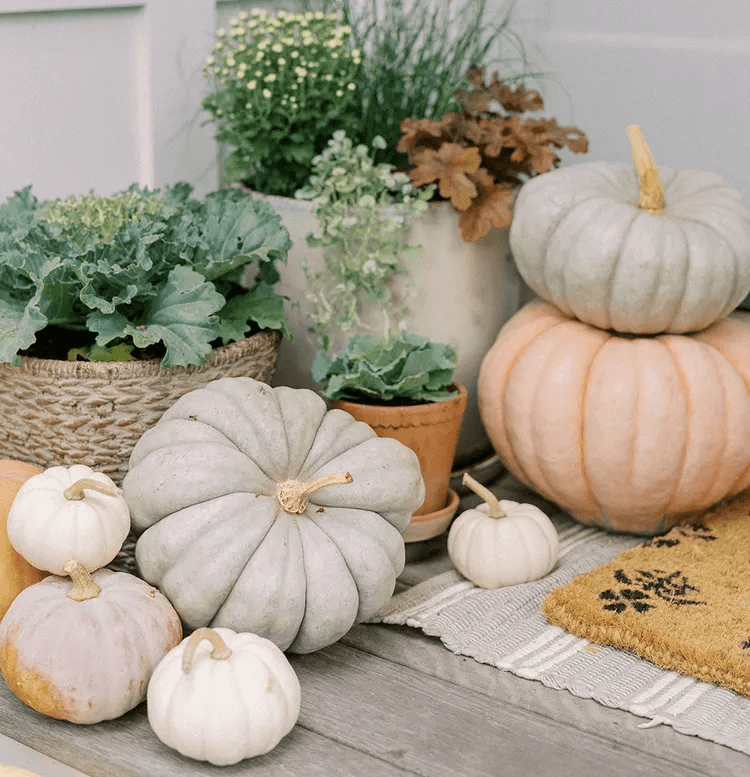 Gather fall brassicas like cabbage or kale to fill your fall planter. These special touches give texture and a lovely wash of washed-out green.
10-Wicker Cone
These lovely wicker cones will give either side of your front door a splash of color. Fill with mums, pansies, or other autumnal flowers for a vintage look and an attractive front yard.
11-Harvest Decorations
Fill your porch with seasonal must-haves, like wreaths, hay bales, pumpkins, and corn stalks. You can create multiple levels of harvest scape by stacking pumpkins and bales.
12-Fall Doormat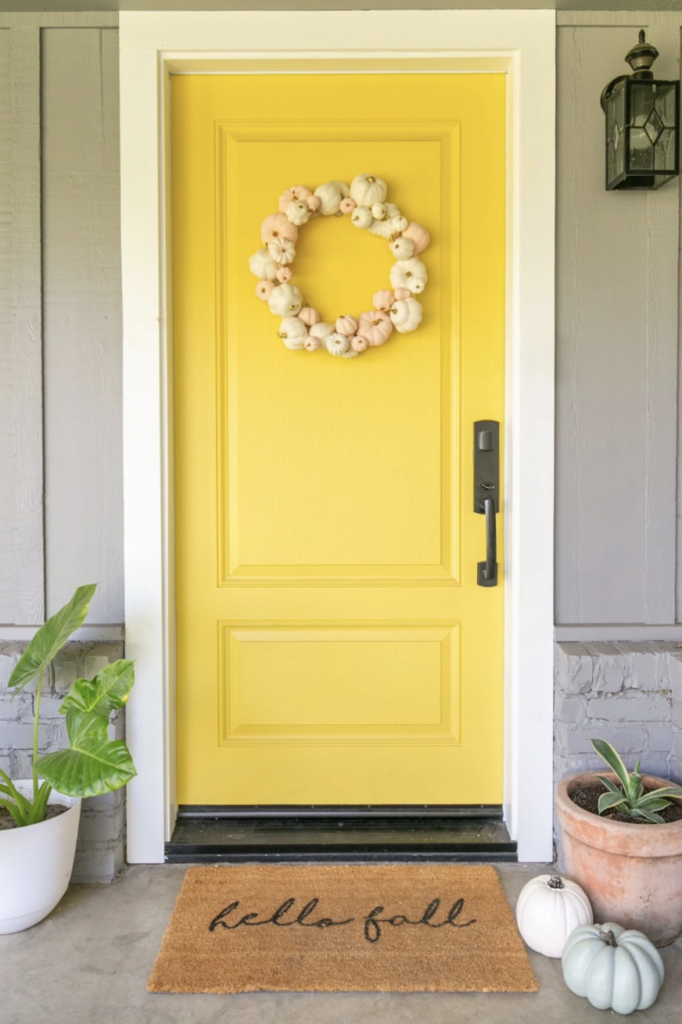 Placing a fall doormat on your front porch may give your house a touch of the season! You'll do well by picking a cheerful design and color or a pleasant and welcoming message.
13-Carving a pumpkin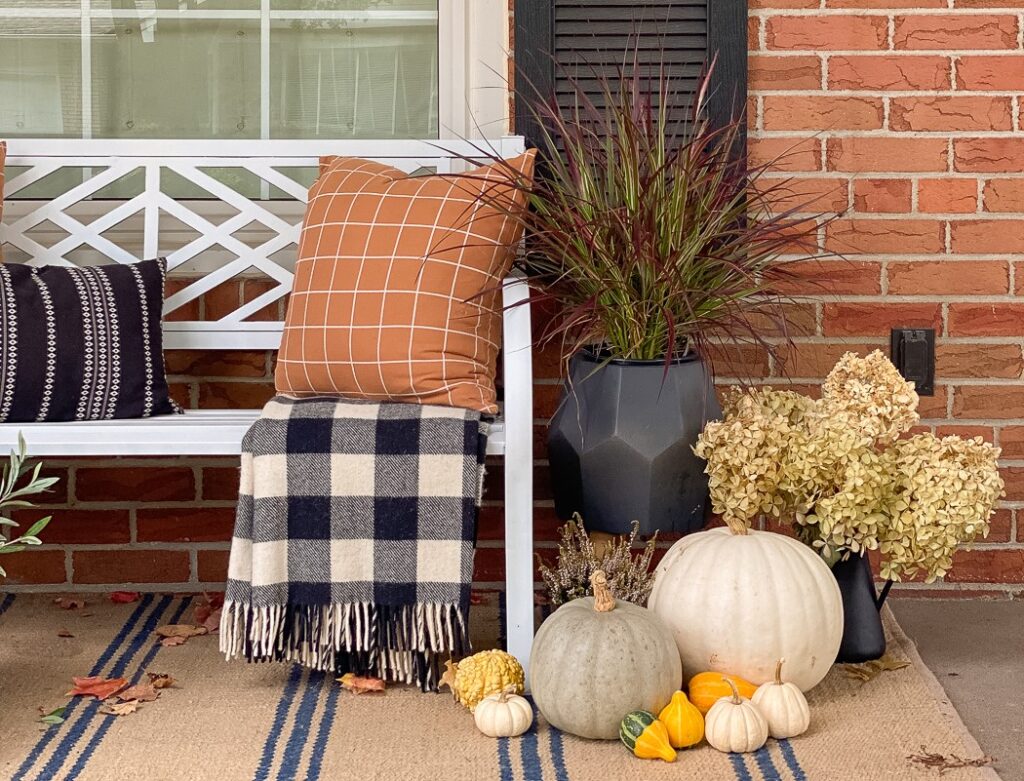 Carving a pumpkin is so fun to relive your childhood; it doesn't have to be flawless. Make a simple, repeating design, like these flowers, and illuminate it! Your pumpkin will last two to three days if you keep it out of the sun and adhere to our preservation guidelines.
14-Plaid throw blanket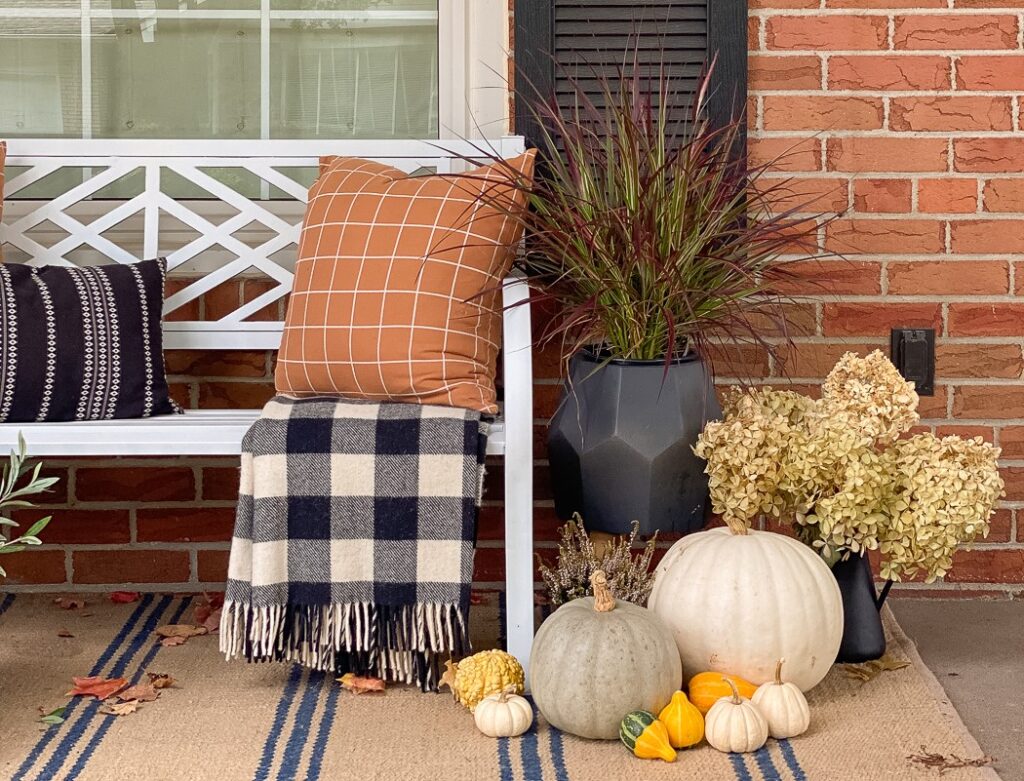 Nothing enhances a space like a plaid throw blanket to instantly add rustic fall appeal. Utilize it if you want to store it indoors or on your porch. It's both stylish and useful either way!
15-Pyramid of Stacked Pumpkins
Stack decorative gourds and pumpkins to make a pumpkin pyramid. Each one should be flat and have a circumference less than the one below it. If you cannot find a nearby pumpkin patch, go faux.
16-Put pumpkins in crates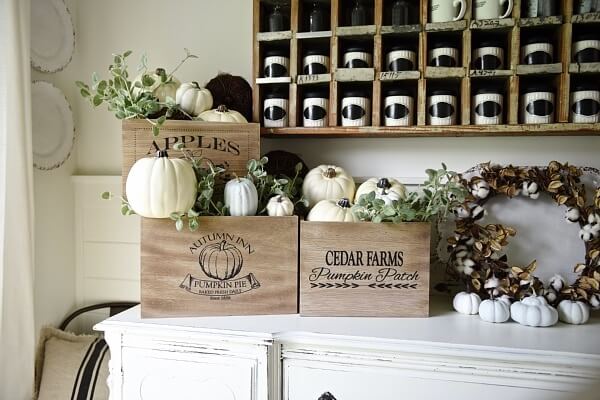 By placing white pumpkins and plants in three rustic crates, you can create this stunning DIY autumn display. Whether it's on the front porch, in the living room, or as part of a centerpiece, this inexpensive yet stylish decorating concept offers autumn appeal to any room.
17-Pumpkin Patch Front Door Decor
Create an eye-catching pumpkin patch display outside your entrance. Arrange hay bales, bright autumn leaves, and different shapes and varieties of pumpkins. Add some scarecrows or rustic placards to finish off the wonderful image. With this charming autumnal setup, guests can feel the season's coziness and warmth.
18- Make a fall-themed porch seating area
Create a warm and inviting fall-themed porch seating area with delightful autumn decor. Add a rustic wooden bench adorned with plush cushions in rich, earthy tones like deep oranges, warm yellows, and rustic browns. Add cozy throw blankets from soft, textured fabrics to keep your guests comfortable during crisp fall evenings.
19-Paint Your Pumpkins
Watch your painted pumpkin come to life as a stunning centerpiece. To illustrate the season's spirit, use warm, earthy colors like rustic orange, rich burgundy, or golden yellow.
20-White Cotton Wreath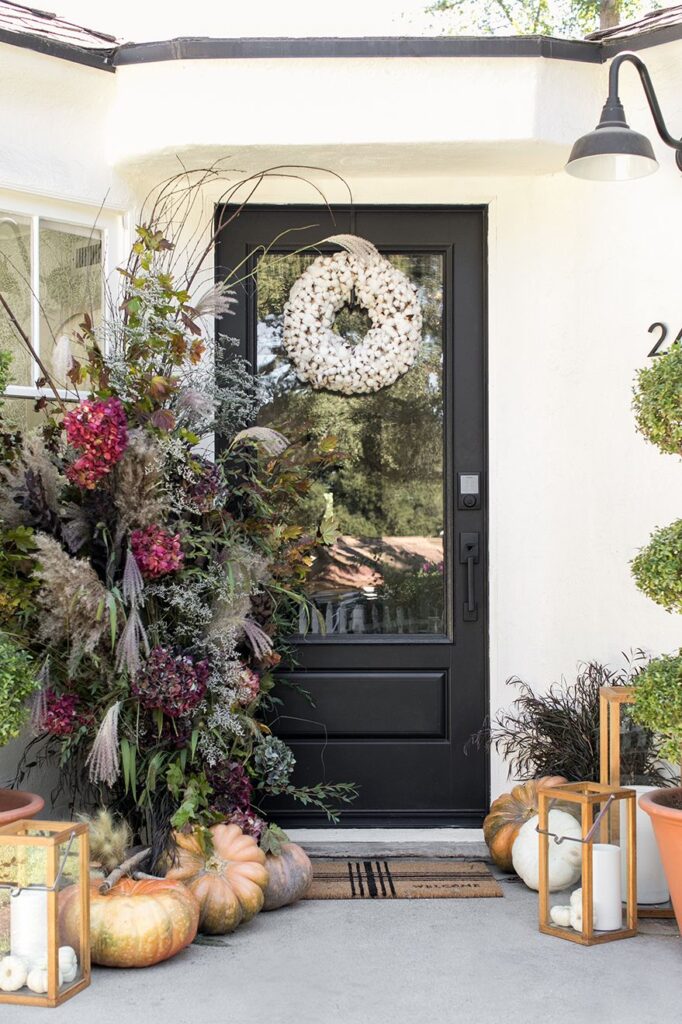 This gorgeous cotton boll wreath creates an eye-catching statement in orange and green. The front porch's pampas grass arrangement complements the autumnal doorway decor.