30 Best New Year's 2024 Eve Movie Quotes
New Year's Eve, a night when we wave goodbye to the old year and say hello to the new one, has inspired a lot of movies. These movies, filled with funny and sad moments, show us the excitement of starting fresh and the joy of counting down to midnight.
They make us happy, sometimes even bring tears to our eyes, and remind us of the magic in the air on this special night. Here we'll explore some famous quotes from New Year's Eve movies that capture the spirit of the holiday.
New Year's 2024 Eve Movie Quotes
#1 " I thought one of the perks of having a family was that you didn't have to spend New Year's Eve alone with Chinese food… I am alone with Chinese food." ( Sex and the City: The Movie)
#2 " I'm wearing the hat. Where's the party?" ( Michelle Tanner, Full House )
#3 " A little party never killed nobody." ( The Great Gatsby )
#4 " I never look back, darling. It distracts from the now." ( Edna, The Incredibles )
#5 " Some people swear there's no beauty left in the world, no magic. Then, how do you explain the entire world coming together on one night to celebrate the hope of a new year?" ( New Year's Eve )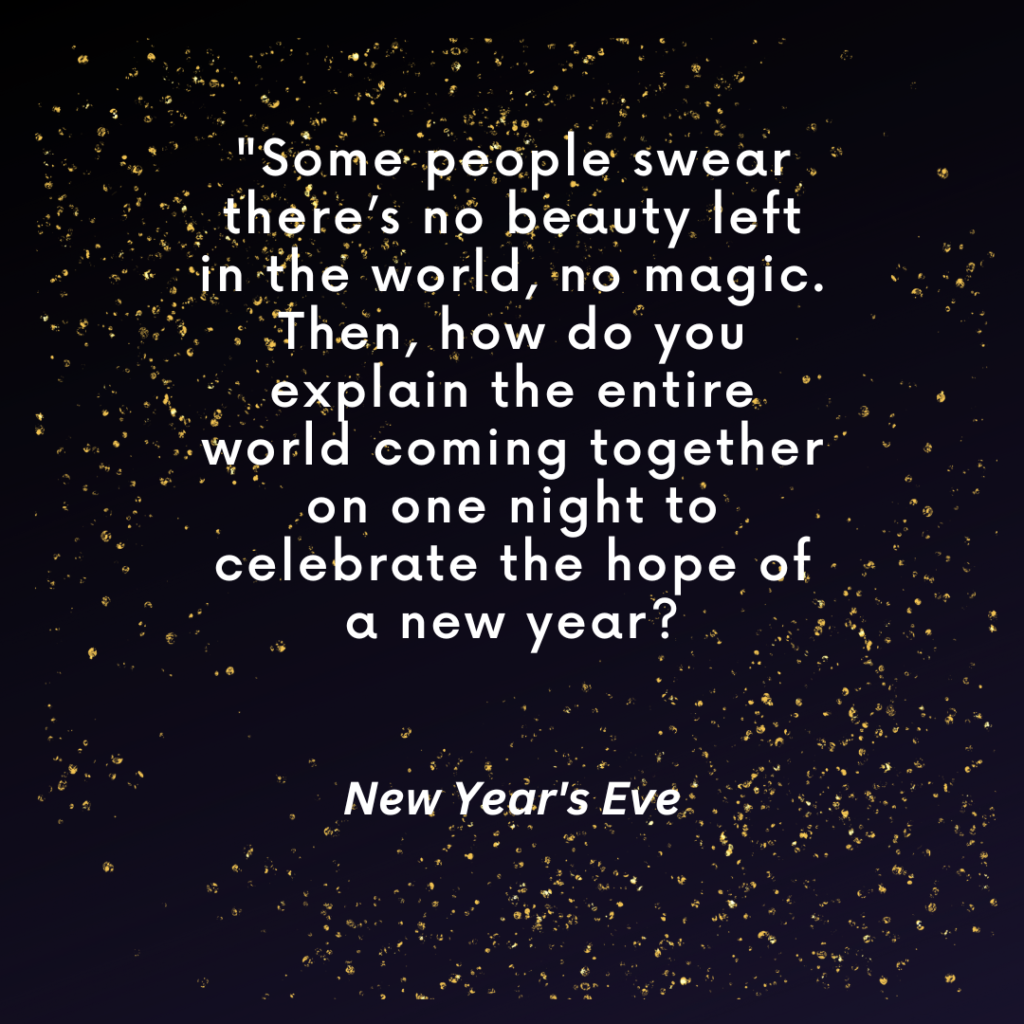 #6 " 525,600 minutes. How do you measure a year in a life?" ( Rent )
#7 " If you focus on what you've left behind, you will never be able to see what lies ahead." ( Ratatouille )
#8 " I never look back, darling. It distracts from the now." ( Edna, The Incredibles )
#9 " You don't roll the dice on New Year's."( A Lot Like Love )
#10 " When that ball drops at midnight—and it will drop—let's remember to be nice to each other, kind to each other. And not just tonight but all year long." ( New Year's Eve )
#11 " Ready? Showtime!" ( The Greatest Showman )
#12 " There are no other guests, we don't want to share this night with other people."( Sunset Boulevard)
#13 " Fasten your seat belts. It's going to be a bumpy night." —All About Eve"I love that you get cold when it's 71 degrees out. I love that it takes you an hour and a half to order a sandwich. I love that you get a little crinkle above your nose when you're looking at me like I'm nuts. I love that after I spend the day with you, I can still smell your perfume on my clothes. And I love that you are the last person I want to talk to before I go to sleep at night. And it's not because I'm lonely, and it's not because it's New Year's Eve. I came here tonight because when you realize you want to spend the rest of your life with somebody, you want the rest of your life to start as soon as possible." ( When Harry Met Sally )
Best New Year Funny Quotes 2023
The beginning of a new year is the best time to go out and party. While we are now making important decisions regarding our lives, we also make time for enjoyment, which is just as important.
These quotes will make you and your friends laugh since they are funny in some way. Whether you're telling a funny quote to your friends, putting a clever message on social media, or just trying to begin the new year with a smile, funny New Year's Eve quotes are perfect for adding some humor to the night.
Funny New Years Quotes
#14 " This New Year's I was going to make a resolution never to be late again, but I didn't wake up until January 2. " ( Melanie White )
#15 " New Year's resolution: to tolerate fools more gladly, provided this does not encourage them to take up more of my time. " ( James Agate )
#16 " Out with the old, in with the new' is a fitting expression for a holiday that is based on vomiting. "
( Andy Borowitz )
#17 " First you take a drink, then the drink takes a drink, then the drink takes you. " ( F. Scott Fitzgerald )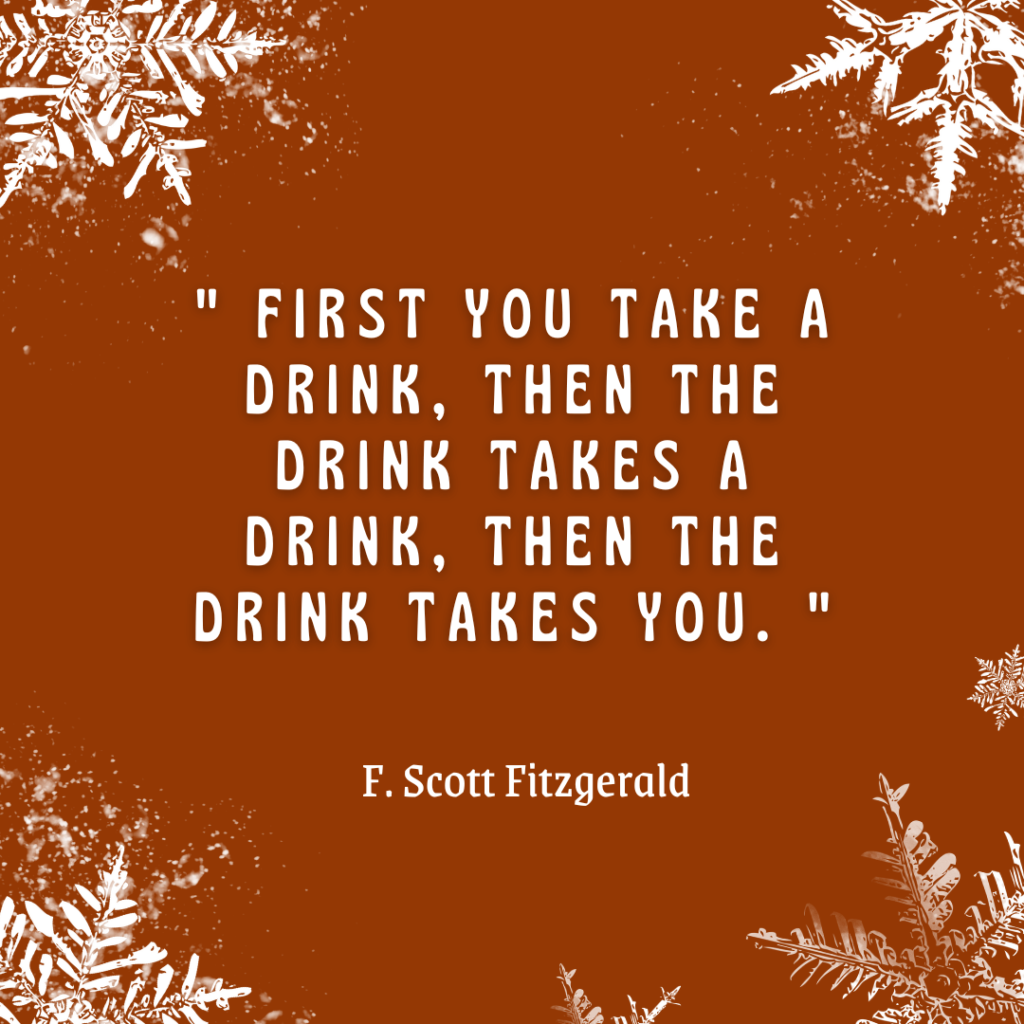 #18 " It wouldn't be New Year's if I didn't have regrets." ( William Thomas )
#19 " Happiness is too many things these days for anyone to wish it on anyone lightly. So let's just wish each other a bile-less New Year and leave it at that." ( Judith Christ )
#20 " New Year's is a harmless annual institution, of no particular use to anybody save as a scapegoat for promiscuous drunks, and friendly calls and humbug resolutions. " ( Mark Twain )
#21 " Last year's resolution was to lose 20 pounds by Christmas. Only 30 pounds to go. " ( Unknown)
#22 " Many years ago I resolved never to bother with New Year's resolutions, and I've stuck with it ever since. " ( Dave Beard )
#23 " New years are like pages in a book that's so boring. You always think that the next page will be interesting, but it turns out to be the same every time. Happy New Year! " ( Unknown )
#24 " Come, gentlemen, I hope we shall drink down all unkindness. " ( William Shakespeare )
#25 " Youth is when you're allowed to stay up late on New Year's Eve. Middle age is when you're forced to. " ( Bill Vaughan )
#26 " I'm a little bit older, a little bit wiser, a little bit rounder, but still none the wiser. " ( Robert Paul )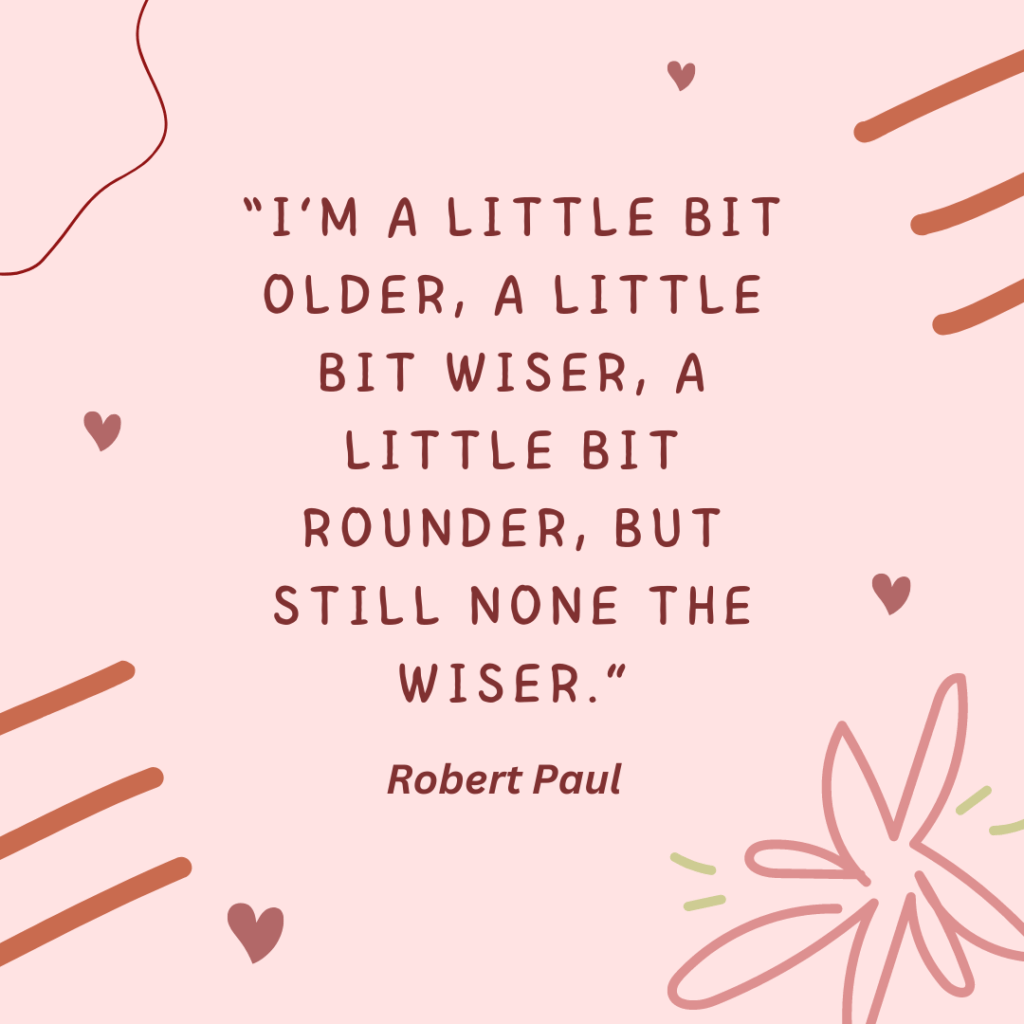 #27 " Every New Year's I have the same question: 'How did I get home? " ( Melanie White )
#28 " I was going to quit all my bad habits for the new year, but then I remembered that nobody likes a quitter. " ( Unknown )
#29 " Every New Year is the direct descendant, isn't it, of a long line of proven criminals? " ( Ogden Nash )
#30 " New Year's Day now is the accepted time to make your regular annual good resolutions. Next week you can begin paving hell with them as usual. " ( Mark Twain )
#31 " If you want an interesting party, combine cocktails and a fresh box of crayons for everyone. " ( Robert Fulghum )
#32 " You know how I always dread the whole year? Well, this time I'm only going to dread one day at a time. " ( Charlie Brown )