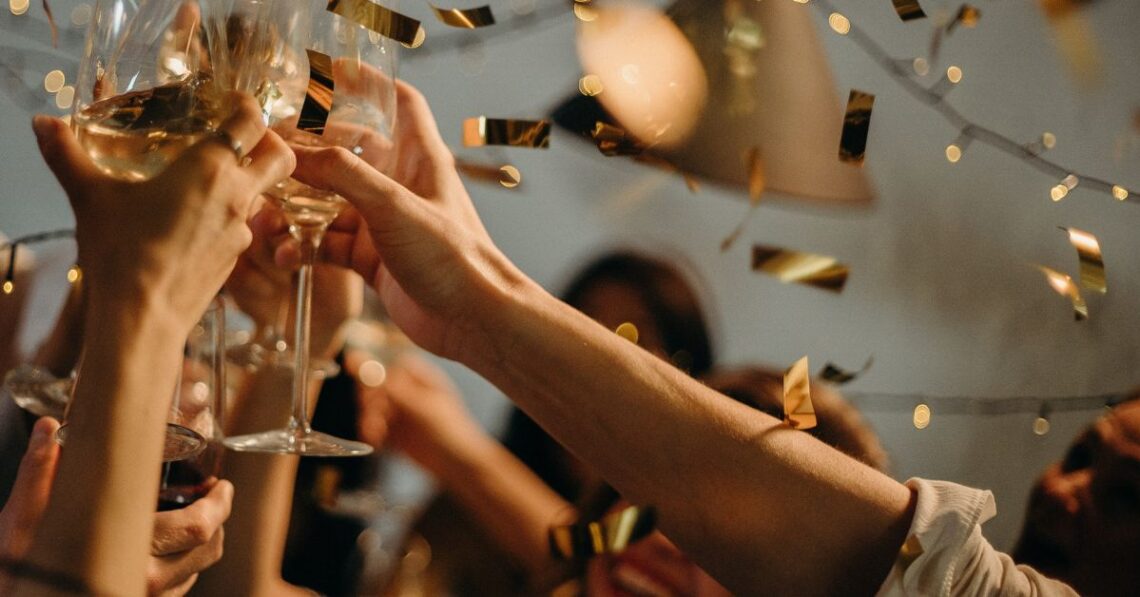 45 Happy New Year Wishes 2023 For Family & Friends.
New years mark a fresh start on the calendar, full of promise and opportunity. You can spend quality time with your loved ones during the holidays. You can send the right New Year cards to the people who matter most to you, regardless of whether you celebrate in person or are far apart when the ball drops.
With these new year wishes, you can bring happiness to your friends and family in 2023!
Happy New Year Wishes 2023!
Happy New Year! Here are some messages and wishes for the new year. A New Year's Eve party is a great time to express feelings through cards or in person.
#1 As we enter the new year, I'm grateful for all the memories we've made this year and those we'll create.
#2 May this new year bring you new aspirations, friendships, and love.
#3 May the year ahead be truly remarkable and blissful for you! I wish you and your family a happy new year!
#4 I wish you a happy and healthy new year filled with good health, positive experiences, and good company.
#5 2023 is your year, I can feel it. Cheers to a new year and new opportunities!
#6 Wishing you a happy and prosperous new year.
#7 New Year may come and pass, but our bond will last forever. I can't wait to see what 2023 brings!
#8 I wish you all the happiness in the world in 2023!
#9 Best wishes for the New Year! Wishing you a year filled with new adventures and good fortune.
#10 Let's hope that in 2023 you will get everything you wish for.
#11 May all your wildest dreams come true in 2023. I know you can do it! A happy new year to you!
#12 Make way! 2023 is coming through.
#13 It's been 365 days since I said this, but Happy New Year!
#14 Best wishes for the new year! Whatever happens this year, know that you are loved and strong.
#15 Happy New Year!! I send my truest blessing to you. May a lot of love, laughter, and happiness adorn each day of your life. A big hug to you and your family!
#16 We have reached the end of another year. My wish for you is that you achieve all your dreams every year. May God pour love and care on you. Happy New Year.
#17 Wishing you a brighter future as the New Year dawns. Best wishes for the new year!
#18 We wish you a Happy New Year and wish you many blessings in the year ahead.
#19 Wishing you a happy and healthy New Year.
#20 You deserve only the best, and I hope all your wishes come true in 2023.
#21 The year 2023 is going to be yours. I can feel it! I look forward to watching you accomplish extraordinary things in the future.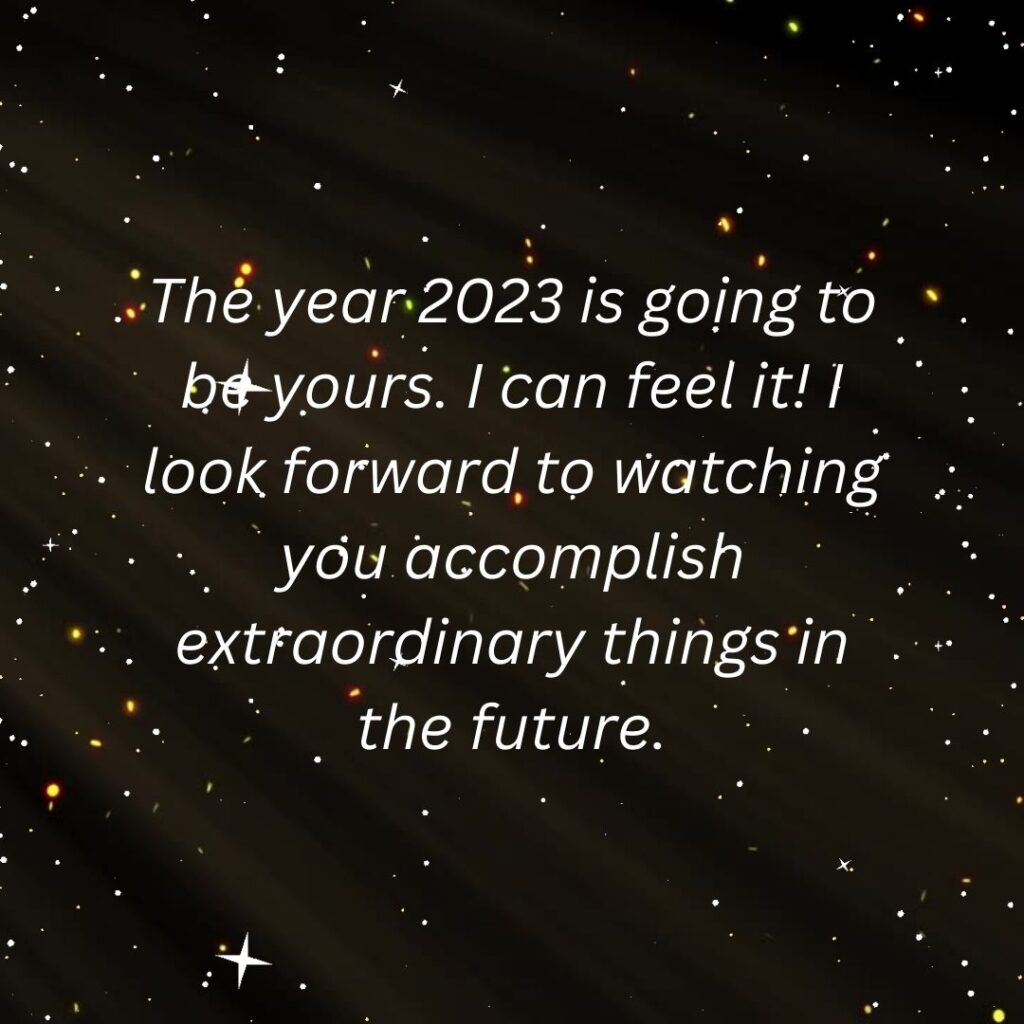 Sweet New Year Quotes For Instagram Caption
#22 "Hope smiles from the threshold of the year to come, whispering, 'It will be happier." ( Alfred Lord Tennyson )
#23 "I'll be cleaning up bottles with you on New Year's Day." ( Taylor Swift )
#24 "Whatever it is you're scared of doing, do it. Make your mistakes next year and forever." ( Neil Gaiman)
#25 "Write it on your heart that every day is the best day in the year." ( Ralph Waldo Emerson )
#26 "Cheers to a new year and another chance for us to get it right." ( Oprah )
#27 "Be always at war with your vices, at peace with your neighbors, and let each year find you a better man." ( Benjamin Franklin )
#28 "I don't know where I'm going from here, but I promise it won't be boring."( David Bowie )
#29 "You know how I always dread the whole year? Well, this time I'm only going to dread one day at a time." ( Charlie Brown )
#30 "It's a new dawn. It's a new day. It's a new life, for me. And I'm feeling good." ( Nina Simone )
#31 "Never underestimate the power you have to take your life in a new direction." ( Germany Kent )
#32 "Don't live the same year 75 times and call it a life." ( Robin Sharma )
#33 "You'll never get bored when you try something new. There's really no limit to what you can do." ( Dr. Seuss )
#34 "In our perfect ways. In the ways we are beautiful. In the ways we are human. We are here. Happy New Year's. Let's make it ours." ( Beyoncé )
#35 "The magic in new beginnings is truly the most powerful of them all." ( Josiyah Martin )
#36 "Youth is when you're allowed to stay up late on New Year's Eve. Middle age is when you're forced to." ( Bill Vaughan )
#37 "Do not wait until the conditions are perfect to begin. Beginning makes the conditions perfect."( Alan Cohen )
#38 "It is never too late to be what you might have been." ( George Eliot )
#39 "As long as I am breathing, in my eyes, I am just beginning." ( Criss Jami )
#40 "She leaves a little sparkle wherever she goes." ( Kate Spade )
#41 "Listen. I wish I could tell you it gets better, but it doesn't get better. You get better." ( Joan Rivers )
#42 "An optimist stays up until midnight to see the new year in. A pessimist stays up to make sure the old year leaves." ( William E. Vaughan )
#43 "You are never too old to reinvent yourself." ( Steve Harvey )
#44 "Every moment is a fresh beginning." ( T.S. Eliot )
#45 "Many years ago I resolved never to bother with New Year's resolutions, and I've stuck with it ever since." ( Dave Beard )
Happy New Year 2023!
Useful Links
30 Best New Year's 2023 Eve Movie Quotes