50 Best Merry Christmas Quotes For Holiday Season 2022
There is nothing more joyous than the Christmas season. This is a time when family, friends, and loved ones come together to celebrate.
Some people use it as a time to give and receive gifts. But some people reflect on the year and look forward to the new year.
Regardless of how you celebrate Christmas, it's a time for family and friends to come together.
Are you looking for the perfect Christmas quote? Look no further! Here are some of the most popular and inspiring Christmas quotes:
Merry Christmas Quotes
#1 "Christmas is not a time nor a season, but a state of mind. To cherish peace and goodwill, to be plenteous in mercy, is to have the real spirit of Christmas." Calvin Coolidge
#2 "My idea of Christmas, whether old-fashioned or modern, is very simple: loving others. Come to think of it, why do we have to wait for Christmas to do that?" – Bob Hope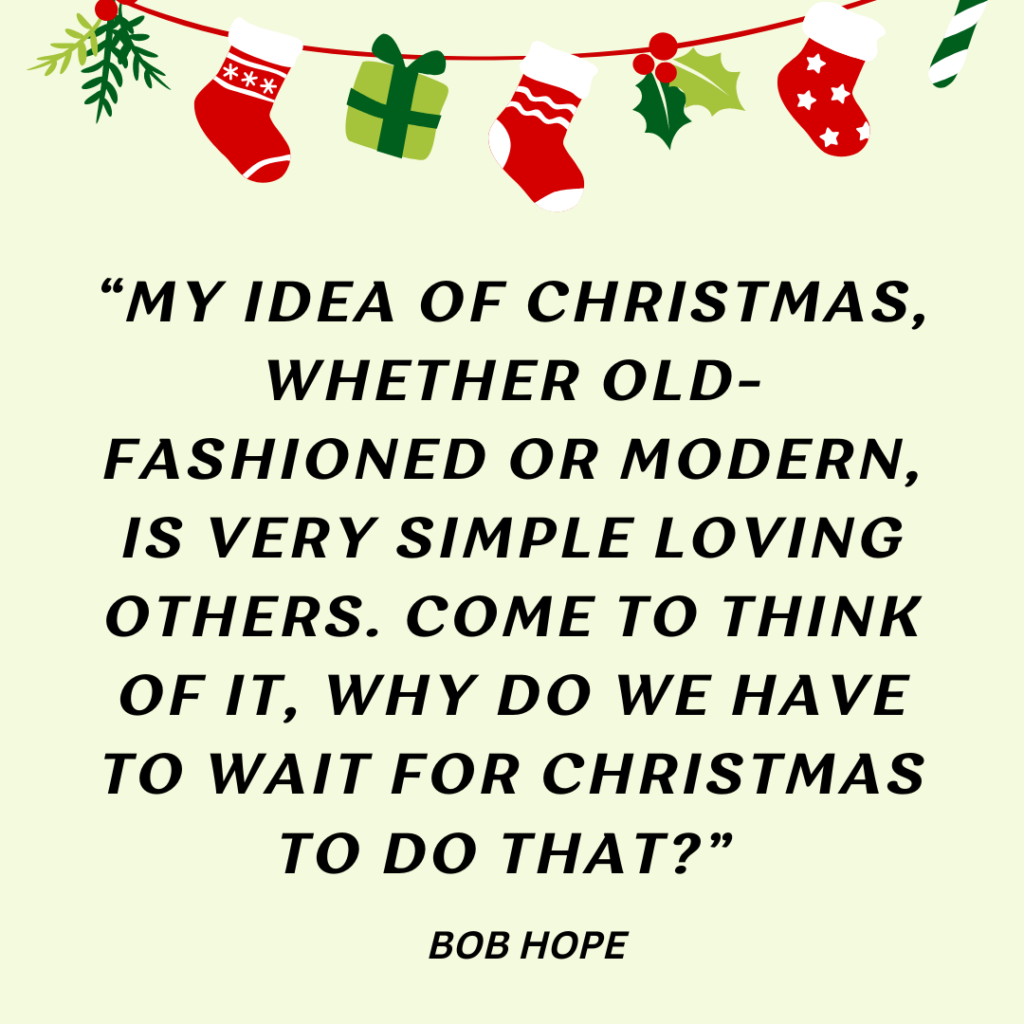 #3 "Christmas is a season for kindling the fire for hospitality in the hall, the genial flame of charity in the heart." Washington Irving
#4 "I will honor Christmas in my heart, and try to keep it all the year." Charles Dickens
#5 " Eat, drink and be merry " Ecclesiastes and Isaiah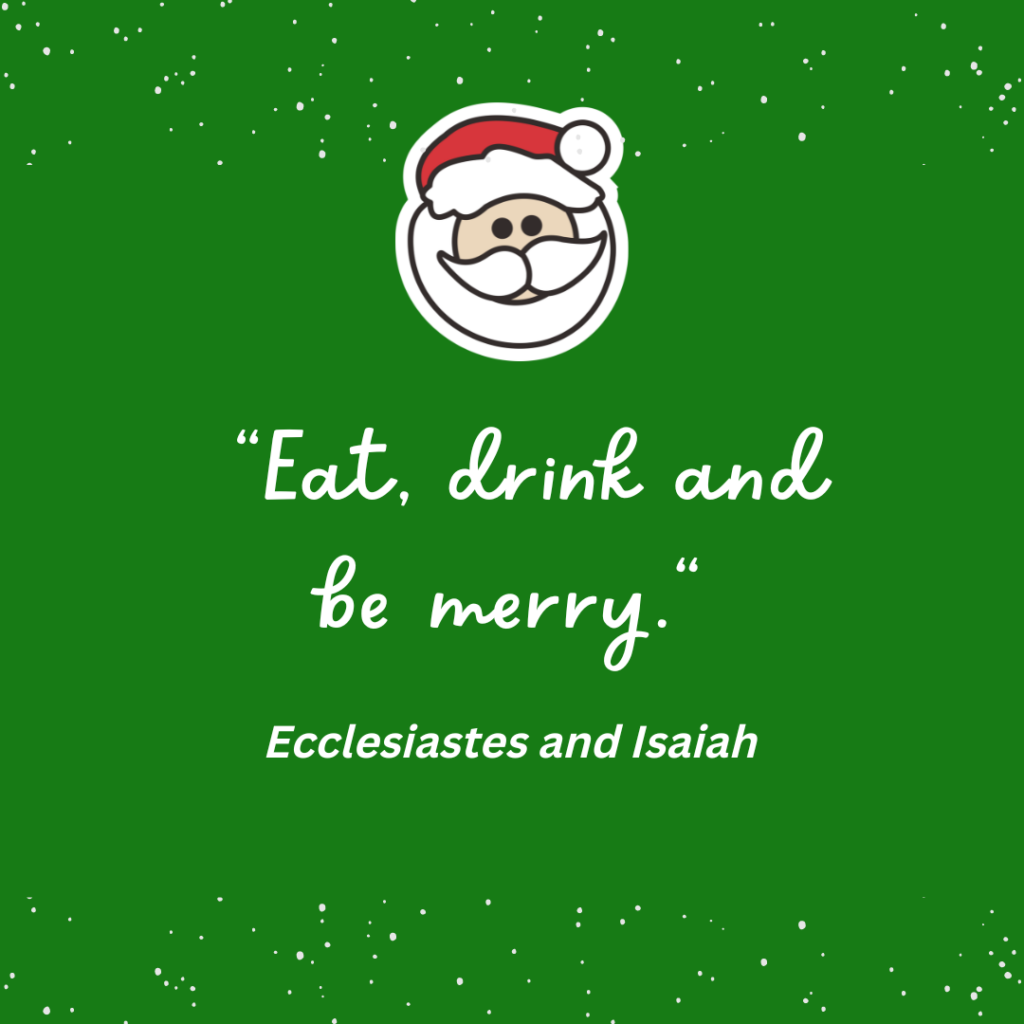 #6 " May your Christmas sparkle with moments and love, laughter and goodwill" theviennablog.com
#7 "Some Christmas tree ornaments do more than glitter and glow, they represent a gift of love given a long time ago. Tom Baker
#8 There's nothing cozier than a Christmas tree all lit up" Jenny Han
#9 The Magic Of Christmas never ends, and its greatest gifts are family and friends. Unknown
#10 Christmas magic is silent. You don't hear it – you feel it, you know it, you believe it." Kevin Alan Milne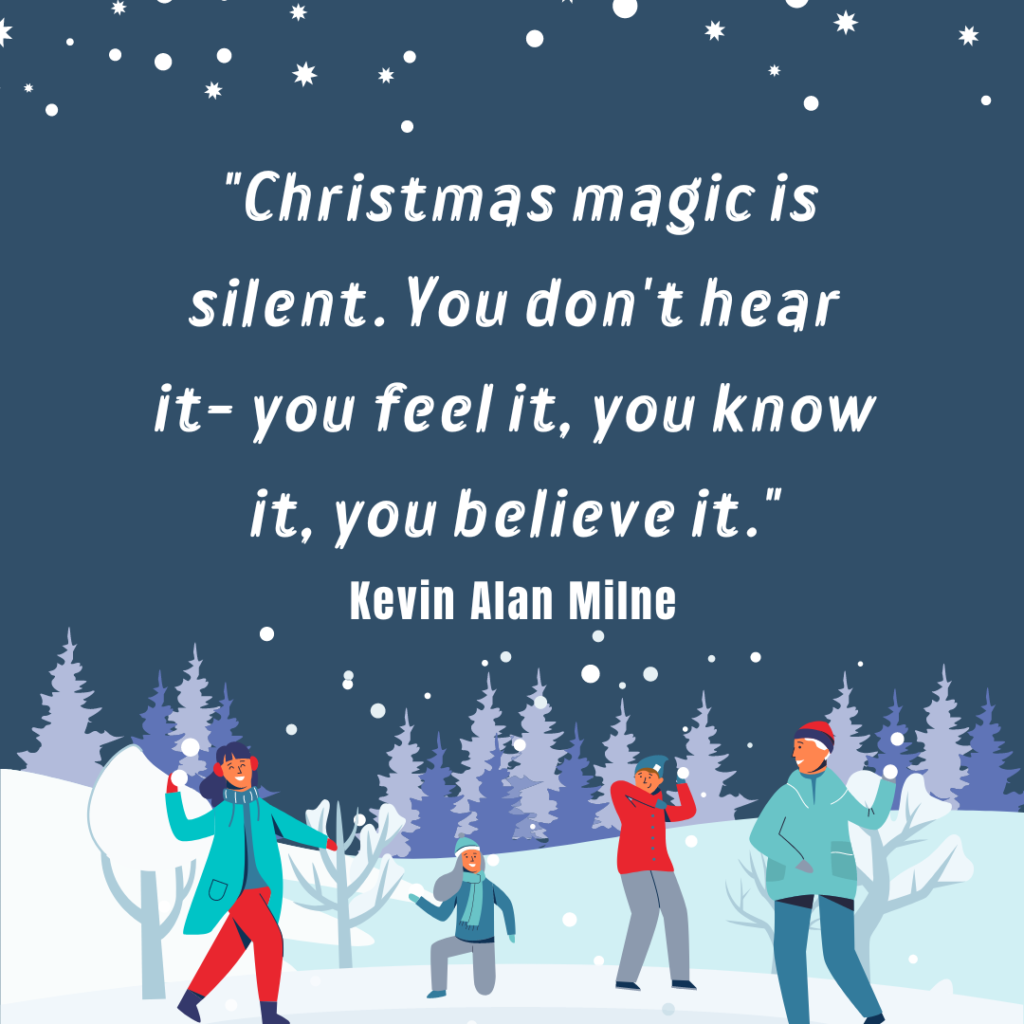 #11 "Christmas is not as much about opening our presents as opening our hearts." Janice Maeditere
#12 " The Christmas spirit is a spirit of giving and forgiving." James Cash Penney
#13 "Christmas, my child, is love in action" Dale Evans
#14 "Christmas is a necessity. There has to be at least one day of the year to remind us that we're here for something else besides ourselves. Eric Severeid
#15 "Christmas waves a magic wand over this world, and behold, everything is softer and more beautiful."Norman Vincent Peale
#16 "Let us have music for Christmas. Sound the trumpet of joy and rebirth; let each of us try, with a song in our hearts, to bring peace to men on earth." Mildred L. Jarrell
#17 "The best of all gifts around any Christmas tree: the presence of a happy family all wrapped up in each other." Burton hills
#18 "It is Christmas in the heart that puts Christmas in the air " W.T Ellis
#19 "Christmas is the season of joy, of holiday greetings, exchanged, of gift giving, and of families united" Norman Vincent Peale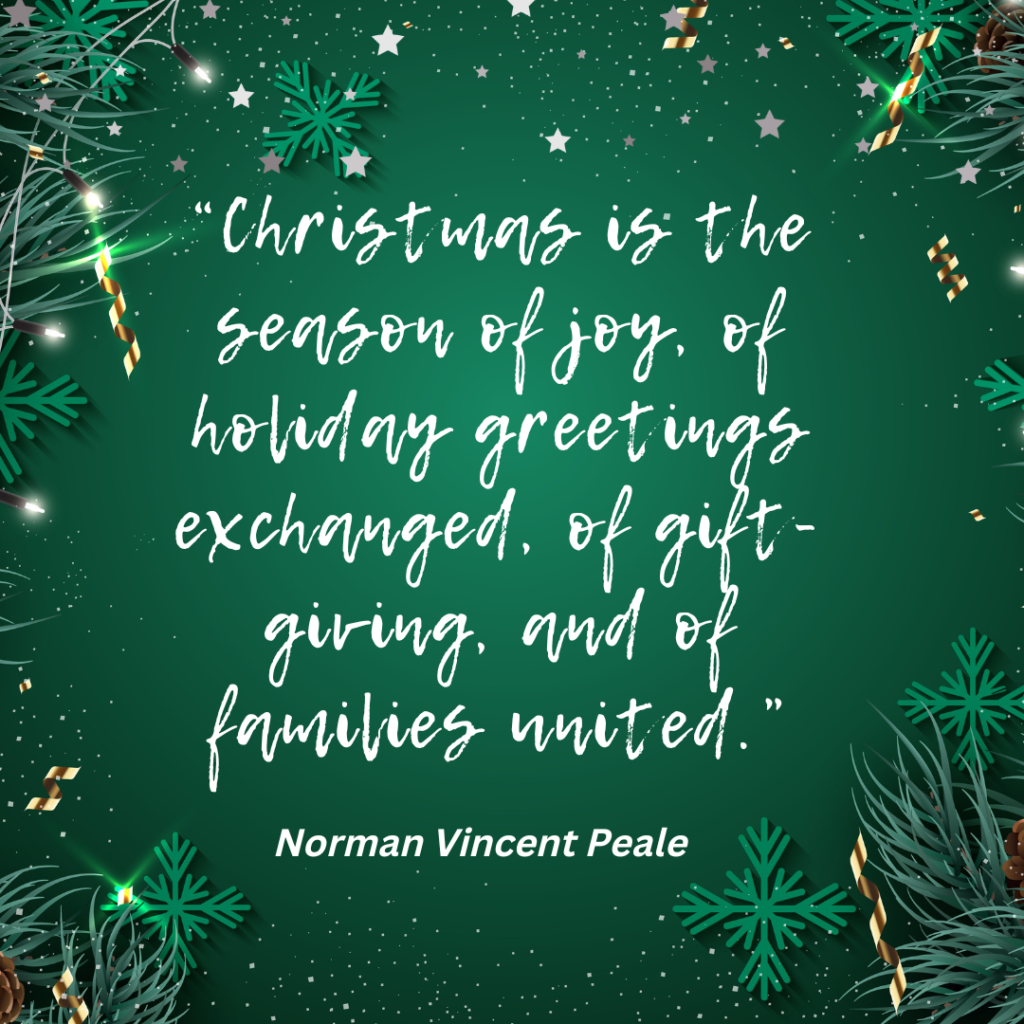 #20 "One of the most glorious messes in the world is the mess created in the living room on Christmas Day don't clean it up too quickly." Andy Rooney
#21 "Gifts of time and love are surely the basic ingredients of a truly Merry Christmas" adventuresinnanaland.com
#22 "The light in a child's eyes is all it takes to make Christmas a magical time of the year. Unknown
#23 "Christmas brings family and friends together. It helps us to appreciate the love in our lives that we often take for granted. May the true meaning of the holiday season fill your heart and home with many blessings."@proudhappymama
#24 "Christmas is a day of meaning and traditions, a special day spent in the warm circle of family and friends. Margaret Thatcher
#25 "Christmas is a necessity. There has to be at least one day of the year to remind us that we are here for something else besides ourselves." Eric Sevareid
#26 "Whatever the circumstances around your Christmas are this year- may you find peace and hope in inviting Jesus right into the mess. Jenni Hunt
#27 " Love came down at Christmas, love divine; love was born at Christmas star and angels gave the sign. Christina Rosetti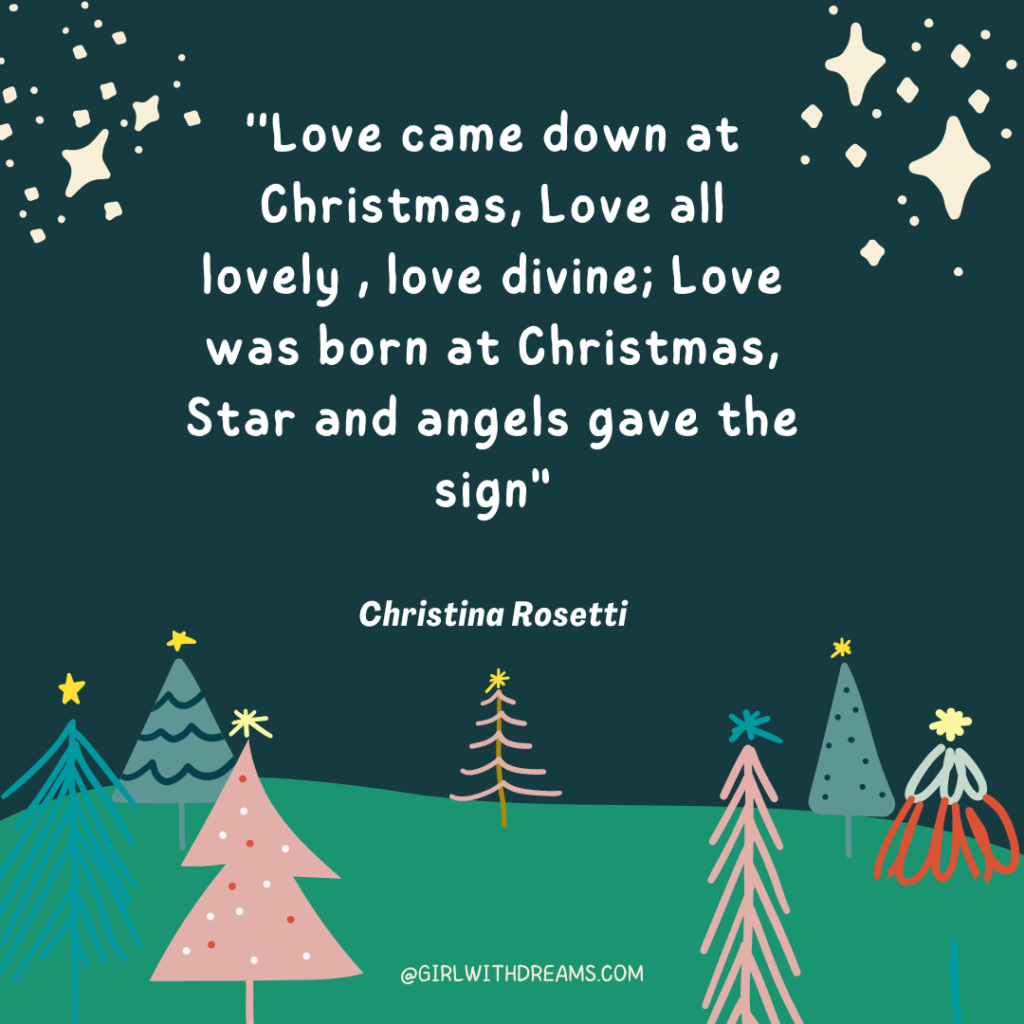 #28 " I think as you grow older your Christmas list gets shorter because the things you want can't be bought. lessonslearnedinlife.com
#29 " There are two ways of spreading light: to be the candle or the mirror that reflects it. Edith Wharton
#30 "What is Christmas? It is tenderness for the past, courage for the present, hope for the future. " Agnes M.Pahro
#31 " Make it a December to remember" Unknown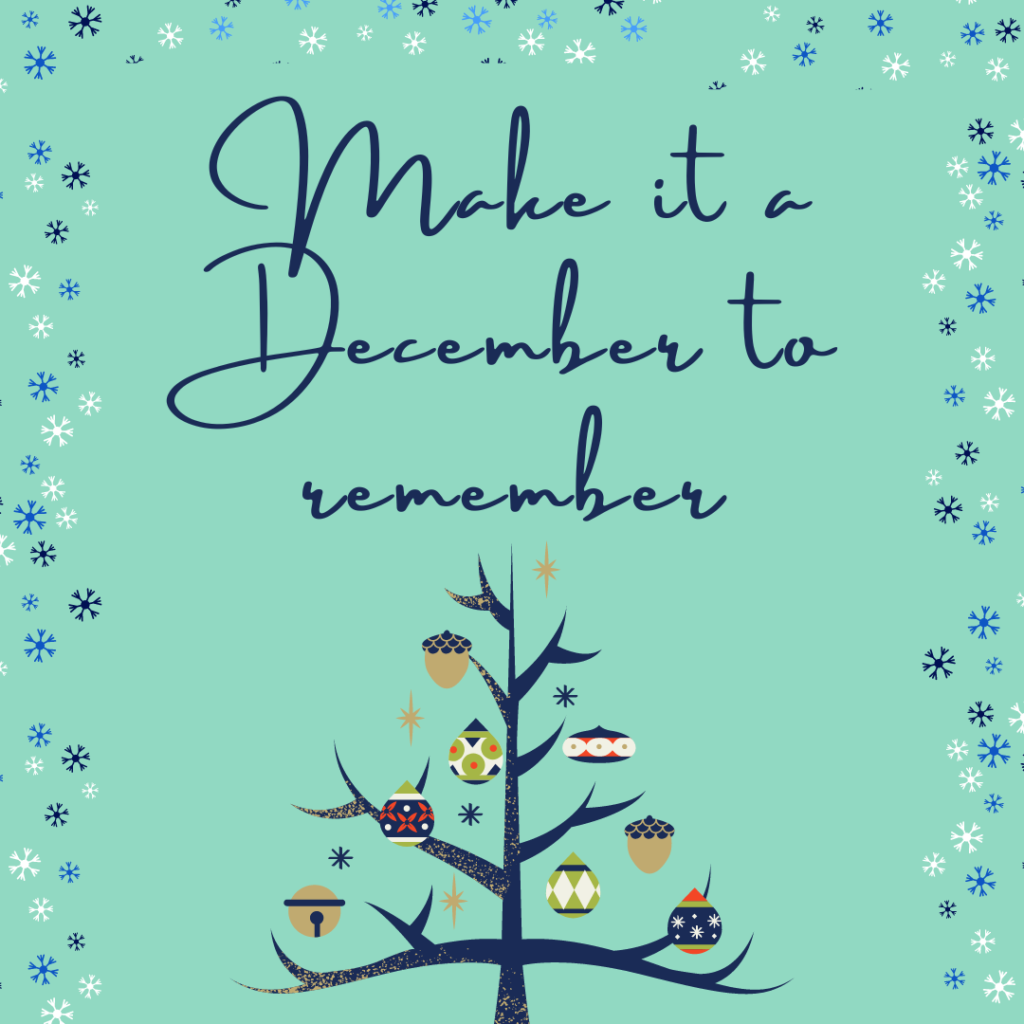 #32 "Remember, if Christmas isn't found in your heart, you won't find it under a tree" Charlotte Carpenter
#33 " When we see the star, may we remember the light of christ which gives light and life to all things. Bonnie L. Oscarson
#34 "Let us create a world where peace includes all living beings…no exceptions. This is the true meaning of peace on earth Merry Christmas" The Spiritual Vegan
#35 " I've learned that you can tell a lot about a person by the way they handle these three things: A rainy day, lost luggage, and tangled Christmas tree lights." Maya Angelou
#36 " May this wonderful time of the year touch your heart in a special way. theviennablog.com
#37 "The older I get, the more I understand that I don't need other people's permission to celebrate the holidays in a way that makes me and my family happy. I choose joy. Zina Harrington
#38 "Christmas will always be as long as we stand heart to heart and hand in hand" Dr. Seuss
#39 "I want a Christmas that whispers Jesus" Ann Voskamp
#40 " A hug is the perfect Christmas gift, one size fits all and its return is wonderfully appreciated." Unknown
#41 " The best way to spread Christmas cheer is singing loud for all to hear." ELF
#42 "Christmas is not about candy canes or lights all aglow, it's the hearts that we touch, and the care that we show." Mickey's Once Upon a Christmas
#43 Without Christ there would be no Christmas, and without Christ, there can be no fullness of joy " Ezra Taft Benson
#44 "At Christmas, all roads lead home" Marjorie Holmes
#45 "May you never be too grown up to search the skies on Christmas Eve" Unknown
#46 " May the beautiful lights of every Christmas season remind us of him who is the source of all light" David A. Bednar
#47 "The way you spend Christmas is far more important than how much" Henry David Thoreau
#48 "Gifts of time and love are surely the basic ingredients of a truly Merry Christmas" Peg Bracken
#49 " The excellence of a gift lies in its appropriateness rather than in its value." Charles Dudley Warner
#50 "The true spirit of Christmas is Love" Linda Willis
Useful Links
10 Breakfast Ideas For Christmas Morning 2022