6 Ways To Pamper Yourself This Valentine's Day
This post may contain affiliate links. This means we may earn a small commission if you purchase using a link we share.
This Valentine's Day, let's fall in love with ourselves and embrace this season of love. It doesn't matter what your relationship status is, take the opportunity to pamper yourself this day by practicing some self-care rituals.
Take some quality time for yourself this Valentine's Day by indulging in some self-care. Take a look at these eight ways to show yourself, love. This Valentine's Day, celebrate your love for yourself since it isn't something we usually do.
Not sure where to begin? We have some great ideas you can steal.
6 Ways To Treat Yourself
1-Relaxing Bath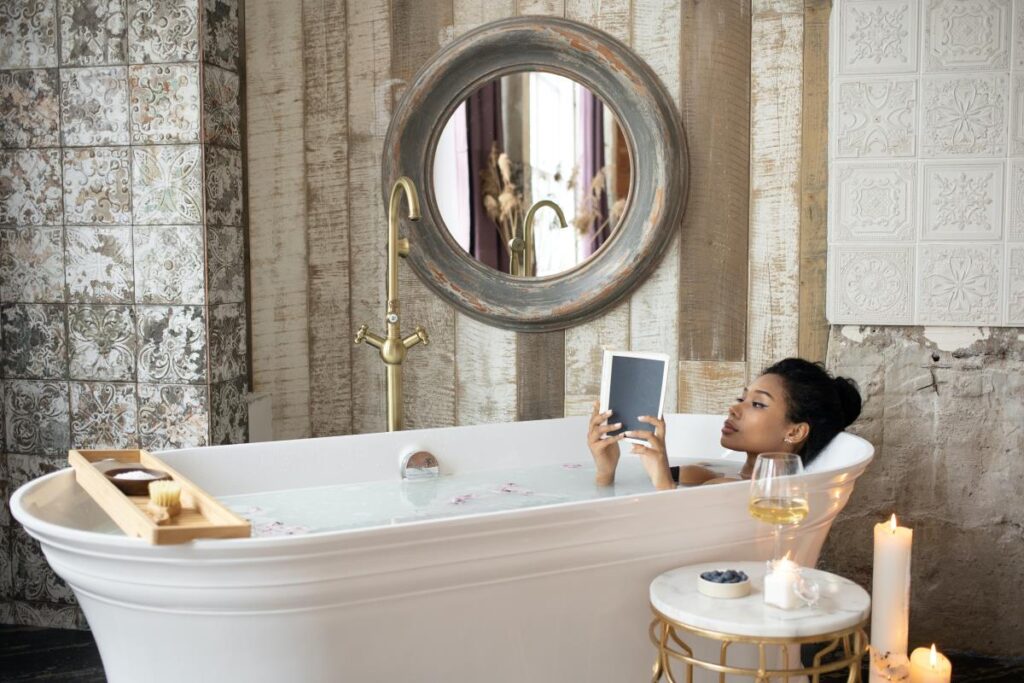 This Valentine's day, pamper yourself with a relaxing bath. Light some candles put on some soothing music, and take a long, hot bath or shower. To add some extra indulgence, try using a luxurious bath bomb or bubble bath.
Relaxing baths promote relaxation. They can also improve sleep and relieve anxiety and stress.
2-Unplug From Social Media
There's so much pressure on us that it's difficult to unwind. You deserve some time to give back to yourself, so put your phone down and run yourself a hot bubble bath.
This Valentine's Day, stay offline and enjoy the life you've built for yourself. Give yourself a break. Allow yourself to stop striving for perfection and just relax.
3-Learn To Say "NO"
Don't feel guilty if you say "NO" when someone asks you for yet another favor or drags you to a party if you don't feel like going. Putting your own needs first is sometimes all you need to do.
This Valentine's Day, Pamper Yourself. You will learn to say "no" and set your own limits in order to achieve self-care goals.
4-Indulge In Sweet Treat
Go ahead and indulge yourself this Valentine's Day! Spend the day however you want. Indulge in your guilty pleasures if you want. Now and then, treat yourself!
Despite your best efforts to stick to your fitness resolutions, one cheat day isn't going to hurt you. Indulge in something sweet like cheesecake or brownie bites. You deserve a delicious treat!
5-Inspire yourself
Many of us struggle with accepting our love for ourselves. Even though we have no trouble managing our relationships with others, we cannot strengthen our relationships with ourselves. So, have fun! Write a letter to yourself, take beautiful selfies, show yourself kindness, and pursue your passions.
6-Buy a Gift For Yourself
Valentine's Day is about giving gifts, so buy yourself something you'll enjoy. The gift could be flowers, candy, jewelry, a book, or even a shopping spree.
Spending a small amount on ourselves shouldn't be a problem, since we don't have a problem buying gifts for others guilt-free!
It's important to pamper yourself now and then. Treating yourself to a relaxing massage, a luxury facial, or a new outfit can help boost your confidence and inspire you to take on new challenges. You deserve to feel special, and when you take care of yourself, it shows.
7-Take a nap!
The best way to refresh your body and mind is to take a nap. You are giving yourself the gift of relaxation and restoration when you pamper yourself with good sleep. With a good nap, You can improve your mood and reduce stress.
Conclusion
Butterfly kisses and rose petals come to mind when we think of Valentine's Day. But this time, why not think about yourself and take care of yourself? This Valentine's Day, head over to the local salon or spa and treat yourself to a day of pampering!
Get a facial or manicure, or do both if you can afford it. Go ahead, spoil yourself with that long soak in the tub topped off with hot chocolate on a chilly winter's eve. Don't wait for your significant other to do these things for you; be the one who takes action!
"Doing something nice for myself is not selfish."

Christine Morgan