30 Romantic Valentine's Day Movie Quotes
It's almost Valentine's Day, and everyone is in the mood for romance! You can celebrate Valentine's Day in many ways, but this year, plan a cozy at-home date night, make a special dinner for two, and binge on romantic movies.
It's impossible not to think of your favorite romantic movies when you think of inspiring and touching quotes.
If you want to feel close to and connected to your partner, you should do something special for the two of you. We've compiled a collection of the best romantic movie quotes to help you get in the mood for Valentine's Day.
Romantic Movie Quotes
#1 "That moment when you kiss someone, and everything around you becomes hazy, and the only thing in focus is you and this person, and you realize that that person is the only person that you're suppose to kiss for the rest of your life." ( Josie, Never Been Kissed )
#2 "They say when you meet the love of your life, time stops, and that's true. What they don't tell you is that when it starts again, it moves extra fast to catch up." ( Big Fish )
#3 "When you're in love with a beautiful woman, she can tell you that Gandhi ate hot dogs and you'll believe her." ( Man of the year )
#4 "Any man has a chance to sweep any woman off her feet. He just needs the right broom." ( Will Smith, Hitch )
#5 "After all, I'm just a girl, standing in front of a boy, asking him to love her." ( Anna, Notting Hill )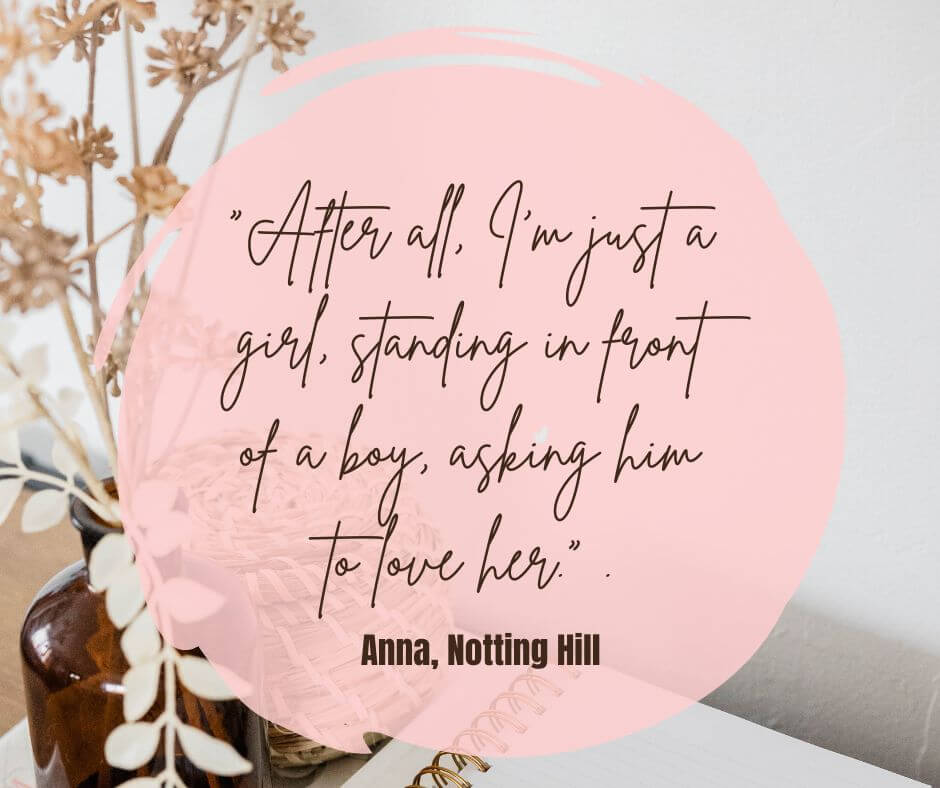 #6 "I am going to fall in love with you. You don't have to love me back. I am going to give you my heart."( Untamed Heart )
#7 "Find someone you can love like crazy and who will love you the same way back. How do you find him? Well, you forget your head, and you listen to your heart." ( Meet Joe Black )
#8 "I wanted it to be you. I wanted it to be you so badly." ( Kathleen Kelly, You've Got Mail )
#9 "If you find somebody you can love, you can't let that get away." ( The Wedding Story )
#10 "Commitment is part of you. Part of what makes you attractive, part of what attracted me to you." ( The Way We Were )
#11 "Winning that ticket, Rose, was the best thing that ever happened to me… it brought me to you. And I'm thankful for that, Rose. I'm thankful. You must do me this honor." ( Titanic )
#12 "We rip out so much of ourselves to be cured of things faster than we should that we go bankrupt by the age of 30 and have less to offer each time we start with someone new. But to make yourself feel nothing so as not to feel anything—what a waste!" ( Call Me By Your Name )
#13 "Our love is like the wind. I can't see it, but I can feel it." ( A Walk to Remember )
#14 "In my opinion, the best thing you can do is find someone who loves you for exactly what you are. Good mood, bad mood, ugly, pretty, handsome, what have you." ( Juno )
#15 "I want the fairy tale." ( Pretty Woman )
#16 "My love, I cannot tell you how thankful I am for our little infinity. I wouldn't trade it for the world. You gave me a forever within the numbered days, and I'm grateful." ( The Fault in Our Stars )
#17 "I don't want to sound foolish, but remember love is what brought you here. And if you've trusted love this far, don't panic now. Trust it all the way." ( If Beale Street Could Talk )
#18 "I wish I knew how to quit you." ( Brokeback Mountain )
#19 "Love is putting someone else's needs before yours." ( Frozen )
#20 "You should be kissed and often, and by someone who knows how." ( Gone With The Wind )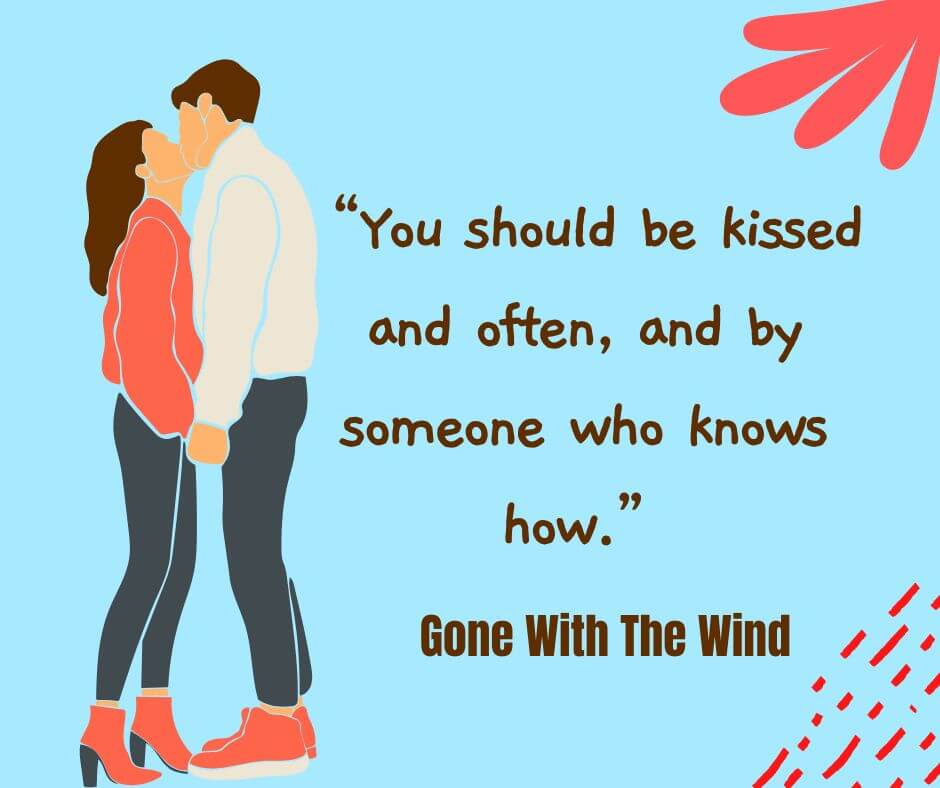 #21 "I've come here with no expectations, only to profess, now that I am at liberty to do so, that my heart is, and always will be, yours." ( Sense and Sensibility )
#22 "What I'm trying to say, very inarticulately, is that, um, in fact, perhaps despite appearances, I like you, very much. Just as you are." ( Bridget Jones's Diary )
#23 "You complete me." ( Jerry Maguire )
#24 "So it's not gonna be easy. It's gonna be really hard, and we're gonna have to work at this every day. But I wanna do that because I want you. I want all of you, forever. You and me. Every day." ( The Notebook )
#25 "You have bewitched me, body and soul, and I love, I love, I love you. I never wish to be parted from you from this day on." ( Pride and Prejudice )
#26 "People do fall in love. People do belong to each other because that's the only chance that anyone's got for true happiness." ( Breakfast at Tiffany's )
#27 "You're my air." ( Brown Sugar )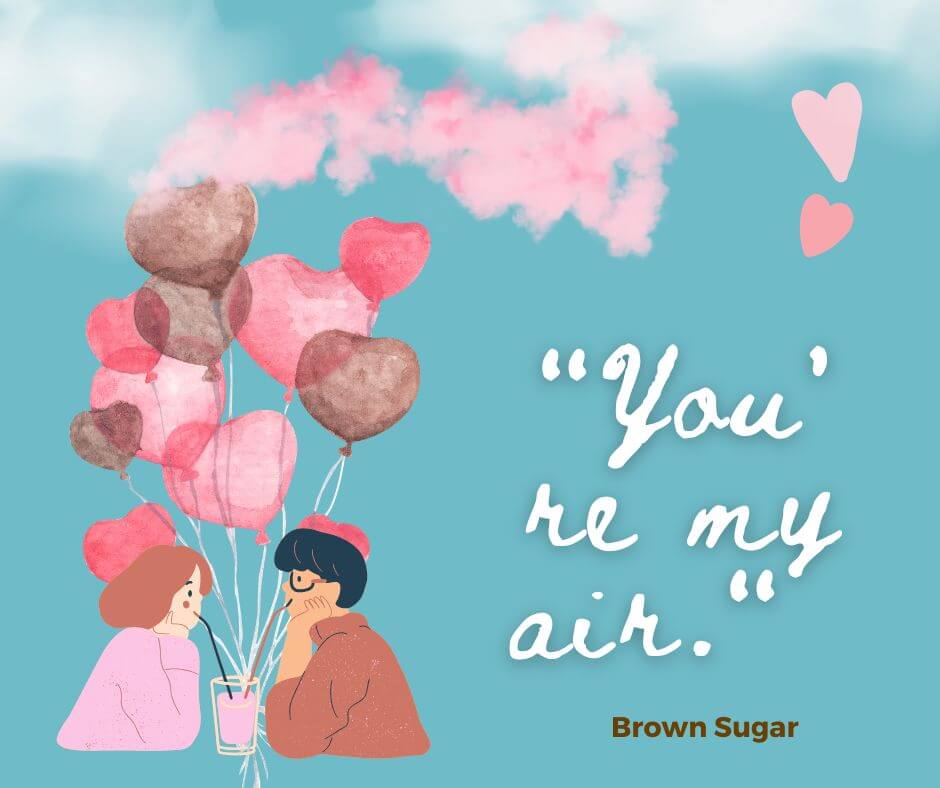 #28 "I'm scared of walking out of this room and never feeling the rest of my whole life the way I feel when I'm with you." ( Dirty Dancing )
#29 "It doesn't matter if the guy is perfect or the girl is perfect, as long as they are perfect for each other." ( Good Will Hunting )
#30 "I love you very much. Probably more than anybody could love another person." ( 50 First Dates )