30 4th of July Captions Inspired by Songs
Prepare for the Fourth of July holiday to celebrate the freedom spirit and how far our nation has come. Make sure to make plans to watch the park firework show or arrange an outside cookout with your family and friends for Independence Day. But don't forget about the 4th of July captions.
Best Inspirational 4th Of July Quotes to Celebrate Freedom and Unity
Allow the melody of these songs to fill your ears and stir your feelings while fireworks boom in the night sky. Fourth of July captions, all about timeless masterpieces to recent anthems, will remind you of liberty sacrifices. They will also remind you of the strong links that bind us together.
Let the songs serve as your caption inspiration to add an emotional touch to your Independence Day selfies that will have a lasting effect.
4th of July Captions
" We're the kids in America." ( Kim Wilde )
" Baby, you're a firework. " ( Katy Perry )
" They'll tell the story of tonight. " ( Hamilton )
" Our love was made in the U.S.A." ( Demi Lovato )
" She was an American girl. " ( Tom Petty )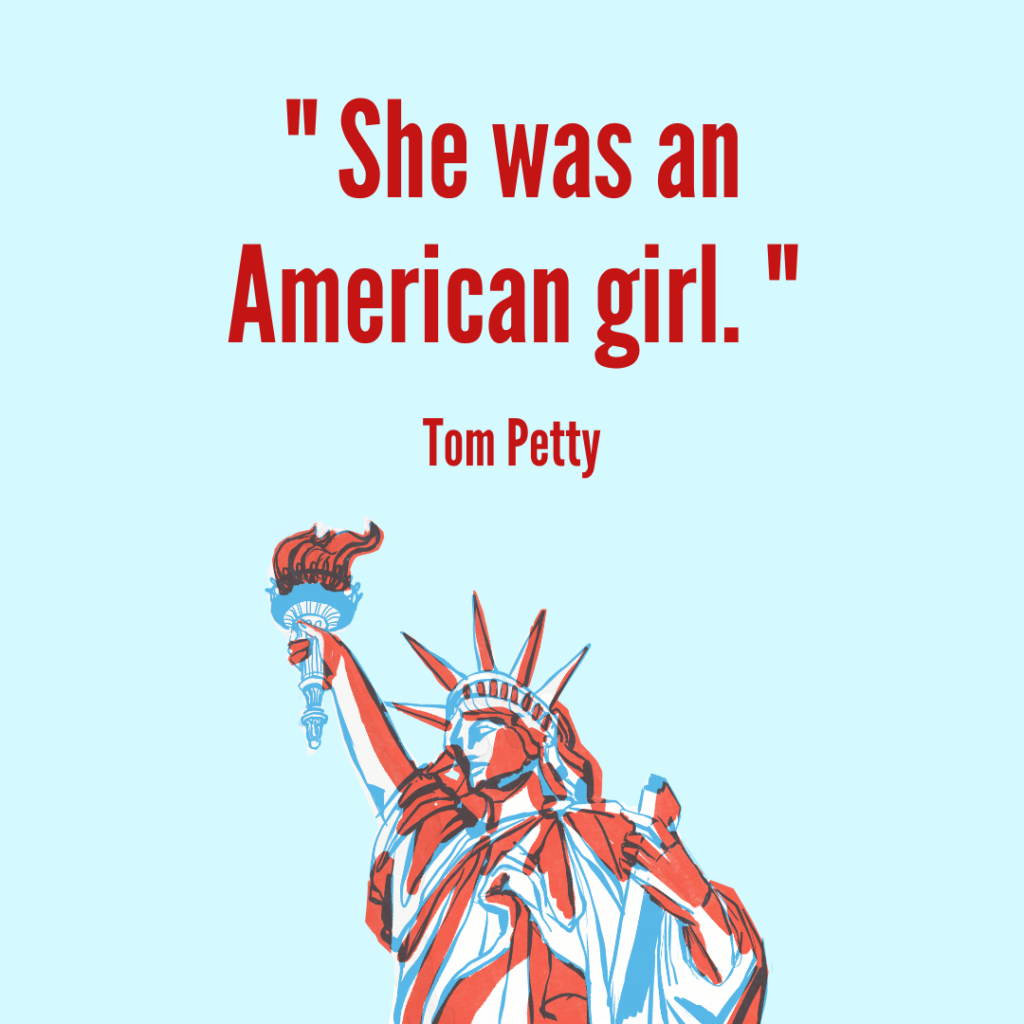 " His heart belongs to that sweet little beautiful, wonderful, perfect all-American girl." ( Carrie Underwood )
" Just another American Saturday night." ( Brad Paisley )
" I'm just like my country, I'm young, scrappy, and hungry." ( Hamilton )
" Sparks in the air like the Fourth of July " ( Nicki Minaj )
" God Bless America, my home, sweet home." ( Irving Berlin )
" Cause there ain't no doubt I love this land. God Bless the USA." ( Lee Greenwood )
" I thank God for my life, and for the stars and stripes." ( Zac Brown )
" It's a party in the U.S.A." ( Miley Cyrus )
" I'm just living out the American dream." ( Madonna )
" Brought to you courtesy of the red, white, and blue. " ( Toby Keith )
" Love your country and live with pride." ( Billy Ray Cyrus )
" Nothing's sweeter than summertime and American honey." ( Lady A )
" Raise a glass to freedom, something they can never take away." ( Hamilton )
" You'll be my American boy." ( Estelle )
" This land was made for you and me." ( Woody Guthrie )
" It was twilight on the Fourth of July, sparkling colors were strewn across the sky. " ( Mariah Carey )
" Only in America where we dream as big as we want to." ( Brooks & Dunn )
" In America, in America. My hope, my prayer in America." ( John Legend )
" We're all American girls, hear what we say, know what we mean." ( Sister Sledge )
" You could say we've always been red, white, and blue." ( Lynyrd Skynyrd )
4th of July quotes for Instagram Captions
" America, to me, is freedom." ( Willie Nelson )
" Ask not what your country can do for you, ask what you can do for your country." ( Peter Marshall )
" Who ever walked behind anyone to freedom? If we can't go hand in hand, I don't want to go." ( Hazel Scott )
" The life of the nation is secure only while the nation is honest, truthful, and virtuous." ( Frederick Douglass )
" Dreams are the foundation of America." ( Lupita Nyong'o )
" From every mountainside, let freedom ring." ( Samuel F. Smith )
" America is another name for opportunity." ( Ralph Waldo Emerson )
" Real liberty is neither found in despotism or the extremes of democracy, but in moderate governments." ( Alexander Hamilton )
" One flag, one land, one heart, one hand, one nation forevermore! " ( Oliver Wendell Holmes )
" Freedom lies in being bold. " ( Robert Frost )
" I think patriotism is like charity—it begins at home." ( Henry James )
" This nation will remain the land of the free only so long as it is the home of the brave." ( Elmer Davis )
" I would like to be remembered as a person who wanted to be free… so other people would be also free." ( Rosa Parks )
" America is a tune. It must be sung together." ( Gerald Stanley Lee )
" The American flag is the symbol of our freedom, national pride, and history. "( Mike Fitzpatrick )